Noisey Presents: Andrew Jackson Jihad Tour with Cheap Girls, Hard Girls, and Dogbreth
Four great bands. One great national tour. God bless America.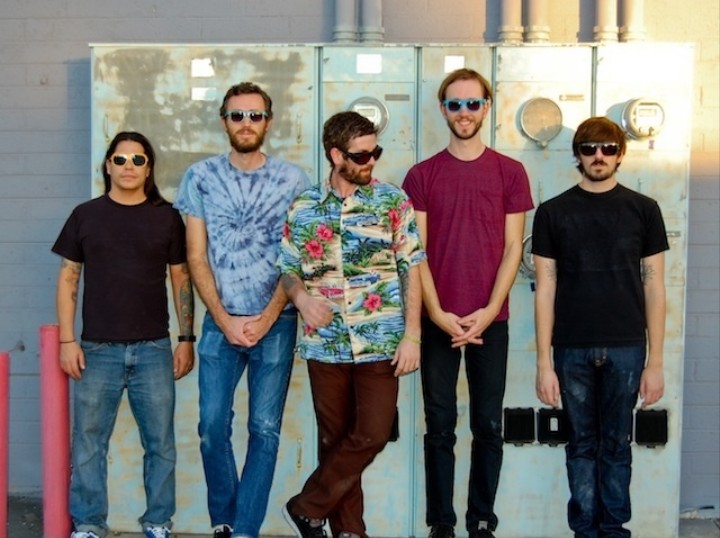 We recently said that Andrew Jackson Jihad's forthcoming album Christmas Island has "album of the year written all over it." And we meant it. It's not like one of those things we say but don't mean like "We'll definitely check out your band's demo!" or "Goth punk is totally cool and not at all lame!" And to prove we mean it, we're proud to be sponsoring the band's forthcoming tour. The tour kicks off in June with Cheap Girls and Dogbreth and then continues in July with Hard Girls. (AJJ have a think for bands with "Girls" in their name.) Check out the dates below. Tickets go on sale this Friday.
Listen to a song from Christmas Island here and a song from Hard Girls' forthcoming album A Thousand Surfaces here.
Pre-order Christmas Island.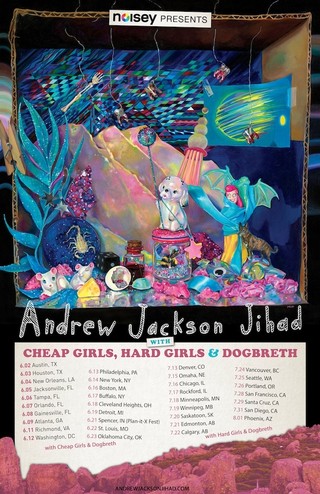 And in case you're using a 56k dial up modem and can't load the image...
Andrew Jackson Jihad w/ Cheap Girls & Dogbreth:
Mon June 2 – Austin, TX – Red 7
Tues June 3 – Houston, TX – Fitzgerald's
Weds June 4 – New Orleans, LA – Siberia
Thurs June 5 – Jacksonville, FL – Jack Rabbits
Fri June 6 – Ybor City, FL – Crowbar Ybor City
Sat June 7 – Orlando, FL – BackBooth Bar & Venue
Sun June 8 – Gainesville, FL – High Dive
Mon June 9 – Atlanta, GA – Masquerade Hall
Weds June 11 – Richmond, VA – Strange Matter
Thurs June 12 – Washington, DC – Rock N Roll Hotel
Fri June 13 – Philadelphia, PA – Union Transfer
Sat June 14 – New York, NY – Le Poisson Rouge
Mon June 16 – Cambridge, MA – The Sinclair
Tues June 17 – Buffalo, NY – Waiting Room
Weds June 18 – Cleveland Heights, OH – Grog Shop
Thurs June 19 – Detroit, MI – Magic Stick
Sun June 22 – St. Louis, MO – Firebird
Mon June 23 – Oklahoma City, OK – Conservatory
Fri July 4 – Toronto, Ontario – Lee's Palace (TURF)
Sat July 5 – Toronto, Ontario – Toronto Urban Roots Fest (TURF)
Andrew Jackson Jihad w/ Hard Girls & Dogbreth:
Sat July 13 – Denver, CO – Marquis Theater
Tues July 15 – Omaha, NE – The Waiting Room
Weds July 16 – Chicago, IL – The Bottom Lounge
Thurs July 17 – Rockford, IL – Kryptonite
Fri July 18 – Minneapolis, MN – 7th
Sat July 19 – Winnipeg, MB – Pyramid Cabaret
Sun July 20 – Saskatoon, SK – Louis' University of Saskatoon
Mon July 21 – Edmonton, AB – Brixx Bar & Grill
Tues July 22 – Calgary, AB – The Palomino
Thurs July 24 – Vancouver, BC – Biltmore Cabaret
Fri July 25 – Seattle, WA – El Corazon
Sat July 26 – Portland, OR – Alhambra
Mon July 28 – San Francisco, CA – Slim's
Tues July 29 – Santa Cruz, CA – Rio Theater
Thurs July 31 – San Diego, CA – The Irenic
Fri August 1 – Phoenix, AZ – Crescent Ballroom