Track-By-Track: Tyrannamen Explain Their Punchy Debut Album
Nic Imfeld offers some insight into the Melbourne band's rugged and soulful punk.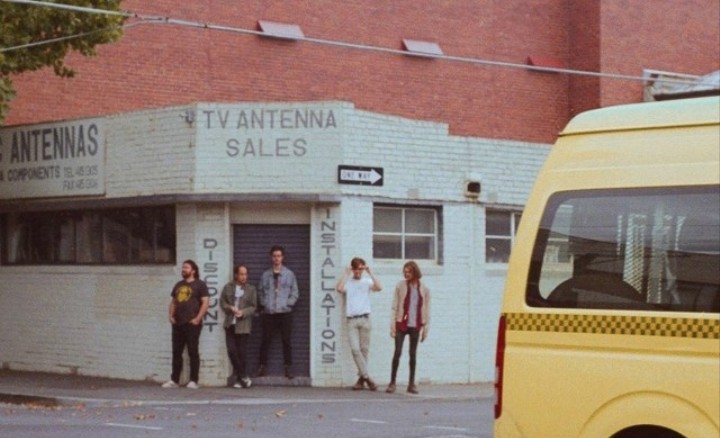 The opening to the track "Ice Age" is reason enough to know that the five-year wait for the debut LP from rock and roll rebels Tyrannamen has been worth it. It may be the band's oldest song but it captures what makes the Melbourne five-piece so great; killer harmonies and guitar riffs, group vocals and the raspy and raucous voice of enigmatic front man Nic Imfeld.
So I spent more than three years going to Tyrannamen shows and thinking Nic was singing "I'm in a Nazi hell" rather than "icy hell", but I was too busy jigging around to care.
Taking the best bits of Alex Chilton, Greg Cartwright, and lesser known musicians such as MOTO's Paul Caporino, the band present a loose, ragged and highly entertaining take on rootsy punk.
We've raved about tracks, "I Can't Read" and "You Should Leave Him", but all eight of the songs on the new LP (that you can stream below) already make it an early contender for album of 2016.
Wrap your head around the new album below and read what Nic has to say about each track.
I Can't Read Your Mind
This has a cool riff and solid back ups in the verse. There's more solid back ups in the chorus and a pretty classic rock and roll ending.
My Concrete
This is a song about my first experience living surrounded by construction sites. It sucked and turned me weird. Rock and roll songs at this tempo are cool.
Happiness
Happiness is just a stones throw away. Gus and I wrote this one together, it's based off old R&B tunes. I like the group vocals in the chorus.
Ice Age
This uses the end of the world as a metaphor for the end of a relationship. Danzig does stuff like that heaps. I remember thinking it was pretty clever when I wrote it. I think "Ice Age" is the first song I wrote for this band.
I Don't Want To Go to Jail
Cal and I wrote this one, it's cool. I really like the guitar parts and it's got a pretty cool chorus. Math boogie.
Diamond Ring
Chris Gray is a freak drummer and his ability really comes through on this I think with his monster fills in the intro. It's also the only the song on the record with no back up vocals.
You Should Leave Him
Another really old song, I still like it, good pace. The opening line talks about killing someone, which is pretty funny. Cal's back ups at the end are really sick.
Retain a Man
I wrote this song last year. It's nowhere near as naive as the older songs but it's still not void of charm. It has nods to classic rock and roll and R&B. I really like the back ups in the chorus and Gus Lord's slammin' but weird solo. Good onya.
Tyrannamen's debut album is available now through Cool Death records.
Catch them supporting Thee Oh Sees in Melbourne on Jan 20 at Howler.