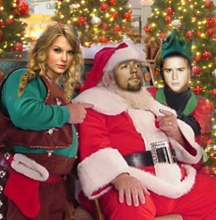 We know how to use Photoshop. Don't fuck with us.
On Friday, the New York radio station Z100 will be hosting Jingle Ball (Presented By Aéropostale), its annual holiday celebration of all things pop music. Its lineup included Justin Bieber, Taylor Swift, One Direction, Jason Mraz, The Wanted, Ne-Yo, B.o.B. and motherfucking fun. I ranked Taylor Swift's Red as the sixth-best album of the year on the year-end list I probably jumped the gun on making, and I study Justin Bieber's moves with the same devotion that Newman on Seinfeld had to being a really shitty mailman. Also, I wanted to check One Direction out because at the rate that they're becoming culturally ubiquitous they're probably going to change the constitution so that they can all become President at once soon. This is all a long-winded way of saying that by and large, I have the musical taste of a thirteen year-old girl.
When it comes to big-deal concerts like this one, audience and economics tend to determine the date. If I had to guess, the reason that Z100 has their Jingle Ball so close to Christmas is that the acts they get tend to appeal to children--kids can see the lineup, ask their parents to buy them the expensive-as-fuck tickets to the thing for Christmas, and then you've got a Madison Square Garden full of screaming children and perturbed adults. Which is to say, there was absolutely no way I could buy a ticket when I decided on Sunday that I wanted to go to the thing.
If you're a music journalist and there's an event you want to go to that you can't get into, there's always one silver bullet in the ol' revolver--the dreaded cold email to the publicist. Whenever there's a big event, a certain number of tickets to it get reserved to be given to select members of the media for free. Publicists like this system because it means people will write about their event, and the media likes this system because we really like free stuff. I got an email address for a publicist at Z100 and sent her a very nice email asking her to get me into the Z100 Jingle Ball so I could write about it for Noisey. The next day I got a very short, very curt email denying my request. This is fine, in all likelihood I asked her too late and as the official liaison between a Justin Bieber concert and the media, she probably knows better than to fuck with a website that made a well-known five-part video series in which Danny Brown and A$AP Rocky casually sit by a pool, smoke blunts and discuss the logistics of getting a blowjob from a toothless crackhead.
But still. We really wanted to go with this. And we have to make fun of you now. So with the help of our trusty intern Charlie Ambler, Photoshop Genius, here's some blind, extremely incorrect speculation as to what exactly might go this Friday within the hallowed halls of Madison Square Garden on the eve of the Z100 Jingle Ball (Presented By Aeropostalé).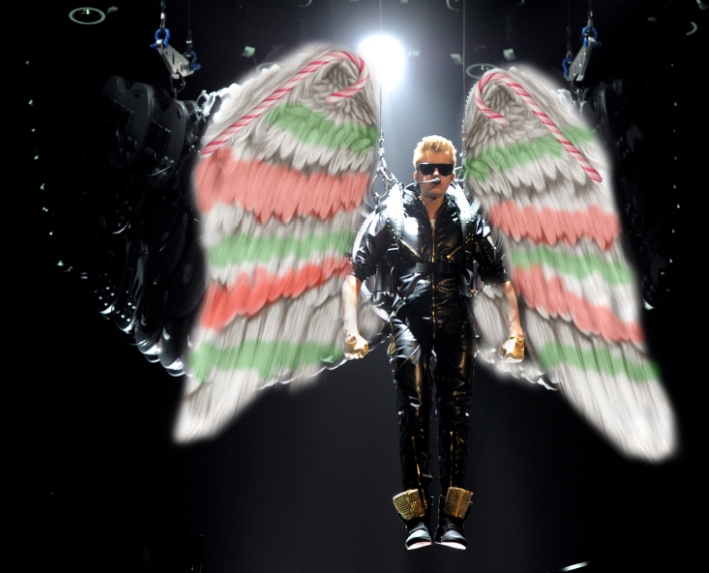 It's well-documented that during the concerts for his most recent tour, Justin Bieber would descend from the ceiling wearing a pair of angel wings. He's gonna pull this trick out for the Jingle Ball, right? He better, or else a bunch of kids are probably going to want their money back. But since it's Christmas, they're going to have to make the wings Christmas-themed. Charlie threw a couple candy canes onto the Biebwings because he's a genius and since it's Photoshop nobody has to follow the laws of physics.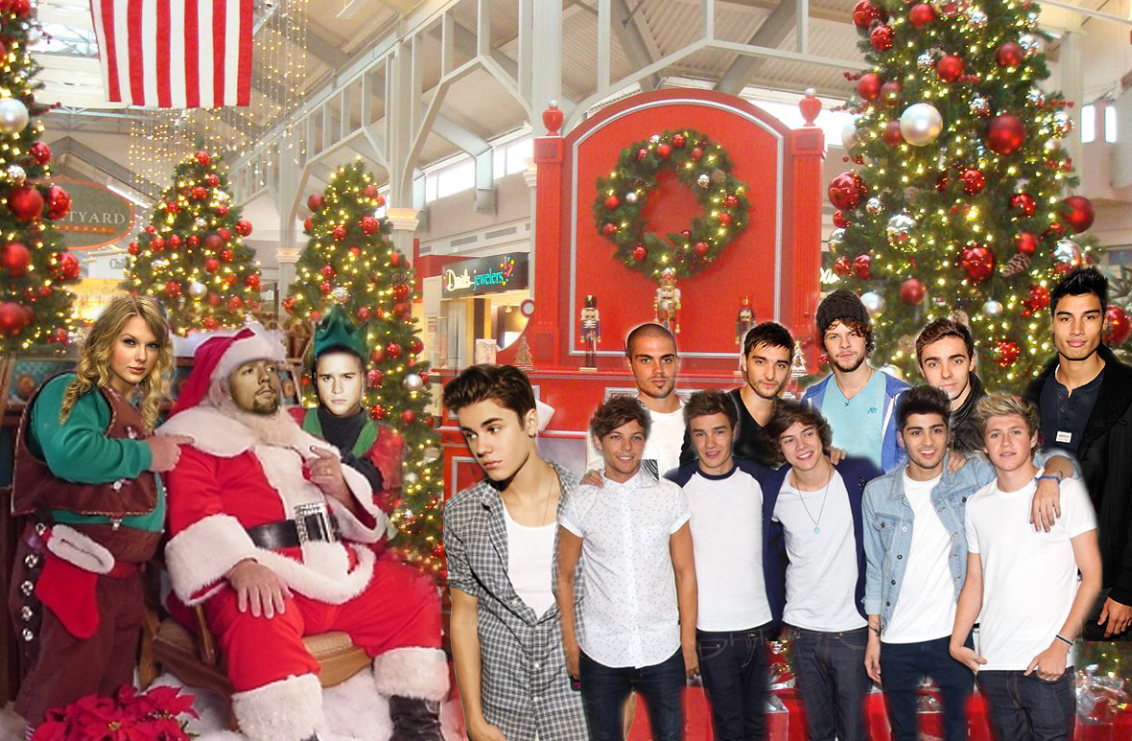 As for the rest of the show, well, that will more than likely just consist of Jason Mraz dressing as Santa Claus while Taylor Swift and Olly Murs (who is a real, 100% non-made-up singer whose most well-known song is with Chiddy Bang) play the elves. Justin Bieber, One Direction and The Wanted will all be waiting to sit on his lap and tell him about the things they want for Christmas. My version of this fan fiction ends here, because I use Tumblr enough to know that someone else has probably already fleshed this out for me.
@drewmillard, Photoshop work by @chaambler