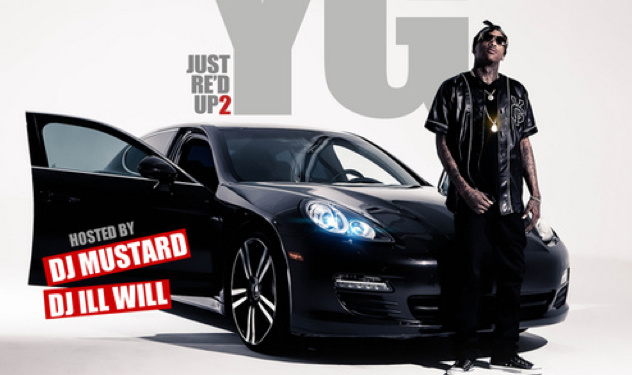 I STARTED LISTENING TO THIS SHIT AND INSTEAD OF CONCENTRATING SO I COULD DELIVER A VERY WELL THOUGHT OUT KNOWLEDGEABLE REVIEW I STARTED BROWSING REAL ESTATE LISTINGS IN VERY RICH AREAS OF NEW JERSEY SO I COULD MOVE OUT THE HOOD ONCE VICE GIVES ME A MILLIO

Download Mixtape | Free Mixtapes Powered by DatPiff.com
I DON'T KNOW WHY I'M NOT REALLY FEELING THIS, THAT DJ MUSTARD DUDE PRODUCED THIS WHOLE SHIT IT SEEMS LIKE. HOMIE MAKES EXCEPTIONAL STRIP CLUB MUSIC BUT THESE BEATS SOUND LIKE HIS THROWAWAYS B. YG MUST BE HIS COUSIN OR EXTORTING HIM OR SOME SHIT. THIS SHIT SOUNDS LIKE WEST COAST ATLANTA. WHERE ARE YOU FROM MY GUY? COMPTON, ALABAMA? THAT'S NOT MY PROBLEM WITH THIS SHIT THOUGH NAHMEAN I DON'T CARE THAT THIS SOUNDS LIKE MR. COLLIPARK PRODUCED AN E-40 ALBUM. THIS SHIT IS JUST WILD BORING.
THERES 739 TRACKS ON THIS SHIT AND MAD FEATURES THAT I THOUGHT WAS GONNA BE POPPIN. TY$, JEEZY, JUICY J ETC...BUT ALL THESE SONGS ARE WIIIIIILD BORING!!
"MERO WHAT YOU MEAN THIS IS PRETTY STANDARD RAP TOPICS HOW IS THIS BORING AND WAKA'S MIXTAPE WAS "PURE CRACK" MERO? ARE YOU A RACIST MERO?"
NO I'M NOT RACIST MY PAL BUT I AM VERY BORED RIGHT NOW B. I KNOW THIS NIGGA YG WAS NOT IN THE STUDIO LIKE "I'MA MAKE THIS SHIT SO WHEN NIGGAS REVIEW IT THEY GET REALLY INTO A GAME OF SUDOKU BECAUSE MY SHIT IS SO MONOTONOUS AND BORING" BUT THAT'S EXACTLY WHAT HAPPENED. I STARTED LISTENING TO THIS SHIT AND INSTEAD OF CONCENTRATING SO I COULD DELIVER A VERY WELL THOUGHT OUT KNOWLEDGEABLE REVIEW (JK LOL) I STARTED BROWSING REAL ESTATE LISTINGS IN VERY RICH AREAS OF NEW JERSEY SO I COULD MOVE OUT THE HOOD ONCE VICE GIVES ME A MILLION DOLLARS. ALSO DOM KENNEDY SUCKS. AND THERE'S A DOM KENNEDY FEATURE ON HERE. MUSTARD COULDN'T GIVE THIS NIGGA "I'M DIFFERENT" OR "RACK CITY"? THIS IS SUPPOSED TO BE YOUR MAN AND YOU LACED HIM WIT A BUNCH OF TEDDY RUXPIN DELL LAPTOP BULLSHIT INSTRUMENTALS MY NIGGA.
ALSO THIS NIGGA GOT NO ADLIBS!! IF YOU GONNA BE A STRIP CLUB RAP NIGGA YOU NEED AT LEAST ONE VERY RECOGNIZABLE ADLIB TO SUCCESSFULLY BE THE AUDIO BACKGROUND FOR A "SHOWER SHOW" WHERE 2 WOMEN WITH SURGICALLY ALTERED ASSCHEEKS DO EROTIC THINGS TO EACH OTHER'S PPS AND BOOTYHOLES. I TURNED THIS SHIT OFF ON LIKE THE 47TH TRACK AND STARTED LISTENING TO NIGGAS WHO ARE DOING THIS SHIT CORRECTLY, NAMELY FRENCH MONTANA. HAAAANH.
I GIVE THIS SHIT 2 PILES OF DUTCHGUTS OUTTA 5. THIS IS NOT REALLY GOOD AT ALL. I'MA LISTEN TO THIS AGAIN AT MY CRIB AFTER I DRINK A BOTTLE OF GEORGI AND LET YOU KNOW IF I STILL GIVE THIS SHIT A 2. (PROLLY)
STANDOUT TRACK: NIGGA THERE IS LITERALLY 972 TRACKS ON THIS SHIT I DON'T EVEN CARE. THIS SHIT IS CURRENTLY IN MY RECYCLE BIN. THIS WAS SUPPOSED TO SOUND LIKE E-40'S "FUNCTION" AND IT SOUNDS LIKE SOME DUDE FROM COMPTON FUCKIN AROUND WITH FROOTY LOOPS ON MDMA.
THE KID MERO is a writer and comedian who dispenses #KNOWLEDGEDARTS. He's on Twitter - @THEKIDMERO.