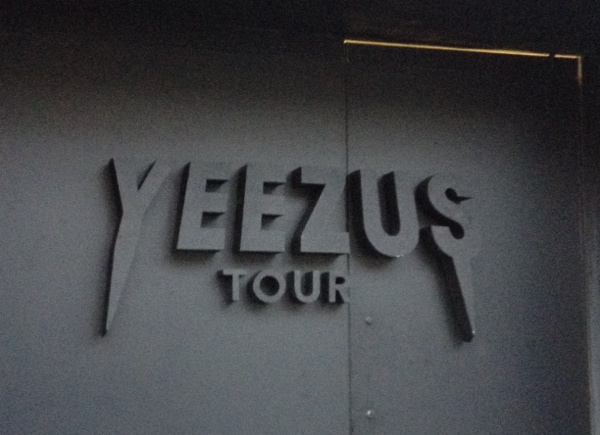 It was announced that there would be a Yeezus pop-up shop in Manhattan. We went and made fun of it.
Earlier today, Pyrex founder, architect, DONDA creative director, RSVP Gallery owner, branding consultant, Travi$ Scott alchemist, and all-around coolguy Virgil Abloh let the internet know that a pop-up shop was opening on Bowery to coincide with Kanye West's Yeezus tour stops in New York at Barclays Center and Madison Square Garden. Some doofus at Noisey thought it would be a good idea to report on it, so I put pants on for the first time that day and went to go check it out.
As the M train slowly lurched over the Williamsburg Bridge, I watched the sunset cast a golden halo over the skyline while listening to "On Sight" chopped and screwed (the Slim K slowdown, not the DJ AudiTory version). "Yeezy season approaching," Kanye's pitched-down voice chanted to me four times as I thought about what my future held in store. What was at this pop-up shop? Was I about to get lots of free snapbacks? Would I witness a fiasco of Nothing Was the Samepop-up shop proportions? Was I going to meet the Louis Vuitton Don himself? Of course not. Those are all embarrassingly stupid things to daydream about. The first thing I saw when I got to 355 Bowery was 25 kids in varying degrees of leather and black streetwear (one guy sported a garb that a mage might wear), awkwardly crowded around the entrance, which was now covered by a shroud so you couldn't see the part that said "Yeezus." A twelve-year-old in a bucket hat, fashion sweatpants, and a Herschel backpack was explaining to his aunt in Spanish over the phone how he needed to be picked up in an hour after he was finished. Naturally, I stood next to this kid and waited for something to happen because he obviously knew what he was doing better than I did.
Over the course of the next half hour, three street fashion photographers, two kids in Been Trill hats, and a guy wearing a Yeezus tour shirt but waiting in line anyway showed up. Virgil himself emerged from the store around 4:30 to start letting people in, and I heard a guy with a european accent behind me mutter, "Is that Kanye?" under his breath. The 100-deep crowd was asked to form a disorganized line, and a door guy came out to start letting people in, five at a time. Aziz Ansari showed up for a photo op because of course he did. Somebody said the word "Anzizus" out loud and I prayed for death. Dev Hynes from Blood Orange walked past looking very confused. After 20 more minutes, I got to the front of the line, and as I opened the door I was blasted by the blaring guitar of Metallica's "One" and the stench of unshowered hypebeast. Below are some photos from my journey.
Teens for Yeezus
In the right of the frame, you will notice a rack of $80 t-shirts that people actually paid money for. Think about that.
I think this is the motorcycle from the "Bound 2" video.
Yeah man, I dunno.
Kanye's always been known for his subtle touch with imagery (HA HA, just kidding).
There's so much going on with this t-shirt that I would literally die trying to write a thinkpiece about it.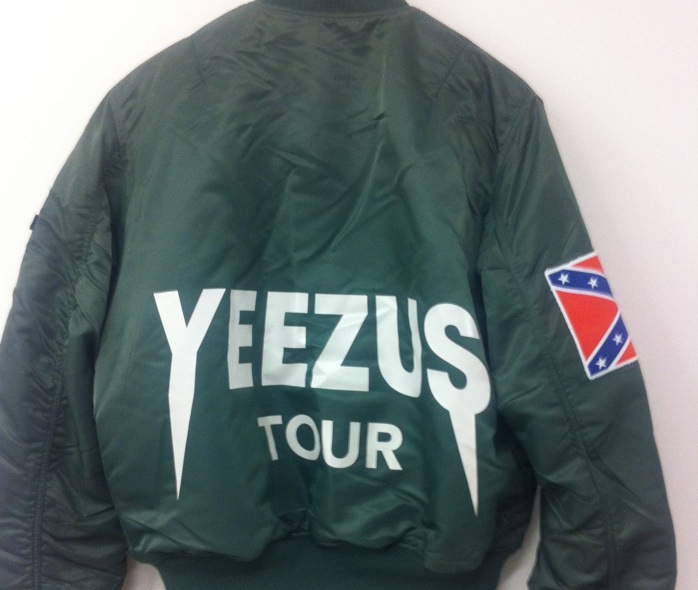 This jacket was $500. Talk about mad rich alert, amirite???
No offense to Kanye but it's sort of impossible to imagine someone taking these to Whole Foods or whatever.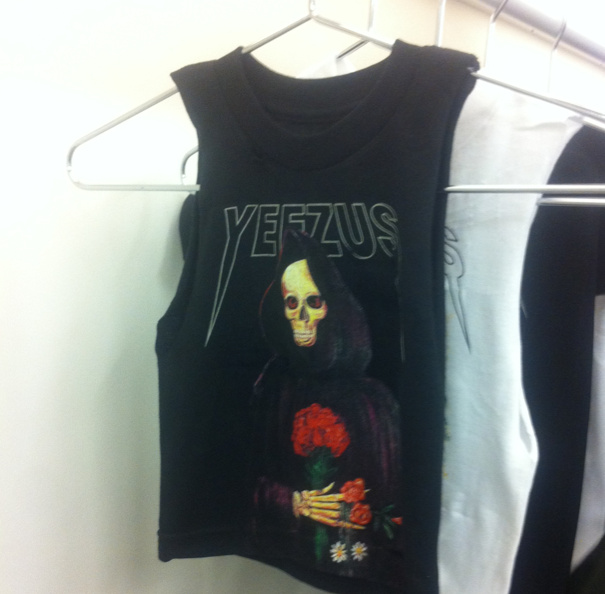 Here are the baby sized shirts, which were the only thing I could afford without eating dust for three weeks.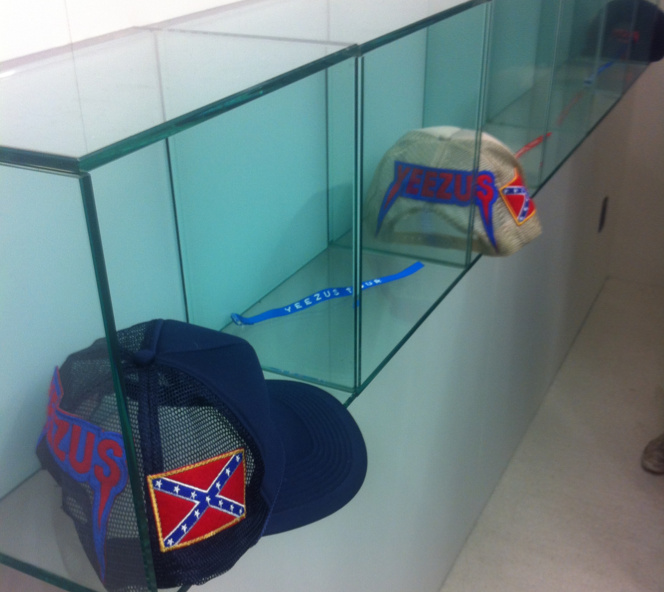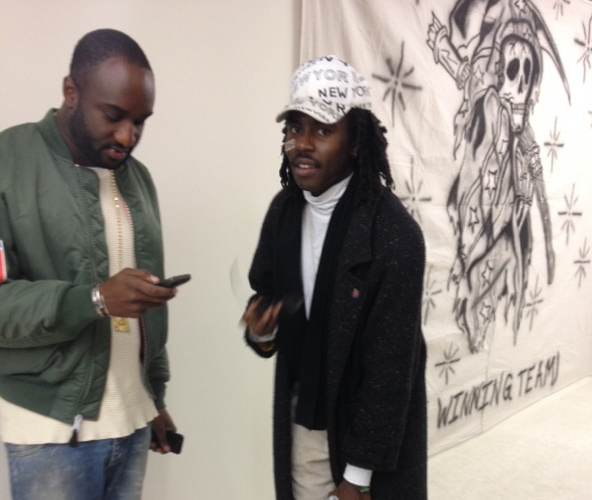 This is Virgil and Dev Hynes hanging out and noticing that someone (me) is taking a photo of them.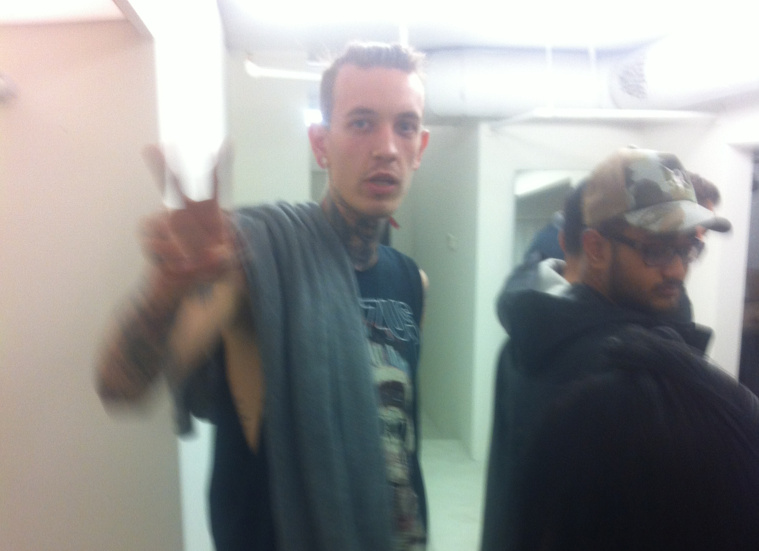 Even Macklemore was there!