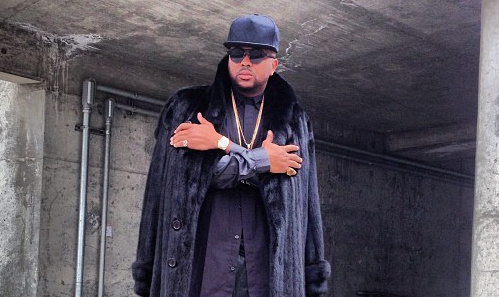 The-Dream's fanbase is growing, getting burnt, and making "Grown People Mistakes" that inevitably need an accompanying soundtrack—without the pretense, naivete or artifice that comes with youthful infatuation.
Stream IV Play above (via VEVO)
I've joked for a long time that The-Dream has patented a new form of musical technology that allows him to communicate directly with vaginas. It's a well-established fact that The-Dream has a mind-control effect on women—he makes the music you play to seal the deal, celebrate a crush, mourn a breakup, or just feel being in love to. A friend of mine went to a barber on the weekend and texted me while he was there, captivated by the effect that "Falsetto" had when it came on the radio. Braiders in the front slow body-rolling, ladies in the back singing along word for word. The-Dream has an uncompromisingly hypnotizing grasp on women in ways even I'm not sure I as a woman understand. Seen this week promoting the album using IV Play-branded condoms, it appears Terius Nash has a full awareness and unapologetic attitude around the effect, intention and message of his music, too.
In the interest of transparency, let me state first and foremost: Terius Youngdell Nash is my absolute favorite artist. Love, for me, has always been seen through Terius-tinted glasses. The-Dream has been the soundtrack (either mentally or literally) to every single three-date fling, unrequited eye-fuck, dalliance with homeboy from Uptown, or straight-up love affair I've had since the first time I heard "Playin' in Her Hair" off his 2007 record Love/Hate. These are songs that I hold close, and I'm sure I'm alienating you with this confession, but bear with me. I'm trying to give you a gift.
I've been in a new-Terius-inspired lady-trance for approximately 48 hours now. It involves listening compulsively to YouTube rips of The-Dream's next offering IV Play on my iPhone, seeing as the album isn't officially released until the 28th. I've been sauntering around Soho muttering "I just wanna fuck you, over the weekend" ("Michael") into my acai smoothie and not even knowing where to begin on talking about this record or what I've heard of it.
The-Dream, whose greatest successes have come from penning and producing tracks for other artists, has cultivated a special type of fan for himself. Those who love him do so deeply and with a near-religious fervor (selfie goes here). He operates within a realm of technical perfection, hallmarking a specific and detailed R&B sound immediately recognizable in his product for others (J. Holiday's "Bed," Ciara's "Ride," etc.) like some sort of R&B Yasujirō Ozu. But, Terius is not only technically gifted; his lyrical narratives showcase a psychologist-like understanding of the deep complexities of human relationships. Positioned a cut above the more rudimentary love and sex ballads of typical radio R&B, he builds layered expositions on love, commitment, betrayal, and sex. Often, those narratives are mixed, sequential subplots woven together to form a greater tale.
IV Play, while lacking the seamlessness and luscious transitions of the earlier Love trilogy, feels like another classic The-Dream record; a story with familiar characters and a few plot twists amidst the more predictable moments. It's exactly the next chapter in The-Dream's grand love story that all so desperately need. Turns out we're actually all growing, and our relationships are too. The same way R. Kelly's fans matured with him throughout the years, The-Dream's fanbase is growing, getting burnt, and making "Grown People Mistakes" that inevitably need an accompanying soundtrack—without the pretense, naivete or artifice that can comes with youthful infatuation.
"Pussy" is wherethe record starts to get interesting; an immediately catchy, cringingly hilarious hook on a Big Sean-blessed strip club banger: "Got my left hand on that booty, and my right hand on that pussy." It's the first hint in the record of new Scumbag Terius, stripped back of sensitivity, pheromones revving like a Yamaha. We've of course seen glimpses of this before on tracks like "Panties To The Side" and"FMBO," but there's something a little more abrasive this time around—it's no longer a novel flipside to romance, but a genuine detachment—the metaphorical monogrammed Terius baggage that he's accumulated with time.
By contrast, the Beyoncé feature "Turnt" is notable only for how unremarkable it is; whether intended or not, The-Dream has managed to include features on IV Play from both parts of a loved-up couple having a "moment" in American pop culture right now, and have them appear truly insipid alongside his own naturally brilliant love story. It's a potentially damning observation on the culture of music right now wherein the dirtbags are more captivating than the doting ones. My theory is we crave the validation for our own pitfalls, poor decisions or imperfections in a 'post-yolo' era more evident in the music of The-Dream right now.
To contrast, The-Dream has dragged a new rawness out of Kelly Rowland. The lilting piano and sparse production on "Where Have You Been" sets the stage for a perfect chemistry between the two, who appear to be pushing a new "dream team" (forgive the pun) based off last week's "Dirty Laundry." "Where have you been? I'm all fucked up now." Terius and Kelly are singing from the precipice; equal parts graciousness and dismay, despair and disregard. It's a refreshing surprise to see both The-Dream and Kelly Rowland become wildcard stars alongside Jay and Bey, omnipresent stars who can no longer surprise us.
"Too Early," the bluesy Gary Clark Jr. collaboration, is another curveball here— it shows a growth and maturity to this offering and an expansion beyond the vocal tricks and synth turns we've come to expect from a Terius record. The low-pitched, AutoTuned, plucky heartbreak notes are perfect for his lyrics, a tale of "(coming) home undone," poor timing, and getting too comfortable. After this sullen, whiskey-soaked beast, "Michael" comes in with something that could be the sound of a soda can being popped open, some snapping fingers, and a self-consciously tryhard, undoubtedly MJ-influenced falsetto ("It sounds like Michael, don't it?").
On "Michael," Scumbag Terius comes into his own as a flesh-and-blood character over beats that are, by contrast, non-descript and even cutesy—discussing an unashamed and uncontrollable affair laced with nods to the female characters of Michael Jackson's back catalogue. This is not only a song for thugged-out dudes trying to mack ("Fuck that other nigga/ I just wanna fuck you") but also for tear-stained ladies alike ("Look at that face/ that innocent face.").
Terius wraps up his obvious influence from R. Kelly and Prince in equal parts throughout IV Play, and the rollicking "Loving You / Crazy" at first appears to pick up where tracks such as "Luv Songs," "Walking On The Moon" and others left off; Prince-influenced, straightforward declarations of love, before it breaks down into a raggedy mess of desperation about halfway through.
The second half of "Loving You / Crazy" combined with "Holy Love" plays the completely necessary role of the "Nikki Pt. 3" of IV Play, while also potentially extending the intoxicated and unpolished mood of 1977: "I'm willing to lose everything..." he whispers in "Loving You / Crazy." In "Holy Love" he continues, "On a rainy day in '07, I found an umbrella, got a taste of it, and made a deal with her." The intertextuality of Terius' body of work remains an important factor here as he flips the script to talking about his love affair with music and art, and the prolific compromises that have resulted as part of this. It's the tempering balance to the petulant lust of "Pussy" and "Michael"; an agonizing admission that nothing compares to the one true love he needs. It's not about money or fame; and, no level of personal sacrifice seems to be able to create or validate a love that isn't real—whether it be undying dedication to a person or a decidedly untouchable artform.
This is what a The-Dream record is all about: Terius Nash takes you from cheap sex to brazen ratcheteria to stale relationships and emotional abuse. The blues to infidelity, body-love anthems to brain-breaking soul spills, all within 14 tracks. His musical track-by-track mood swings and unorthodox philosophy on the many different sides to love are what allows The-Dream to speak directly to the hearts and minds of the women that obsess over him. Terius Nash refuses to compromise his story, however chaotic or contradictory it may be. And that's fine. The right people will get it anyway.
Grace Gordon will be at Arrow Bar tonight with the rest of the rap writers. She's on Twitter - @1800Gracie