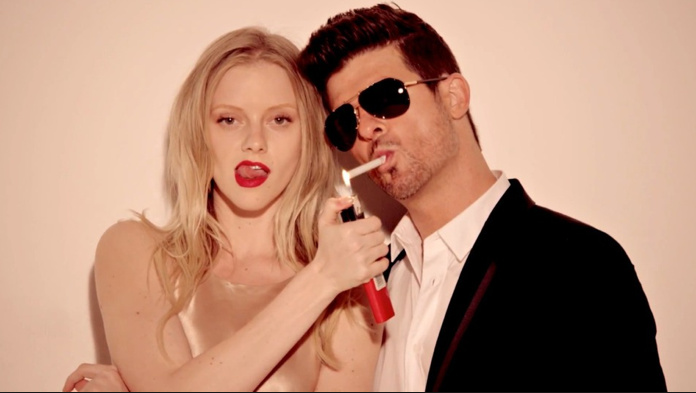 "Blurred Lines" is just a good song. "Get Lucky" makes me think of 1978. "We Can't Stop" is depressing. So when are we going to get our song of the summer?
Every summer there's a pop song or two that sweeps the nation, capturing the collective attention of Americans in need of something to soundtrack their rides to the beach, the viral videos they email around their offices, backyard barbecues and whatever else it is that normal people do for fun in the warmer months.
Unfortunately, the summer of 2013 is pretty dry in this regard. It's damn near August already and you'd be hard-pressed to find a single song that has dominated the zeitgeist the way Carly Rae Jepsen's "Call Me Maybe" or Gotye's "Somebody That I Used To Know" did last year. Or how LMFAO's "Party Rock Anthem" and Pitbull's "Give Me Everything" did the year before that. Or Katy Perry's "California Girls" and Taio Cruz's "Dynamite," or heck even Mike Posner's "Cooler Than Me," did in 2010.
This summer there are a few tunes battling for supremacy, but it could be argued that a) they aren't very good (debatable) and b) that none of them have really dominated the conversation and the listening experience the way songs of the summer are supposed to.
Summer songs are supposed to be inescapable. They should be playing so often and in so many places that they annoy the fuck out of you until the point where you just can't resist them anymore. They should be so omnipresent that you have to stop judging the stupid masses for liking them and start liking them yourself. You shouldn't be able to log into FB without seeing one of those dorks from high school that you never talk to posting links to a different cover version each day.
Can you really say that about Robin Thicke's "Blurred Lines?" Good song, and with over a 100 million plays on Youtube—whether the label juiced those numbers or not—it's definitely been a number one record with legs. There are quite a few cover versions (a quick Google search reveals a handful of roundups from your favorite content farms, but this one from TODAY is a good primer). Still, I just don't get the sense that this song is as popular as the numbers purport to represent. Also, this song is genuinely good. It sounds weird but summer songs are supposed to be kind of bad in a way where you feel guilty liking them. Surely you've heard the term 'guilty pleasure' to describe certain pop songs. You probably don't feel guilty for liking "Blurred Lines." Maybe that's because it was originally a Marvin Gaye song ("Got To Give It Up"), and Marvin Gaye is fucking awesome.
Is "Get Lucky" the song of the summer? Another tune that is playing on the radio endlessly, but because the Daft Punk are producers of this and not the featured performers— Nile Rodgers and Pharrell are at the forefront here— it's hard to really qualify this one. Here's an idea— should we dump this article and talk about Pharrell's comeback after 10 years of launching liquors that nobody likes or whatever the fuck it was he was doing? Maybe.
Finally, there's "We Can't Stop," by good girl gone bad du jour, Miley Cyrus. As of this writing, the song is sitting at number 2 on the Hot 100. Number 2! If there was ever song that screamed out guilty pleasure, this one might be it. From the uninspired chord progression to the cliched lyrics ("Can't you see it's we who own the night? / Can't you see it's we who 'bout that life?") to Miley Cyrus herself sounding like she's doing Rihanna karaoke, this is a song that is so bad that it becomes good. So maybe Miley Cyrus' "We Can't Stop" is the song of the summer by default, because there's nothing else that terrible on the charts right now. *cries*
The thing is, songs of the summer need not be amazing. Or original. They can be as cliched as ever. But they have to be feel-good songs that reflect what summer time is all about—being young and having fun. Even if you're not young and not having fun. They have to make you feel that way when you hear them. "Blurred Lines" is just a good song. "Get Lucky" makes me think of 1978. "We Can't Stop" is depressing.
That said, I think the song of the summer is going to eventually (and by that I mean like in like two fucking weeks) be Avicii's "Wake Me Up." Pete Tong debuted the tune on his BBC Radio 1 show in mid-June, and having nothing to do with the fact that Avicii is well, fucking Avicii, the minute I heard its I knew that this song would be everywhere. Half country tune and half American-fried EDM, Aloe Blacc sings about being young and carefree over guitar strums and four-on-the-floor cheesiness. It's perfect. It will be the song of the summer. You'll see.
Paul Cantor is the foremost expert in all things. He's on Twitter - @PaulCantor