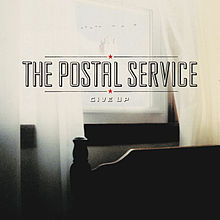 Indie doesn't exist, and neither do those feelings that you thought Give Up tapped into.
Yesterday, Sub Pop announced that Give Up, the sole album by The Postal Service, went platinum after a decade of waiting and probably hundreds of thousands of AIM away messages containing the synth-pop band's lyrics. This is the label's second album to do a milli--the first was Nirvana's Bleach. Someone already updated the Wikipedia page about it, so you know it's real.
Now that I've reported this as news (it isn't), it's time to come clean on my relationship with the album: I don't have one. I've never heard the damn thing. That album came out in February of 2003, and by the fall had managed to enjoy something of a hegemonic power over most of the kids at my extremely rural North Carolina high school, even the ones who only listened to pop-country and Lynyrd Skynyrd. I was fourteen at the time, and was that annoying freshman who was completely against anything that anyone else liked. If I'd have known better I would have gotten really into punk, but I hadn't figured out how to use the internet and find out who Youth Of Today were, so instead I just listened to a lot of Rod Stewart, because no one actually likes Rod Stewart (Faces and his early solo stuff are fine, but "Do Ya Think I'm Sexy" might be the worst song of all time), and well, I owned the standards albums.
That's not to say I've never heard a Postal Service song. I've heard "Such Great Heights" because everyone knows that one. But beyond "Such Great Heights," I haven't really heard shit. Last night, I tried listening to Give Up, and uh, I gave up on it. I assume that many, many people tearfully lost their virginities to this song, but those people are weenies who think they have special feelings. Give Up is a sad, electronic version of a sad Death Cab For Cutie album.
Maybe it's just that Owl City sucks so hard and is clearly influenced by them that they've invalidated The Postal Service for me, or maybe it's that I'm latently bitter about high school. But as I was skimming their Wikipedia page for a bit of background for this piece, I saw something that made me realize why I hate the band so much. When asked about a possible follow-up to Give Up, Ben Gibbard--the Death Cab guy and also the Postal Service singer guy--jokingly called the second Postal Service album, "The Chinese Democracy of Indie."
With one quick, mildly funny quip, I was taught why I think the Postal Service is dumb: they represent a concept that categorically does not exist. As a word, "indie" means nothing; it's like asking someone to define "real hip-hop" or "pornography." "Indie" represents a made-up group of music, as enjoyed by a made-up group of people. There is one certitude about the term, however, and it is that if we as a common culture had to define "indie" through an album, ten times out of nine we'd pick Give Up. The Postal Service are Wes Anderson films; they're the condos by the East River in Williamsburg; they're Zooey Deschanel; they're those fucking horn-rimmed glasses that the goddamn Weezer guy wore. In other words, The Postal Service are used as a signifier by people who don't actually understand that "indie culture" isn't a real thing to explain "indie culture." Their record was a toothless sack of boring, just inoffensive enough to get on a Coke commercial and just accessible enough to sell a shit-load of copies to people who didn't know any better. I do not think that The Postal Service are bad people, and it might be preaching to the choir to write this, but now that The Postal Service have gone platinum, we can never, ever ever talk about them again.