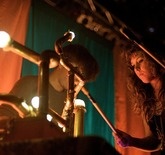 Canadian electronic music duo Purity Ring use cocoon-shaped audiovisual lanterns designed by Tangible Interaction to emphasize the sounds they make on stage.
By the time Canadian duo Purity Ring released their debut album Shrines, internet audiences were already obsessed with their glitchy and spellbinding futuristic pop music. The internet served as an incubator for both their songs and their fan base—Corin Roddick composed beats in Montréal and sent them to Megan James in Halifax, who then added her shimmering soprano and twisted fairytale lyrics and sent the results back to Roddick, who finalized the songs and uploaded them to Tumblr, where a rabid community of fans quickly formed. Using Tumblr as a distribution platform, listeners could download the tracks for free and disseminate them over social media, and it wasn't long before the tracks went viral—"Obedear," their fourth song, reached 40,000 views on YouTube less than two days after it was released.
A year and a half later and Purity Ring were playing to huge crowds at SXSW, Pitchfork Festival, and Pop Montreal and went on to do a sell-out tour. For artists whose mobility on stage is limited by being tethered to electronic instruments that are still largely incomprehensible to typical audiences, translating the emotional connection of their recorded material into an engrossing live show can be a challenge. Roddick's previous band, Gobble Gobble, dealt with this by having band members act as hype men—dressed in tutus and fairy wings (and not much else), Roddick and company ran into the crowd, dancing up a frenzy. Purity Ring, though, went for a chiller approach.
On their last tour, the duo teamed up with Vancouver-based sensory installation producers Tangible Interaction, who also designed the light-up zygotes for Arcade Fire's Summer Into Dust performance, to create a series of light cocoons, which they explain in the video above.
We also caught up with Roddick and Tangible Interaction's Creative Director Alex Beim to break down both the stage show and the broader idea of how to make electronic music feel organic in the interview below.
Purity Ring perform "Belispeak" at Pitchfork Music Festival 2012
Corin Roddick: Rock music is made on drums and guitars, so you can watch someone recreate it on stage on instruments. But with electronic music that's made strictly on a laptop, you can't really watch someone in the original environment that they created it. Or you could, but I don't think it would be very stimulating. So you have to go above and beyond and find different means of actually creating a show.
It's funny, with DJ culture, people aren't looking at a DJ, they're dancing. But when you put the DJ into a band context and it's just a room of people staring at them, suddenly it gets super weird. Something needed to be done about it.

Setup 1. Photo by Steve Louie.
The first version was for the first few months we were playing shows. The idea was to have an instrument that could be played percussively, like with mallets, but would send signals that would connect to a synthesizer or multiple synthesizers and would make the noise I wanted but also give visual feedback. The first one we made was just a bunch of copper and brass pipes stuck together kind of in a tree all over the place. It was a good first attempt but it didn't always work the way we wanted it to.