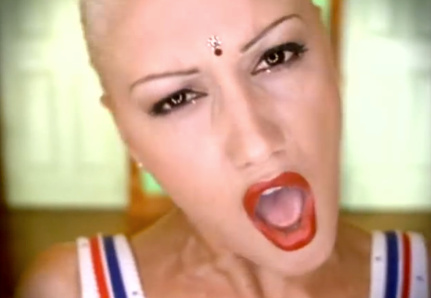 When I saw No Doubt's video for "Just a Girl" it changed my life…
I was a tardy child. To try and encourage me to get to middle school on time, my mom would reward me with a CD every time I managed a solid week of being prompt. I had this ritual where I would listen to the album straight through while flicking through the sleeve notes over and over again, memorizing the lyrics. I was bored. One of these albums was No Doubt's Tragic Kingdom, because it was the 90s and who wasn't listening to it? But instead of reading the lyrics my ritual turned into staring at Gwen Stefani on the cover in a red patent leather skater dress and thinking "WTF am I doing in these flare jeans and metallic blue Skechers?"
When I saw No Doubt's video for "Just a Girl" it changed my life. It came out NINETEEN YEARS ago and it hasn't dated at all. Or maybe it's just that fashion has eaten itself, but I'm pretty sure you could see every piece of clothing in this video at VFiles today. Gwen was ahead of her time without even trying. There were no $300 t-shirts here. Her skin was over-tanned, her hair over-bleached, but somehow she looked totally effortless. Let's examine "Just a Girl" and extract the knowledge.
POSING OUT FRONT OF YOUR HOUSE IS A GOOD PLACE TO START
It's like Gwen was a fashion blogger before fashion bloggers existed. Look at that stance: she's daintily leaning on a broke down car. She also stands there pouting as her band members load all the gear, which is funny considering the message of this video is GIRL POWER, but it's okay Gwen—I'm not really into manual labor either.
WEAR BAGGY PANTS
I'm not sure when, but at some point, a large majority of females decided body-con dresses were the key to life. They started wearing them in the winter, because apparently they made you so hot that you no longer needed a coat. And then all these females got pneumonia and body-con dresses were banned. Okay, so that didn't happen, but I promise that fashion doesn't have to be that circulation-restricting! You can wear baggy pants and still look good. And you don't have to get pneumonia!


IF YOU CAN'T FIND IT IN A STORE, DO NOT GIVE UP
Just fall into the internet K-hole that is eBay. This isn't groundbreaking, but you would be surprised how many people don't know how eBay even works. Whenever you think of something that is way too specific to find in a store, take a few seconds to type said specific thing into the eBay search bar, and next thing you know you'll be 10 dollars broker and wearing said specific item. You can even save a search on eBay so that it will email you any time the garment of your heart's desire comes up—they make it that easy. If eBay somehow fails you, try Etsy or just make it. Case in point: Gwen's Anaheim tank top. I've searched extensively on eBay for this tank top to no avail. I didn't know Gwen actually made the thing until a few hours ago. BRB while I go search for rainbow iron-on letters.
ACCESSORIZE WITH THINGS LIKE, YOU KNOW, BINDIS
Clearly where every girl at every festival today got her inspiration. Bindis on the forehead? Gwen did it first. Colored hair? That's all her too. Henna tattoos? Yup. Pigtail top knots? I see you Miley. Gwen was running around LA and on the red carpet before you (see evidence below). All hail Queen Stefani. P.S. Did you know that Topshop now sells bindis? Yeah, fuck that.
If anyone knows where to get this furry bathing suit top please contact me via Twitter.
BLEACH IS YOUR FRIEND; UTILIZE ACCESSORIES
Can we take a moment to discuss this barrette? These days the only accessory I see on anyone's head is a beanie. I'm guilty of it too. But hair accessories did not die when all the scrunchies of yesterday were thrown into garbage cans everywhere. This Margot Tenenbaum-esque barrette is THE LOOK. You can wear it with your beautifully over-bleached hair.



PERFECT YOUR CAT-EYE
Bad eyeliner is a real epidemic. If you haven't mastered the cat-eye yet, maybe screenshot this image and make a stencil. Also, Gwen, sorry for choosing this screenshot babe.


BUT DON'T OVERPLUCK YOUR BROWS. PLEASE!
No. No no no no no no. Just don't do it. Don't touch them! You will regret it and want to die and will spend a lot of money on eyebrow pencils.

EXPERIMENT WITH LIP COLORS
There is a lot of lipstick-wearing going on in this video and Gwen's signature red isn't for everyone. Personally, I feel like a clown in red, brown lipstick though? Brown lipstick/liner makes me feel like I hopped out of a scene from The Craft which is always a good look. I'm not sure frosted shades will ever make a comeback, but hey, who knew bucket hats would either.


LEARN SOME KILLER DANCE MOVES
Like pigeon toed kicking or doing push-ups. Because why not? Coordinate with your friends. WHATEVER YOUR LITTLE DANCING HEART DESIRES. I can't dance, I can only sway, so I always get jealous when I see people totally going for it in public. (Sidenote: I especially like that a blog named Alt-Girl made these GIFs. You're so alt Gwen.)
(Feel free to save this beautiful images to your desktop in case you ever need a reminder.)
AND WHEN ALL ELSE FAILS, WEAR A SPORTS BRA
Support is important, both when it comes to friends and boob holders. ALSO: GWEN, WERE YOU BORN WITH WASHBOARD ABS? HOW ARE ALL OF THE CROP TOP WEARING GIRLS OF TODAY SUPPOSED TO COMPARE TO THIS? Like, you're slouching here and you still look good. Anyway, you still make me want to rock a crop top and/or sports bra. With this you have taught me that I should celebrate my youth and show my stomach as much as I want to while it's still flat. Anddddd, Ricardo the YouTube commenter agrees:
Ugh.
We would encourage Francisca to wear a crop top at the earliest opportunity and you should too, via Twitter - @franciscamagis
Related:
What I learned about style from Green Day's "When I Come Around"
What I learned about style from Weezer's "Say it Ain't So"

What I learned about style from Britney's "Work it Bitch"
What I learned about style from Beyoncé's 17 Videos
What I learned about style from Shakira's "Can't Remember to Forget You" ft. Rihanna
What I learned about style from Enrique Iglesias' "I'm a Freak" ft. Pitbull
What I learned about style from Jennifer Lopez's "Love Don't Cost a Thing"
What I learned about style from Paris Hilton's "Good Time" ft. Lil Wayne
What I learned about style from Fiona Apple's "Criminal"
What I learned about style from Rick Ross' "No Games" ft. Future
What I learned about style from Drake's "Started From The Bottom
What I learned about style from Angel Haze's "Echelon"
What I learned about style from Cyndi Lauper's "Girls Just Wanna Have Fun"
What I learned about style from Aerosmith's "Crazy"
What I learned about style from Mick Jagger and David Bowie's "Dancing in the Streets
What I learned about style from Sonic Youth's "Bull in the Heather"
What I learned about style from TLC's "Creep"
What I learned about style from Olivia Newton John's "Physical"
What I learned about style from Missy Elliot's "The Rain (Supa Dupa Fly)"
What I learned about style from Solange's "Lovers in the Parking Lot"

What I learned about style from MIA's "Bring The Noize"