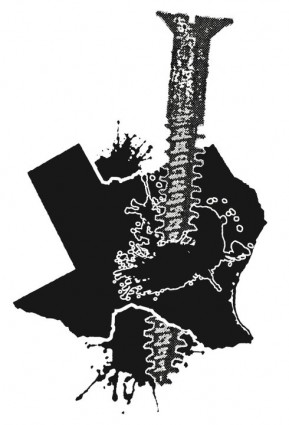 Here's the info on how to win - rides to Austin not included.

Main Attrakionz. You know you want to burn one down with these guys. Photo by Stephen Loewinsohn.
So let's say you love music festivals but hate waiting in line for a six-dollar bottle of water behind a bunch of whiney schmoozers. Not to worry—eight years ago the gods parted the clouds and gifted Austin, Texas with Chaos In Tejas, the best metal and punk festival on the planet. Here's some proof—this year you can catch Antisect, No Age, Nasum, Iceage, The Clean, Moss Icon, and, oddly enough, Best Coast. You can find the full schedule right here.
So the eighth installment of the festival starts tomorrow, and we've got some free passes for you to win! All you have to do is RT this tweet right here and you'll be entered in the contest. Oh, and also, you have to find your own ride down to Austin. Here's what you're looking at scoring:
1. A pair of four-day passes to the entire festival. That one's a no-brainer.
2. Tickets to the Young One Records showcase at ND. This is your best bet for catching the most exciting new hip-hop acts from all over the country. The showcase features performances from every new rap act you want to see right now: Main Attrakionz, Fat Tony, Cities Aviv, Children Of The Night, and Fast Ronald. It's at 8PM, Saturday, June 2nd, at ND - check out the flyer below, our recent doc on Fat Tony, and this mixtape from Young One; it's got cuts from the artists performing:
Again, to win this stuff, all you have to do is RT this tweet. Go do it!