Also, Drake's grandma died :(.
Sup bros? Did y'all have a good Thanksgiving? If you were with your family it was probably just the right mixture of fun and awkward, and if you stayed around your city you probably got drunk with your friends and it was only slightly depressing when your mom called and you didn't pick up because you were too wasted. Except if you're Canadian, in which case you got the whole "Thanksgiving" thing out of the way already. But since America is the capitol of the universe and New York is the (metaphorical) capitol of America, the music news week was truncated slightly. Still, enough stuff happened this week to make you fearful for the future of our society. As Bushwick Bill once put it, "Ain't no motherfuckin' Santa Claus!" If you need further proof, just check out all the shit that went down in mainstream music news.
—In actuality, people rarely ask me what I'm thankful for. It's one of those questions that seems universal but in real, human-to-human interaction, goes unposed. In addition to being thankful for my family, friends, and the fact that I was born into a relatively safe, comfortable life as a human being and not as a bug or a plant or whatever, I am thankful for OutKast. I genuinely believe that they're the closest thing my generation has to The Beatles, and while Andre 3000 is following his own weird muse that has him costarring in Will Ferrell movies and hawking razors, Big Boi has been getting his grind on and releasing some pretty fantastic music. Over Thanksgiving, he held a bowling tournament for his BigKidz charity that his team won for the seventh year in a row. The above picture, nicked from Big Boi's Twitter feed, corroborates this entire paragraph, except for the opinion parts.
—After days that seemed like months, the Rihanna Plane finally touched down on Monday. Last week, we reported that 150 or so reporters and fans was psyched to be flying around the world with Rihanna on a whirlwind, seven-countries-in-seven-days tour because she was partying with them and stuff, but shit got dark pretty much immediately. The worst of it happened when the media, starved for one-on-one time with Riri as well as actually starved because they weren't being fed properly, literally staged a revolt against the camera crew who was supposed to be filming the whole event for a documentary that will now probably never see the light of day. All kudos go to Gawker, who gleefully documented the entire thing and provided the most comprehensive coverage of the Rihanna Plane possible, despite not having sent a reporter on the "big ole jet" itself. My coworkers and I speculated that the shit the Rihanna 150 went through might give them PTSD and even considered asking a lawyer if what went down on the plane constituted a violation of human rights. If there's one thing that the Rihanna Plane taught me, the casual, morbidly-obsessed observer, it's that all human beings are animals and like Jim Jones said, we're just a product of our environment. May God have mercy on our souls.
—Fabolous has a new mixtape out entitled The Soul Tape 2. Conventional wisdom states that Fab, who's a top-tier rapper but struggles to put out solid albums, works best when he's rapping over soul samples or working in conjunction with R&B singers, so now he's got this whole Soul Tape series that he's pushing. While it's true that Loso's best songs tend to be R&B collabs, conventional wisdom did not state that Fabolous should ever make a song with Joe Budden. Meh.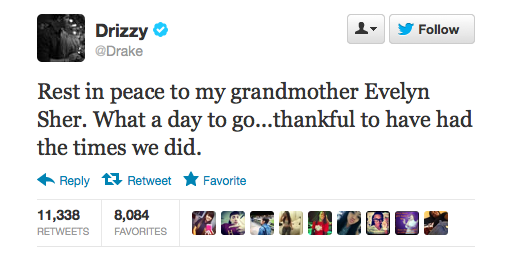 —As you can tell by the above tweet, Drake's grandmother died the evening of Thanksgiving. This is really sad and his reaction to it was really sweet.
—The American Music Awards were on Sunday night. They're like the Grammies, but they mean even less. Justin Bieber won Artist Of The Year, which was unsurprising. What was surprising, however, is he decided to thank "The Haters" in his victory speech. "The Haters" said the lil' poplet wouldn't be around for more than a couple years. He showed us wrong and if you want to listen to some sonically impressive, safely progressive global pop music you should listen to Believe, Justin Bieber's new album. If you want to listen to an entitled prick whose celebrity is slowly starting to turn in on itself and cause him to think everyone is out to get him when really we all wish he'd just shut up and dance, listen to Justin Bieber's speech at the American Music Awards.
—Oh, another AMA thing: PSY, the lovable South Korean goofball who became a household name in America with his wonderful, wonderful video for "Gangnam Style," performed at the AMA's with MC Hammer. It's actually kind of incredible watching them both dance, but throwing the two on a stage together does not portend well for PSY's post-"Gangnam" career. He's been a major star in South Korea for years, so even if he's a flash in the pan over here he'll be able to go back home and still ball out. Fun fact about PSY: He's considered the "bad boy" of K-Pop, because one time he was arrested for smoking weed.
—Kid Rock is re-recording his album Devil Without A Cause. This is awesome, because in spite of himself Kid Rock makes great pop songs. Devil Without A Cause contains "Only God Knows Why," the second-best AutoTuned pop-country song besides Tim McGraw's cover of Ryan Adams' "When The Stars Go Blue."
—WOOOO, TIME FOR CHARTS ON CHARTS ON CHARTS! One Direction had the number-one album in the universe. I have only listened to their song about how the girl who has low self-esteem is really pretty because she thinks she is ugly. Taylor Swift is predictably at number two, The Weeknd's Trilogy--which is a remastered reissue of his first three mixtapes--came in at number three, Christina Aguilara's Lotus hit number seven, and both Green Day and Lana Del Rey snuck into the Top Ten. Elsewhere on the charts we had Susan Boyle, whose album was given the unfortunate hashtag of #susanalbumparty by some bozo PR flack, The Rolling Stones, Aerosmith, the first One Direction album, Meek Mill, The Lumineers, and motherfucking Fun.
And that's pretty much all that happened in music news this week. Be sure to tune in next week as the Rihanna Plane PR debacle unravels, a bunch of live shows get squeezed in in New York before it gets way too cold for all the music journalists to leave their Bushwick apartments to take the train two stops to 285 Kent, we find out that everyone in One Direction is addicted to heroin, and also the Earth gets hit by a meteor and we all die. Just kidding about the last two, but seriously if you're in New York there are a lot of cool shows coming up.