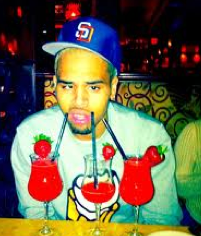 Apparently, the trick is having a line of headphones.
So, Vice had a party last night to celebrate the relaunch of Motherboard. The entire office is hung over. I assume I smell like alcohol. The only thing I can think about is that one Hold Steady where Craig Finn is really cagey and defiant about whether or not he and his friends partied then makes a couple allusions to black out. I could link to it, but that would distract you from mainstream pop music! Which you need to pay attention to! Consider this like SportsCenter, but for dumb pop music and only once a week instead of 40% of ESPN.
—Alchemist is all up in Billboard with a great interview about his hella-productive year, which included producing Rare Chandeliers, in our opinion the best mixtape around.

—Chris Brown did a bunch of stuff this week. First, Breezy Two Times quit Twitter because of an exchange with noted comedic writer Jenny Johnson. Then it was announced that he's on the next XXL cover and it looks like he got to say a bunch of dumb shit his publicist probably told him to say, then some other stuff happened, then Rihanna, who is probably dating him again, Instagrammed a picture of them making out.
—Nicki Minaj is feuding with Steven Tyler, and I'm just too hung over to care. Like I keep getting the hiccups and shit. Who does that? Me, that's who. Oh yeah Nicki Minaj says Steven Tyler's a racist, which given that Tyler is an old white man, is probably true.
—50 Cent is developing a Starz drama entitled Power. It kind of sounds like The Wire, but stupid. 50 Cent's first album was called Power Of The Dollar but never came out. It's way better than Power will be.
—Ke$ha's album Warrior leaked. I haven't listened to it, but I assume it's aggressively okay and expensive-sounding. Here's a song she did with Iggy Pop that seems like it's about having sex with Iggy Pop. It's good in an annoying kind of way.

—Katy Perry has been named Billboard's Woman Of The Year, which is stupid because Beyonce is the woman of every year. Fortunately, they're making a documentary about Beyoncé's life for HBO. Did that register with you? THEY'RE MAKING A DOCUMENTARY ABOUT BEYONCÉ'S LIFE THEY'RE MAKING A DOCUMENTARY ABOUT BEYONCÉ'S LIFE THERE IS A MOTHERFUCKING DOCUMENTARY ABOUT BEYONCÉ's LIFE BEING MADE ON THIS MOTHERFUCKING PLANE.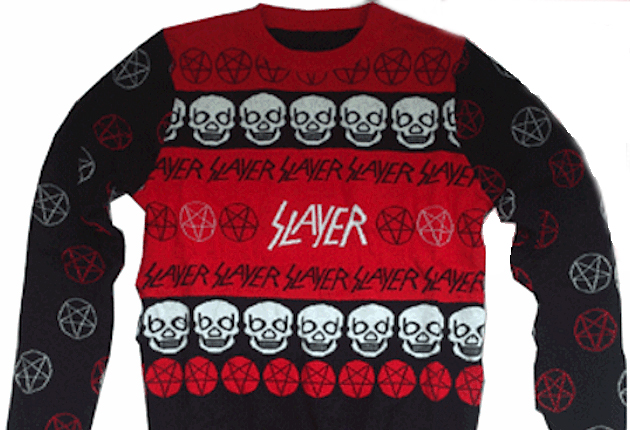 —Slayer made a Christmas sweater. Slayer rules and if you say otherwise I'll punch you in the dick.

—E-40 and Too $hort have come together to make an album entitled The History Channel. I'm atoning for having not listened to it by posting a link for you to buy it on Amazon.
—Dr. Dre is the world's highest-paid musician, and before you ask it's definitely because of the Beats By Dre blood money. Detox is never coming out, is it? If I had the ability to put Emojis in an article I would put a sad face Emoji here.

—Lenny Kravitz is playing Marvin Gaye in an upcoming biopic, and now my stomach hurts. Here's a song that Lenny Kravitz made with Jay-Z that samples Cake.

—I'm going to see Future tonight, so excuse the following joke: It's time for... CHARTS ON CHARTS ON CHARTS! Rihanna scored her first number one album in Unapologetic, my girl Taylor Swift's Red is still up there, the haircuts in One Direction sold a bunch more copies, Kid Rock's audio racism-core Rebel Soul was the fifth best-selling thing, and apparently Pitbull put an album out.