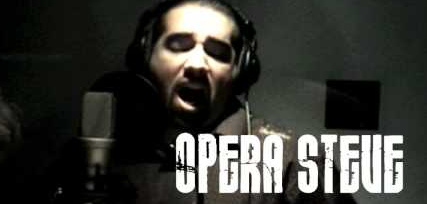 Never forget Opera Steve, the pudgy opera singer who sang backup on rap songs.
The Grammies are Sunday. A bunch of people will win a bunch of awards, and maybe I'll watch so I can have something to tweet about, but I 100% will not actually care about them. It's not that I'm not passionate about music and want artists like Frank Ocean to succeed over bland corporate bullshit like the Lumineers or whatever, it's just that I'll be thinking about Opera Steve, who co-stars with Cam'ron in the above video.
Who is Opera Steve, you ask? He's the world's only motherfucking Hip-Hop Opera singer. He's a thing. He sang the hook on "Killa Cam," "300 Brolic" by Fat Joe, and Big Pun's "Off With His Head." He might have been kinda pudgy, and he might have looked nervous up there in his tuxedo next to Killa in his glorious sweater that had 69 on it, but if you wanted to give your track a weird sheen of opulence without the pain of clearing a sample, you gave Opera Steve a call. Fat Joe might not be returning his calls any more, but he'll always be singing in my heart.
Know what else is a thing that exists? Music news! And me rounding it up for you every single Friday until I die.
—James Blake put out a new song this week! He went from some British dude with a sampler and a keyboard to one of the more celebrated musicians in the universe, and now he's got a pretty badass new song that you can hear around the one-minute mark.
—Guns and Roses have been added to the 2013 Governor's Ball lineup, meaning they'll be joining Kanye West, Nas, Bloc Party, Miguel, Dinosaur Jr., Haim, Freddie Gibbs, and Death from Above 1979 at Governor's Ball. I will also be there, but I will be watching and not performing.
—Grimes wrote a really interesting thing on her Tumblr, and then everybody liked it a bunch so she deleted her Tumblr, or something.
—Above is the trailer for Season Two of Odd Future's Loiter Squad show. They tackle each other a bunch! Earl Sweatshirt's in it! It'll be on Cartoon Network on March 10th! Also, you should read this thing about Bad Bad Not Good and OFWGKTA.
—People were in Times Square lining up in the blizzard for tickets to see Justin Bieber on SNL today until like one, which is when Huffington Post went and checked shit out. If you're still out there, be safe guys!
—Fall Out Boy's coming out with a new album entitled Save Rock and Roll. Fuck yeah.
—Finally, Devendra Banhart made a song called "Mi Negrita." "Negrita" is quite obviously Spanish for "A Black Woman." WHAT THE FUCK DUDE WHAT KIND OF HIPSTER SLEAZEBALL WOULD YOU HAVE TO BE TO THINK THAT WAS COOL OR OKAY DEVENDRA BANHART YOU ARE THE MOST BEATUPPABLE INDIE ROCK BAND.