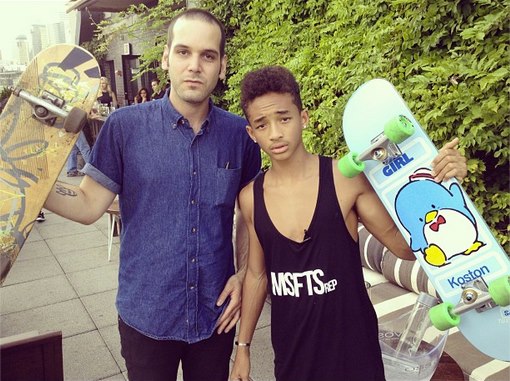 We thrashed in NYC with Will Smith's kid and talked about Twilight, slang, and celebrity crushes... Because why not, right?
A few weeks back, when we heard that Jaden Smith was in town working on some recordings, we hit him up to see if he wanted to go skating. Maybe you've heard of Jaden Smith - he's Jada Pinkett and Will Smith's kid, and a few months back he started releasing rap songs that were surprisingly mature, considering that he's only 14 years old. He even raps over bands that indie snobs like me are into, like Purity Ring and SBTRKT. Again, surprising, but sort of awesome.
Let's go back to the age thing for a second. 14 years old. Here's what I was into when I was 14 years old:
Dungeons & Dragons
Magic: The Gathering
Operation Ivy
Being Straight Edge
Eating Bagel Dogs
I'm sure there was more in that list, but all of it pales in comparison to what Jaden's done, which is basically become a gigantically huge kid rap star. He just put out the "Cool Cafe Cooltape Vol. 1," which, while a mouthful, is actually great. You can download that right here.
Another thing I was into when I was 14 was skating. We took Jaden and his crew around Lower Manhattan to go skating, and chatted about celebrity crushes, the Twilight Saga, and the slang that kids are saying these days... because why not, right?