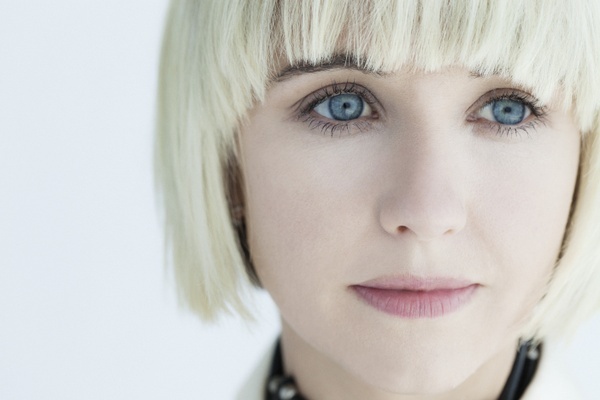 Since the first time I heard Joy Formidable's "Whirring," the track has been in near-constant rotation on my iPod. The track was their breakout song from their 2011 debut album The Big Roar, and while I'm generally enough of a musical elitist to try and ignore a single in favor of deeper cuts, there's something about the ebullient ballsiness of "Whirring" that I found completely irresistible. Even two years later, the band's first genuine rock radio hit is still featured on most of my playlists, save for my uber-romantic "All Fetus All The Time" playlist on Spotify, natch. It's a song to play with the windows down and the radio on while driving for the sake of driving. The essence of the song is a heart-pumping enthusiastic love of rock and roll, a feeling that Joy Formidable managed to once again capture on their new album Wolf's Law.
I love the band, but it's a weird feeling when you hear that a beloved once-indie band is opening up for Muse in arenas across Europe. I mean, Muse? How can a band that encapsulates raw and raggedy rock open up for, well, Kate Hudson's husband? It's a strange disconnect, but one that happens frequently as bands try to make it as musicians or die trying. Like Haim touring with Mumford and Sons. Come on guys.
That said, I suspect that if anyone could shrug off fame and fortune hunting in favor of pure rock and roll, Joy Formidable is it. I caught up with Ritzy Bryan in a hotel room in Luxembourg to talk about the heart of rock and roll, what's it like to count Dave Grohl among your fans, and whether she feels the need to be a trailblazer for other Welsh bands.
Noisey: How did you approach this album differently?
Ritzy Bryan: We were on the road and touring so we did a lot of writing on the bus and in hotels. We had 18 months of writing on the road before we finally got a little bit of time out. The tour ended around Thanksgiving of 2011 in New England and we went to a cabin in the woods in Maine near Sebago Lake. We finally had a moment to reflect on what we'd been writing for the last 18 months. We went back in June 2012 to track it and did orchestral sessions and choirs in London. As you can imagine it is quite different in Portland, Maine. It's different from the big roar.
If you just accidentally ended up in Maine, how did you record an album? How much equipment do you carry around with you?
We've always got a studio with us. It allows us to be flexible, when you're on the road and you need something. So we have a mobile recording studio. Quite a modest set up. If you know what you want from the gear you have you can easily make it work. We had a lot of fun recording the drums, because we knew that we wanted to do an experiment when it came to the drum sounds, especially because we were working with Andy. We had three different drum rooms and three different drum set-ups. It was a great experience. We were really able to capture the moment and the songs that had been growing in our stomach on the road. The aesthetic in this band is to capture the first take and really grab the charm of the first take, the first time you play anything. That's very much alive on this album.
Do you have a favorite track on the new album?
It keeps changing at the moment, especially now that we've started playing them live. I've always had a soft spot for "The Turnaround," which is the last track on the album. It was inspired by my grandfather -- who was a working class hero -- and the way he looked after his family. He passed away during our first week in the studio, which was a weird emotion because we were so excited to be back in the studio and then this wave of sadness. I felt compelled to write a song about him and his life and pay homage to him.
Are a lot of your songs that personal?
Yes and no. This latest album has a few tracks that are very personal. "Tendons" is about mine and Rhydian's [Dafydd, the band's bass player] relationship – our sense of tenacity and pulling together. So there are a lot of personal moments on the album, but there are also a lot of other peoples' stories. There's a lot that's observational and day dreaming. Every song twists and turns between personal and external.
"Whirring" was sampled by The Lonely Island for "YOLO," which featured Adam Levine‬ and Kendrick Lamar on SNL. How did that happen?
I'm really not sure! We got the news literally a few weeks ago. It was really exciting, though, especially for Matt our drummer. He's a huge fan of those guys. He was like a kid at Christmas. But there are a lot of things you can't quite explain in this business, like how that happened or why they sampled it. The song really sounds great in a different context. It's always interesting to see how people incorporate the music you make into their own.
You're opened for Muse on quite a few dates. It strikes me as an unlikely pairing. How did that happen?
It's difficult to say how that happened. When we went out with the Foo Fighters, that was a natural process how that happened. Dave [Grohl, duh] heard a track on the radio and he's a big supporter of new music and he heard it and invited us to tour. We had a great time with both of those bands doing supporting slots for arena shows and headlining for smaller shows.
What's it like knowing that Dave Grohl is a fan of your work?
Touring with the Foo Fighters was without a doubt the happiest couple of weeks that we've had. Great fun, great camaraderie backstage. For a new band like us it was really inspirational to watch the Foos who have been playing music for so long. They are so fired up about the music they're making. It's heart warming. It's the career that we're on track to have and it's great to see that even with all that history together, it's still all about the music for them.
Do you think increasing fame changes you as artists?
Depends what your motivation is for making music. Ours has never been to chase celebrity. Never thought about making music to have a bigger career. That's not what informs the music that we're writing. There's real creativity and integrity to what we're writing. That's the root of this band. We can't really control how that connects on a grand scale. We just want to have a career that creatively we're in control of, no regrets. We're the ones who have to play it live and I don't want to go out and pretend on stage. It's impossible to change that, but anything else is out of our control.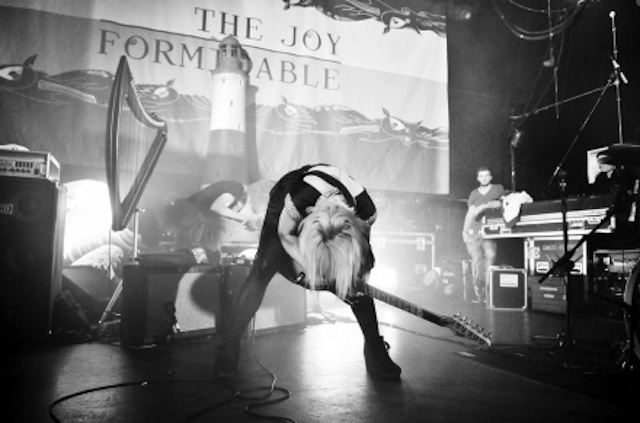 You self-produced the album in Portland, Maine. Why did you choose to self-produce? You didn't mix the album yourself, though?
Producing is a vitally important part of this band. We are very clear about how we want things to sound. It's part of the songwriting process. It's very natural for it to be self-produced, especially as we had a strong vision for the album. Andy Wallace mixed it. He's a very musical mixer and a great collaborator. It's always important to add a fresh pair of ears to the process. He was just able to add this extra bit of magic to the album.
Why Portland, Maine and not Portland, Oregon, which has a stronger music culture? I'm from there so I feel okay about my bias.
It was very much an accident – a very happy accident. It was logistically where we ended the tour. Everyone was going home for the holidays and we decided to stay where we ended it. Just chanced upon this place, a secluded cabin in the forest on Sebago Lake. It was a complete contrast from touring. We love being on the road, being chaotic and busy, and we found the complete opposite. The cabin was in this cold rural environment, which is a big part of the muse of this band. We grew up in North Wales and we felt familiar in this landscape and the wilderness. That seems to bring out a good side of the band. Who knows what a tropical writing period would produce. Something really different no doubt.
With lots of steel drums, probably. Who do you think are some of the best bands in the UK right now?
The Jungles from Manchester. Their second album came out and it really feels like people are starting to take notice. It feels quite fresh to Manchester. We Are Animals, they are from North Wales and I think it's quite hard for a band from North Wales to reach a wider audience as there's no obvious scene and no place to play. It's a difficult place to be seen.
As a Welsh band has it been hard building an audience in the States or has YouTube changed all that?
It's quite surreal. I'll be honest with you, these things are always strange to completely take in. We're always busy. We're excited by the music we make. We don't really think about how things are growing, just getting out and playing shows. We have a great connection with people in the States. It feels like there's a fan base in the States that's invested, but again it doesn't seem that unusual from the fanbase that we have in the UK. It feels like a real, close connection. And we really appreciate them. You put your music out there and that's what you hope for: That people will feel passionately about it.
Do you feel that you need to trail blaze for other bands from Wales?
In a modest and simple way we hope our success instills some fire in the bands that are coming out of Wales. We're very proud of where we come from and this band and where the band started. In the most modest possible way, we want to inspire other bands to get out there. We took a few risks – we still do – we're always pushing the envelope. When we came to the States for the first time, we knew that it was financially risky to come. We were living hand-to-mouth, releasing things ourselves, taking the risk and touring the States. We had no idea how it would work out, but we met so many great people trying to keep ourselves busy on the road. That's the story that's worth being told. Don't listen to anybody else. Get your music out there. Be empowered as a new band.