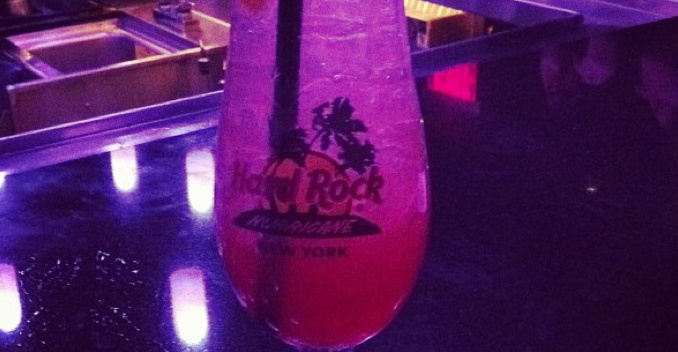 But Hard Rock Café was open, so we drank $17 cocktails there instead of at Flavor Town.
Blame it on the budding excitement for South By Southwest, a lucky confluence of scheduling, latent Fashion Week event-craving, or maybe everybody getting amped on the fact that it's finally not nut-bustingly cold 24/7, but there was a metric fuckton of cool concerts in New York last night. There was Ludacris playing some Billboard party, Chairlift playing some thing where you had to wear all black, Bad Rabbits and World's Fair at Knitting Factory, and some weird Christian Rock dude at the Theater at Madison Square Garden. But the greatest of all possible shows was at B.B. King's in Times Square, where Waka Flocka Flame played an event called the Waka Flocka and Friends Hurricane Sandy Benefit. As with any benefit concert that's scheduled four months after the bad thing it was named after happened, it was a shitshow that went on until nearly three in the morning, resulting in catastrophic intoxication, loss of personal items, and the acquisition of a souvenir cocktail glass from the Hard Rock Café.
My evening began in earnest with me checking out World's Fair's set opening for Bad Rabbits at Knitting Factory. As always, they were awesome. In the past year or so they've become a staple of rap shows in the city, always seeming to pop up on bills and routinely converting everybody in the crowd. I think the fact that Prince SAMO has a nipple ring really helps. After World's Fair, I went to a bar in Williamsburg called Lucky Dog. There was not a concert there, but the people I was supposed to meet up with were so I had to go there. After that, we all hopped in a car and trucked it up to Times Square for Waka.
There's something magical about Times Square. It's far from everything that isn't aggressively terrible, it's exorbitantly expensive, there are a lot of bright lights and shitty tourists there, and it's serves as a gigantic monument to the fact that late-period capitalism will be the undoing of us all, but that's why it's kind of perfect. The most glaring stain on human thought that exists in Times Square is Guy Fieri's American Kitchen and Bar, so we tried to drink there before Waka Flocka got on. We rolled up to a mostly empty Flavor Town at around 12:15am, ready and willing to shotgun oil drums of Donkey Sauce only to find that the crew had closed up shop early for the night. "Go next door," one of the waiters told us. "Tell 'em Rock sent you." This ended up being bullshit, because the place next door he was referring to, which just so happened to be a bowling-themed restaurant, was also closed. But you know what was still open?
Hard Motherfucking Rock Café.
If you've never been to the Hard Rock Café in Times Square very late at night, you should know that it is a dark, dark place. First, you truck down a flight of stairs and are face with a wall that is literally made out of severed guitars. Then, you will accidentally go to your right while trying to find the bathroom and find yourself in a desolate room full of pointless Rock and Roll memorabilia—The t-shirt Layne Stayley wore while doing the second take of "Heaven Beside You!" The first can of Mace that Mark McGrath ever got sprayed with! Paul Stanley's wig!—when a Hard Rock Café waitress will good-naturedly but firmly escort you from that room into the dining room, where you will then be given a plethora of "Classic Rocktails" that all cost $17 and come in souvenir glasses. You will pick the "Southern Rock," which will sound manly but turn out to be pink. Your friend Jeremy will have a glass of the Grateful Dead Red Wine. You will watch a hopeless-looking drunk man try to finish an ice cream sundae. You will be reminded that some people's idea of fun is different from yours.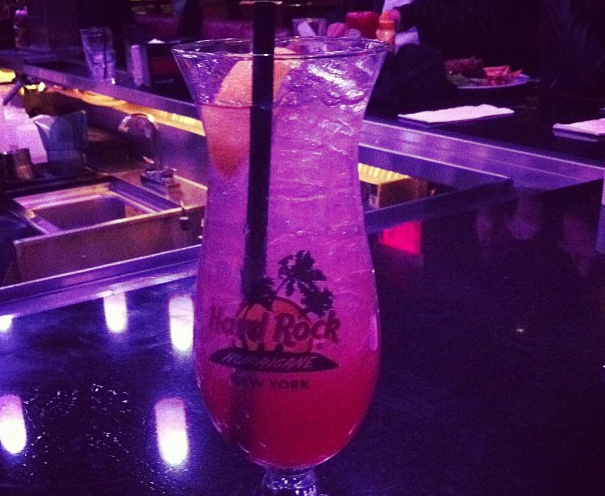 By the time we actually got to B.B. King's, the place was the picture of a beautiful disaster, word to 311. Waka hadn't gone on and opener Vinny Cha$e ended up getting bumped from the bill, but out of nowhere Erick Sermon showed up, did like two songs, and then Raekwon came out and everybody wigged because he did "Incarcerated Scarfaces." During the time between Wooh da Kid, Waka's brother and the third opener we caught, and Waka's actual set it seemed like the audience's enthusiasm seemed to have flagged, which led to the audience (including your esteemed reviewer) to drink heavily, the bartenders getting exasperated that when I asked one of them if there was a minimum on cards, he actually said, "It doesn't fucking matter anymore" and then rang up my nine-dollar Heineken without question.
As for the Waka set itself, it was fine. It was probably my third-favorite Waka concert I've been to, mainly because the first time I saw him I was onstage with him and the second time I saw him Gucci Mane showed up. He did lots of songs from DuFlocka Rant 2, his new mixtape that I don't particularly care for, and then closed out his set with "No Hands." Even on an off-night Waka Flocka is great, and this wasn't an off-night.
Oh, and as we were leaving the security people, despite having no reason to, gave us back our souvenir Hard Rock Café cocktail glasses that they'd confiscated from us when entering the venue, despite the fact that they didn't give anyone anything else back. It was a strange end to a strange night, and "Fist Pump" is still an underrated song.
People in their basement probably say Drew Millard didn't write this. He's on Twitter - @drewmillard