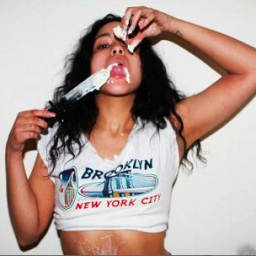 Noisey fav Wavy Spice goes even further left-field.
So, I've been championing Wavy Spice ever since she released the infectious and sassy as shit "Bitch, I'm Posh", produced by another fav of ours Freebase, and fell in love with this NYC boricua. Anyway, after making us all wait on tenterhooks for the next cut, she's gone further left-field and tried her hand at singing with "YaYa", very heavily influenced by her taino roots.
Listen below; I can't tell if it's testament to her eclectic influences or it's an exercise in her literally giving no fucks about what direction she takes. Singing, rapping, whatever, I'm keeping an eye on her.