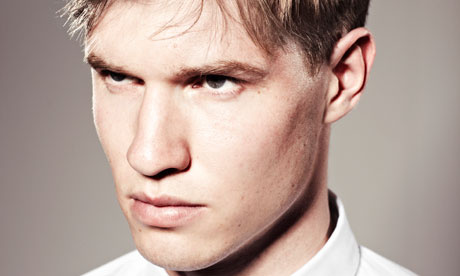 Last year Society released a single that people got super excited about and then they disappeared. Turns out "they" is just a "he" and this is the premiere of the first video where "he" shows his face.
Last year Society released "All That We've Become" and people got really excited about the sepia strings, organ grooves, and the singer's soulful melancholy. After that we heard nothing. No one really knew who Society was other than that they apparently hailed from Reading in the UK, a commuter town an hour from London where teenage boredom drives kids to drink liver-obliterating amounts of alcoholic cider and hang out at places called the Purple Turtle. Or, if you're Society, to make music that sounds like it should be delivered via a dusty 45.
Whatever, Society's big reveal has arrived. They are actually just a he: 24 year old Jamie Girdler and we've got the premiere of the video for his second ever track. Here is the face of this twilight crooner. In motion. He looks quite thoughtful and a tad stern; he likes button down shirts buttoned to the top. Musically, James marries trip-hop beats, muted brass, and what's probably a 70s Motown sample, looped. He sounds deliciously dejected too.
"14 Hours" is out on September 9 via Angular Recordings Corporation and you can get it for yourself here.