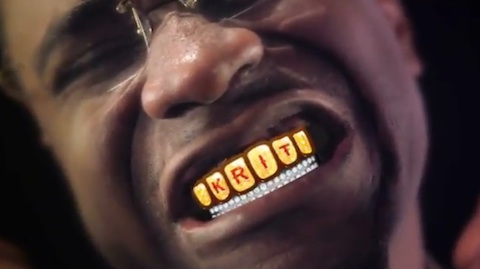 You don't have to be tripping balls to watch this video, but it might help.
Take the animated technicolor dreamworld of Kanye's "Heartless" video, the dynamic kinetic type of Justice's "D.A.N.C.E." video, and the no-nonsense, just-a-man-and-his-green-screen swagger of Danny Brown's "Radio Song" video, send them to Vegas for the weekend with some cash in their pockets, and don't ask questions. Nine months later, you'll have the new video from rising Southern rap golden boy Big K.R.I.T., "4evaNaDay (Theme)."
Directed by Decatur Dan (who's recently dropped videos for 2 Chainz and Young Jeezy), "4evaNaDay (Theme)" is the stand-out title track off of Big K.R.I.T.'s recent 4eva Na Day mixtape.
Check out the new clip and, if you're big on K.R.I.T. (hiyoooo!), watch out for his debut LP, Live From The Underground, on physical and digital shelves June 5th.