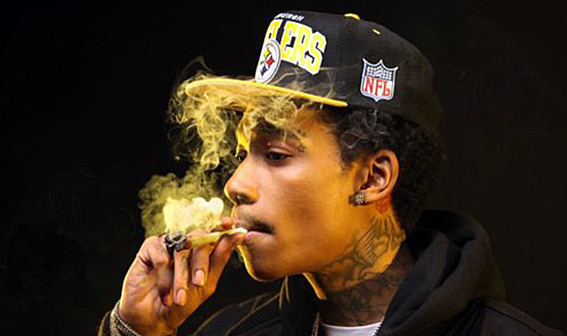 Sure you do! Click here for more info.
Here at Noisey, we don't endorse light drug use. Being high is bad for you, and if you do too much pot you might get fat or even worse, listen to Bongzilla for more than an hour. But you know who does fuck with the pot? Wiz Khalifa! We've teamed up with the Diety of All Things Chill himself to give you the ultimate 4/20 Survival Kit (weed not included, but if you need anything we, uh, know a guy). Five winners will recieve a Wiz Khalifa Spliff t-shirt, three packs of Wiz Khalifa rolling papers, and a Wiz Khalifa Blue Haze herb grinder. To win, tweet your favorite nickname for the stickiest of the ickiest at both us (@NoiseyMusic) and Wiz (@wizkhalifa). Only those who follow Noisey will be considered, and happy smoking. Winners will be announced at—when else?—4:20 PM. If you don't win, you can always but your Young Khalifa smoking gear at store.wizkhalifa.com.
And while you're at it, Wiz and Curren$y will be dropping a joint (ha, get it?) EP tomorrow entitled Live in Concert. Check their oddly hypnotizing YouTube Livestream to view the announcement.
Drew Millard was once in a band called #thepotheads. He's on Twitter - @drewmillard