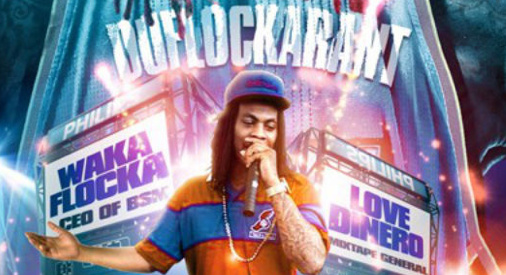 I REALLY RELY ON WAKA TO UNABASHEDLY SUPPORT ME IN MY BAD LIFE CHOICES.
WHOA, WHAT? CHILL WAKA GET THIS R&B OUTTA HERE THERE WAS NOT ONE SINGLE GUNSHOT NOISE ON THIS TRACK BRUH WHY IS THIS KICKING OFF THE FOLLOW UP TO THE HARDEST (PAUSE) MIXTAPE I HEARD ALL YEAR? THIS IS NOT WHAT I CAME HERE FOR FLOCK. YOU KNOW I DID NOT DOWNLOAD THIS TO HEAR HARMONIOUS MELODIES. THAT'S LIKE GOING TO A FARMERS MARKET FOR TWINKIES MY PAL. I DON'T WANNA HEAR THIS DENTAL ASSISTANT AS A DAY JOB ASS FAKE BOBBY VALENTINO NIGGA MOANING AND GROANING OVER A "SMOOTH BEAT." OH COOL THE SHIT IS OVER WAIT WHAT IS THIS? WHERE'S THE 808S WAKA? WHAT THE FUCK IS GOING ON MY GUY? WHAT'S THIS EARLY KANYE SAMPLE SHIT? OH GOD PLEASE DON'T LET THE REST OF THIS SHIT BE LIKE THIS *SKIPS TO "ACTIVIST"*
YEAH NIGGA!! UNH!! UNH!! *SMASHES DINNER TABLE IN HALF WHILE CHUGGING COUGH SYRUP*
THANK GOD B I WAS ABOUT TO BE INTENSELY DISAPPOINTED. I REALLY RELY ON WAKA TO UNABASHEDLY SUPPORT ME IN MY BAD LIFE CHOICES. NAHMEAN WHO ELSE IS GONNA SONICALLY HELP ME CRASH MY VEHICLE AFTER CONSUMING MAD ALCOHOL AND BENZOS?
YO YOU KNOW HOW ANGRY COPS GET AT YOU IF YOU CATCH A DUI WITH A BABY SEAT IN THE CAR? NIGGAS GET OD RIGHTEOUS AND HOLIER THAN THOU ON YOU B. "YOU GOT A FUCKIN KID YOU FUCKIN ASSHOLE? YOU'RE A PIECEA SHIT BUDDY LEMME JUST TELL YADAT FER STARTERS AWRIGHT? YER A FOCKIN PIECEA SHIT BUDDY, GET ON THE FUCKIN GROUND!!! STOP RESISTING!!" *COP SODOMIZES YOU WITH FOUND OBJECT* MAN NYPD REALLY AIN'T SHIT MAN. THEY RECRUITING PROCESS IS GOING INTO HIGH SCHOOLS AND SCOOPING UP ALL THE NIGGAS THAT'S 5TH STRING ON THE FOOTBALL TEAM AND GIVIN THEM GUNS AND A "SHOOT 5 NIGGERS FREE" PASS. THIS WAS A HYPOTHETICAL SCENARIO RELAX I'M A RESPONSIBLE DAD. I ONLY GIVE MY SON 2 BAGS OF M&M'S A DAY BECAUSE I'M HEALTH CONSCIOUS.
LOL THE NIGGA SINGIN THE HOOK ON "TOUCHDOWN" SOUNDS LIKE HE GOT A SEVERE SPEECH IMPEDIMENT BUT THIS SHIT STILL FUCKING GO HOARD (SAY THAT IN AN ICE CUBE VOICE) ALSO QUOTE OF THE YEAR GOES TO THE NIGGA THAT SAID "THESE NIGGAS STILL HATIN, I'M LIKE 'OH WELL'" LOLOLZ THESE NIGGAS ARE TERRIBLE RAPPERS B BUT I UNDERSTAND THAT'S NOT WHAT THEY HERE TO DO YOU FEEL ME? LIKE I SAID I DON'T GO TO THE LIBRARY TO TURN UP AND I DON'T GO TO SUE'S TO HAVE A QUIET RELAXED EVENING. "RED FERRARI" IS KINDA BORING SO I SKIPPED IT. HOLY SHIT YOUNG THUG HAS THE LAZIEST RAP NAME I EVER HEARD. A NIGGA WOULD HAVE TO COME OUT OF ATLANTA CALLED "YOUNG RAP" OR "LIL RAPPER" TO TAKE THE CROWN FROM YOUNG THUG. YOU KNOW WHAT THOUGH? THIS IS WHAT NIGGAS DO IN THE SOUTH THAT NEW YORK NIGGAS JUST STARTED DOING AGAIN. SOUTHERN NIGGAS WILL BE IN THE STUDIO WITH A BUNCHA GOONS AND BE LIKE "AY LIL POKEY! AY POKEY NIGGA! GIT ONNIS SHIT HEA!" NEXT THING YOU KNOW LIL POKEY WHO USED TO CARRY THE WEED IS DROPPING A MIXTAPE HOSTED BY DJ DRAMA HOARSELY SCREAMING ALL OVER THE SHIT. NEW YORK NIGGAS WON'T PUT THEY OWN BROTHER ON A RECORD B. I KNOW, I BEEN RAPPING SINCE 1978. (JUST KIDDING THAT'S MY UNCLE)
(ALSO JUST KIDDING MY UNCLES ARE ALL "BUSINESSMEN" *WINK*)
ANYWAY THIS IS A PRETTY GOOD MIXTAPE, IT'S NOT NOWHERE NEAR DUFLOCKARANT 2 BUT I DON'T THINK ANYTHING CAN COME CLOSE TO THE SHEER POWER OF THE MUSICAL VIOLENCE CONTAINED ON DFR2. THAT WAS A ONCE IN A LIFETIME MUSICAL COMPOSITION FOR ICE GRILLING NIGGAS WHILE YOU DRIVE YOUR CAMRY AROUND THE MALL PARKING LOT SMOKING MIDS YOU GOT FROM TUCKER. PERSONALLY I USE THAT SHIT FOR MY WALKS TO THE BODEGA JUST IN CASE A NIGGA TRY TO FRONT ON ME FOR HAVING BABY DROOL ON MY SHIRT.
I GIVE THIS SHIT 3 PILES OF DUTCHGUTS OUTTA 5 BECAUSE I DON'T KNOW IT'S GOOD SHUT UP UGH I SLEPT 2 HOURS LAST NIGHT MAN. LET ME TELL YOU LITTLE BITCH ASS NIGGAS SOMETHING. UNPROTECTED SEX FEELS GOOD AND CHILDREN ARE A BLESSING BUT IF YOU ENJOY GOING TO BED AND SLEEPING 8 CONSECUTIVE HOURS. STRAP THE FUCK UP BABY DICK. AIGHT? YOU'RE WELCOME.
STANDOUT TRACK: "ACTIVIST" IS OUTSTANDINGLY EXECUTED GANGSTA MUSIC B. I FUCKED UP MOTHER'S DAY LISTENING TO THIS SHIT CUZ I GOT ALL HYPED UP AND SUPLEXED MY WIFE THROUGH A GLASS TABLE.
The Kid Mero did not actually do that, for the record. He's on Twitter - @THEKIDMERO