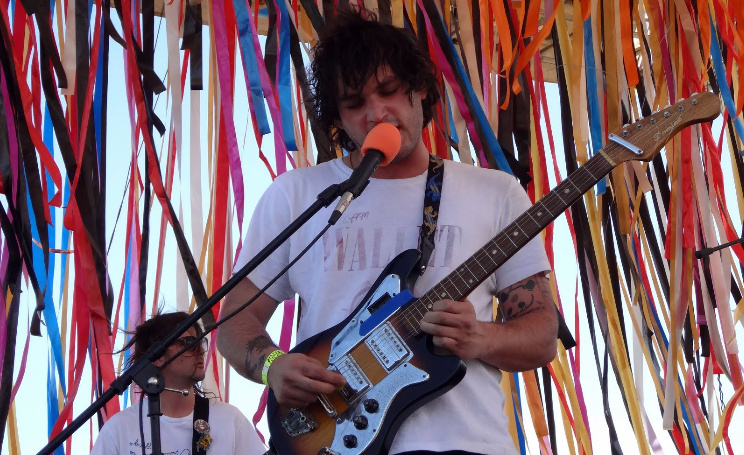 We chat with Luis Ceron about the Mexico City independent music scene.
Luis Ceron didn't intend to become a tour manager. Six years ago he met the experimental pop band Thieves Like Us at a house party they played in Mexico City. The band complained to him about the awful time they were having with their management/booking company there and asked Ceron if he would help them with their next tour. He said yes. Through Thieves Like Us, Ceron was introduced to Discos Tormento, an independent record label based in Mexico City, and they started sending their artists his way. Ceron grew up in Mexico City. He moved to Vancouver, Canada at age 9 and returned to Mexico City when he was 16. Now 24 years old, he works as a an independent tour manager/booking agent and co-manages Discos Tormento. In the past, he tour managed Beach Fossils and DIIV. I caught Ceron at Festival Nrmal as he was ushering bands between the hotel and the festival grounds. We talked about the challenges of booking and touring in Mexico, Mexico City's indie music scene and the role of Festival Nrmal in the growth of this community.
Mexico City has been slowly cultivating an independent music scene, Ceron told me. Even so, the city can be a challenging environment for indie bands. The music industry is centralized in Mexico City, as most of the venues and promoters are located there. Consequently, the city is a mecca for young bands trying to break into the music industry. According to Ceron, a lot of great acts coming from outside the city can get stranded in this "sea of bands" and lose what originally made them unique. Bands may also have dual projects—one ­to get on a big label and become famous, and another that reflects the music they actually desire to make.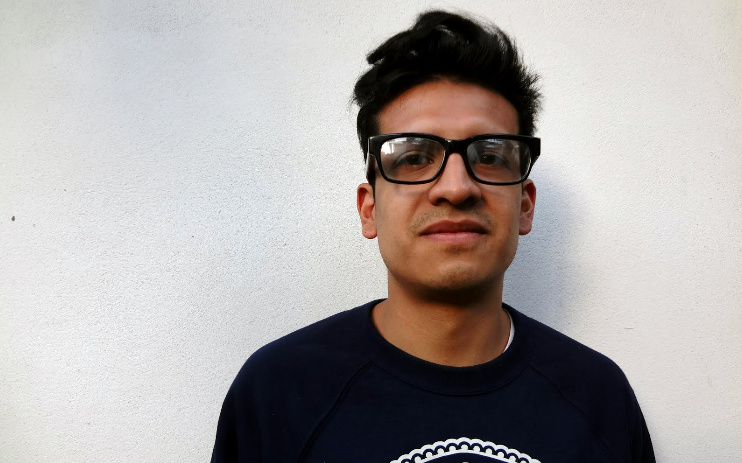 Luis Ceron
"The thing is, Mexico City doesn't have much of an independent scene," Ceron said. "I remember when Beach Fossils played there last year and DIIV were just starting out. I never thought they would get this big. Cole wrote half of DIIV's album in my living room. He already had a lot of the structures of the songs, but he started recording at my house during the two weeks they spent there. From where the band was a year and three months ago to where the band is now—that doesn't happen with Mexican bands. There's no way a band would get that big that quickly, especially in the indie scene. You need a big record label to get huge. Record labels here still control everything."
Most of the venues in Mexico City are in the neighboring districts of Roma and Condesa. Because the venues are so close to each other, it's nearly impossible to book a band at multiple venues in the city, or even two nights at the same venue, according to Ceron. People will attempt to bring new indie bands from the US to Mexico, but promoters won't want to pay the cost of travel. "They might throw $400 your way, but I have to cover four or five flights from New York, and then I have to cover internal travel," Ceron said. "At the end of the day, it's really fucking capitalistic. Let's pay less and make as much money as we can. The industry is being whored out."
One venue—El Imperial—is setting a new standard. "The one thing they did was they didn't go cheap. They spent a lot of money on their audio. They spent a lot of money on their backline. When you get there, it's one of the few places you actually get treated. If you're in a band, there are beers waiting for you. That's the sort of thing that lets you know that you're working in a professional environment," Ceron said. "Other venues will wonder why a band that packs a Friday or Saturday night won't want to play their venues. It's because they're not providing what everyone's used to now at Imperial. They're not providing a sense that they actually care. Imperial does lose a lot of money because of this, but they're the only people who are invested. Imperial is also the only venue that will negotiate with a lot of the promoters who want to bring smaller US bands, and since all the equipment's already there, all they really have to invest in is the plane tickets."
Although this model has proved to be successful, Imperial is a diamond in the rough. Cine Tonalá is another venue making notable strides in the indie music scene, bringing emerging international acts to Mexico City, according to Ceron. But this community is still forming. "These venues get packed on their own. Bands are pretty much like background music," Ceron said. "It's not cheap to go to any of these venues because they're in up-and-coming neighborhoods with really expensive rents. Therefore entrance is expensive. Drinks are expensive. And the people who do have money aren't really into music."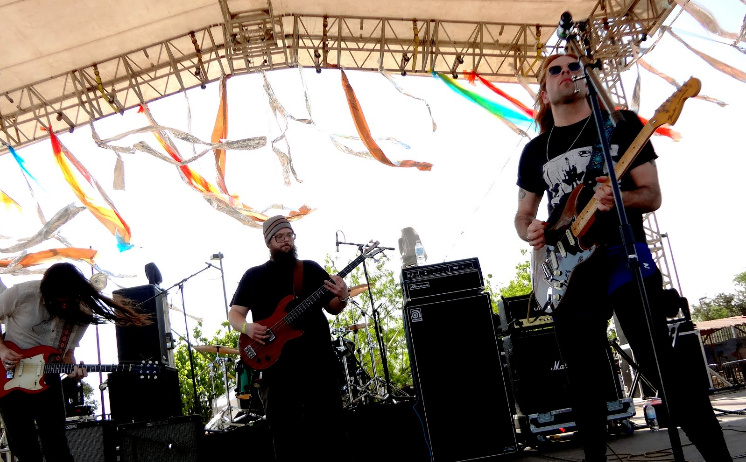 Milk Music at Fesival Nrmal
"Eventually, I started seeing there was a market for indie bands. For example, when we booked Beach Fossils, the show was on a Wednesday, and it was packed with people who were there just to see them," Ceron said. Ceron attributed this unexpected shift in attitude to the creation of Festival Nrmal. "All of the sudden, it was cool to bring all these weird, unknown bands to Mexico and have them play a festival. Maybe only a thousand people will go, but a thousand people will see new bands. Today, I'm seeing a bunch of bands I've always wanted to see that I've never seen in my life."
As far as touring in Mexico, the four major cities where indie bands can play are Mexico City, Guadalajara, Monterrey and Tijuana, Ceron told me. "The independent music scene in Tijuana is really fucking good right now. Because of their proximity to the border, they're doing a lot of cool things. They're not so influenced by what's going on in the rest of the country," Ceron said. "But as a band, it's really hard to get out there. You're pretty much flying to California. The other cities don't really have enough of a scene or any scene at all. It's not like a band can hit up all the states in Mexico, like in the US."
But a handful of people are beginning to build scenes in other towns throughout Mexico, like Puebla, León and Aguas Calientes, according to Ceron. "In Puebla, there's a small college town called Cholula. They're working on the indie music scene there. They actually have a festival coming up—Día del Campo. It's only Mexican independent bands, so that's pretty cool. Guadalajara has a scene, but if you try to go anywhere else, like Sonora or Chiapas, there's no way. There's just not a circuit established among the cities for touring," Ceron said. "The scenes are very different in each city in Mexico. But there are people trying to support them. There are people that are working toward them. And I think at some point they could thrive."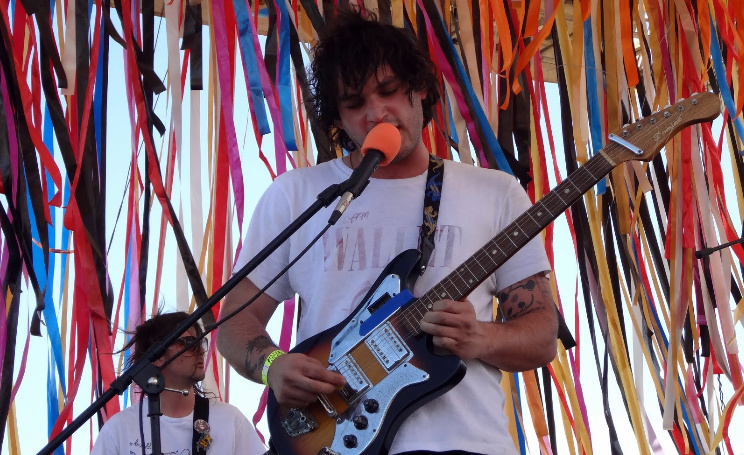 PC Worship at Festival Nrmal
Mexico City is at a curious crossroads in terms of its own indie music scene. "At one point, Mexico City was really exclusive about who got into the music scene there. Bands created tight-knit circles," Ceron said. "But now, because of the drug war, a lot of bands from other cities have moved to Mexico City, which has one, made Mexico City bands get better, and two, made them realize that they have to accept the outside scenes, and I think that's what's working. There are some people coming to Mexico City from Monterrey, and a lot of people are coming from Sonora and Torrejón. Right now in Tijuana there's no more drug war shit. It's calmed down. Though a lot of people from TJ are moving to Mexico City. TJ is kind of untouched territory. They're in their own world because they're so closed to the states, and in a way, the rest of Mexico has secluded them. I can't wait to see what's going to happen with that."
"Last year, I was thinking of moving to the states. A lot of bands give up, too. But then there are things like Festival Nrmal. When I got invited to collaborate on this festival, it reassured me that I was doing the right thing, that maybe I should try sticking it out a little longer. With the way the industry is sometimes, it can be hard. It does make you reconsider whether you can actually live off of music in Mexico," Ceron said. "Festival Nrmal, or other independent festivals, like All My Friends in Tijuana or the one I mentioned in Puebla, show you that there are other people who want to invest in things like this and see cool Mexican independent bands thrive. I think that's what we need—for people to see that they do have a choice, that they're allowed to pick what they listen to, not just what their radio says they should listen to, that maybe they should invest a little time in finding out about different music. It's worthwhile, and it's definitely cheaper to come see these bands than the mainstream acts that charge up to $200 a ticket. Just support cool bands. It's not that hard. And the music's not shitty."
Find Ali Carter on Twitter - @alikaycarter