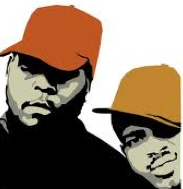 The legendary rapper tells the story in his own words.
It's hard to explain the impact of Cannibal Ox. Their lone album The Cold Vein sounds just as revolutionary as it did when it dropped twelve years ago, serving as something of an alpha and omega point of underground hip-hop. The duo, comprised of Vast Aire and Vordul Mega merged the raw lyricism valued by the hard-as-nails New York underground with the sci-fi mysticism that would become a touchstone of El-P's Definitive Jux label. The Cold Vein is funny, of paramount intelligence, heavily intertextual and contains the sort of depth that genuinely rewards a close lyrical reading. Oh, and the beats on the thing were fucking fantastic--a glorious, full-bodied mess of wall-to-wall El-P production in an era when the New York legend was still cementing his legacy. But after The Cold Vein, something happened. For the most part, Cannibal Ox stopped releasing music after The Cold Vein with little to no explanation. Rumors flew. The duo had broken up, people said. There were whispers that Vordul Mega suffered from mental health issues. Their relationship with the now-defunct Def Jux was called into question, especially following an announcement on El-P's Facebook page stating that he'd never work with Vast and Vordul ever again.
However, the Vast Aire and Vordul Mega have reunited. The duo are gearing up for a show at the Knitting Factory in Brooklyn on December 9th, and have announced plans for a new record as well as a tour. I spoke to Vast on the phone Friday while he was watching ESPN, hoping to catch an update on Hector Comacho, the world-famous boxer who suffered what would prove to be a fatal gunshot wound in Puerto Rico. Vast speaks in almost the same exact manner in which he raps, his lilting cadence allowing words to spill out and before you know it he's answered all your questions before you've even known to ask them. What follows is the story of the Cannibal Ox reunion from Vast, in his own words. I started by asking him the question that's on all of our minds: Why now?
The time is right. We wanted to do it. We work on music all the time, but to do a full-length requires a certain amount of concentration, timing, and a proper plan. And since all of that is in place, it was more like, "Why not?" We decided to tour, let our home country know what's good, and then we're gonna go back in the lab and just start spazzing. We've got a couple of joints, but we're gonna let the world know what's up. We love being musicians and we love doing what we do, and the timing was just perfect.
The reaction has been amazing. I love all my fans, I love everybody that's followed our career. We have projects together, we have projects separate, but it's all the same family. It's all the same family and we just want to bring it all together with a classic album. The legacy that we left is great, but we're grown men, and we just want to express that again. It couldn't have been a better time with where we are spiritually, mentally, and definitely with the music we've been making. We feel really confident with what we can do with the IGC label and everything we can do coming forward.
My relationship with Vordul Mega is fine. It's always been fine; we never really had any issues with each other, although there were many rumors because Def Jux fell apart. Because of that, people assumed that we fell apart. Any real fan of mine is going to laugh at that. We're on all each other's projects--I had a show a month ago, and Vordul was at the show chilling. He spat two verses on stage. It just amazes me, the soap opera people build up. We've been fine. We are your classic old-school good friends. We're loyal, we're passionate, and we're to the point where it's family. His mom can check me. That's like another mother to me. I respect his mother like my mother, and vice versa. His brother and sister are my brother and sister. We've known each other for years, so enough with the rumors. Enough with the bullshit. The reality is Vordul isn't as social as I am. I kiss every baby, I sign every autograph. That's who I am. Vordul is more introspective. If you get in his circle, he's gonna be the most loyal people that you could ever have in your life. If he becomes your friend and your confidant, he's someone you can trust. He's loyal. He's a good dude. But with the public, and with strangers, he's very aloof. He could care less. With that type of attitude, you always see me and you don't necessarily see him. That helped create the mystique that there was breakup.
He's on all of my projects. I'm on all of his projects. We were in the Atoms Family before Cannibal Ox. We've been fine. I think Cannibal Ox was misrepresented as a duo when the reality is we're from a grand, larger family--IGC, the Iron Galaxy Clique. The fans are gonna think what they think, but when you see us at the bar, buying the bar out and having fun, you can see there's nothing wrong with us even the old label isn't around and certain relationships aren't around anymore. We have a lot of producers that we're working with, and of course I'm going to work with people I've always worked with like Harry Fraud or Ayatollah. I'm gonna definitely reach out to some of my old-school peoples--hit up Madlib, get some crazy sounds from him. It's gonna be an interesting project. We're gonna be working on it throughout the year of 2013, and hopefully we can get it out at the top of 2014.