Here are some of the worst band shirts ever.
I used to wear a lot of band shirts because talking to girls is hard and it's easier to flag yourself as someone who is cool without having to open your mouth. I used to come home from music festivals with entire suitcases full of them. I was young and stupid, if you're reading this and you think the redhead in your Econ class will talk to you because you're in a Spoon shirt, you need to step your game up.
I don't wear too many band shirts anymore, but they still kind of fascinate me. Partly because the idea of fashionizing your record collection speaks to a level of desperation only few are willing to sink to, but also because there are a lot of really stupid band shirts. The fact that high schoolers around the nation find some pertinent identity in some of these awful designs is both charming and incredibly misguided. The other day I was at an LCD Soundsystem-themed party, and I realized it was the exact sort of thing I wanted to be invited to throughout my teenaged years. Full of attractive, iconoclastic people, most wearing cool band shirts. Then they drank all my vodka, and I realized that if that was the moment I was waiting for with the literally thousands of dollars I've spent on band shirts over the years, I'm totally fucked.
Anyways, that's besides the point. Noisey Assistant Editor Drew Millard and I took it upon ourselves to make fun of a bunch of stupid band shirts. So let's get to it.
—Luke Winkie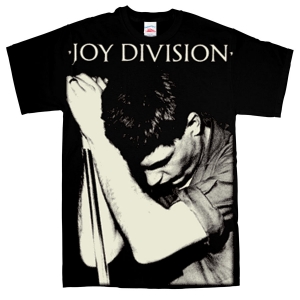 I AM AWARE THAT IAN CURTIS LIVED A SAD AND TORTURED LIFE AND I WANT YOU TO KNOW HOW MUCH THAT MEANS TO ME.
—Luke Winkie
I'm not a doctor, but I'm gonna diagnose anything with the OG of sad himself at 3/4 size on your chest with a case of chronic #TOOSOONWHATTHEFUCKINGFUCK.
—Drew Millard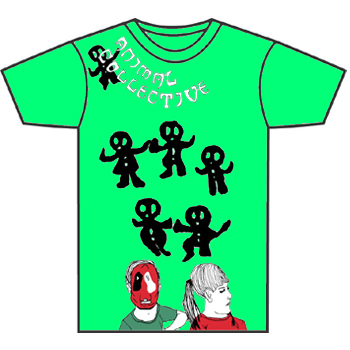 Animal Collective fans will put up with literally anything.
—LW
Sometimes I download Animal Collective albums from the Internet just so I can delete them because I hate them so much. I would buy this shirt just so I could feed it to a feral goat.
—DM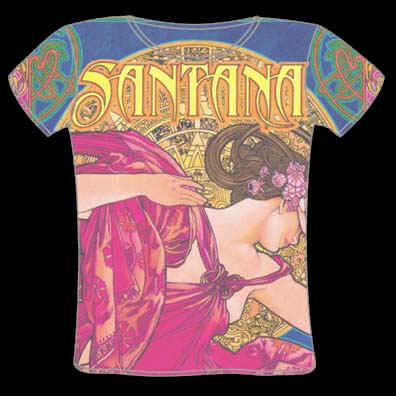 I want to be an uncle just so I can wear this shirt.
—LW
Everything about this shirt is why we can't have nice things.
—DM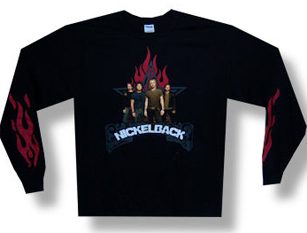 Things I thought were cool when I was 12: Flames, Nickelback, malls, God, blowing bubbles into drinks, Yu-Gi-Oh, the word "crap."
—LW
Hey, what if Nickelback put out whiskey that was cheaper than better-tasting than other liquors but was called "Nickelback Whiskey" and looked like this t-shirt? No one would drink it, and this is why capitalism is very, very complicated.
—DM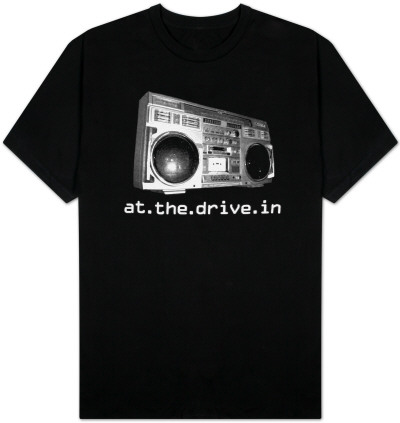 If you own this it means you ordered if off the internet in 2005 to prove to your 9th grade friends that you liked At The Drive-In. You, like everyone else, did not get laid because of this shirt.
—LW
But what if someone did get laid because of this shirt? I think that'd be worse, somehow.
—DM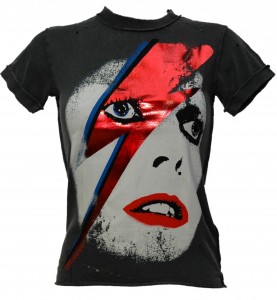 AAAAAAAAAAAAAAAAAAAAAAAAAAAAAAAAAAAAAAAAAAAAAAAAAAAAH
—LW
Only Rivers Cuomo would think this shirt was cool.
—DM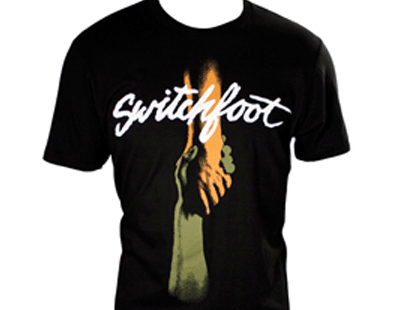 Switchfoot is the kind of band that would help up a man with a mysteriously green arm into an ambiguous higher plane of existence.
—LW
Probably the most disconcerting thing about said mysteriously green arm is that if you're a dude then this shirt implies that you've a mysteriously green hand for a cock.
—DM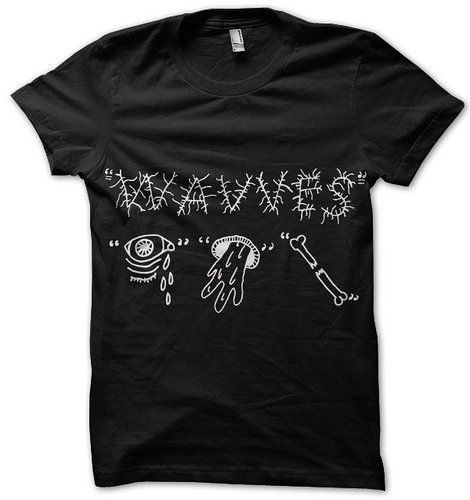 I really love wearing physical evidence that my favorite band doesn't give a shit about me.
—LW
"I" would "wear" this "shirt" to a "Wavves concert."
—DM
Actually kind of sad knowing I'll never be as patriotic as Kid Rock.
—LW
I think the smug goatee on the fake model kid really says it all on this one. Kid Rock is the American Dream, and we're all just a bunch of suckers because we don't ride eagles and have goatees and shoot our own meat and vote seven times for Mitt Romney and wear dumb hats. If you need to understand, just watch the "American Bad Ass" video and you'll get it.
—DM