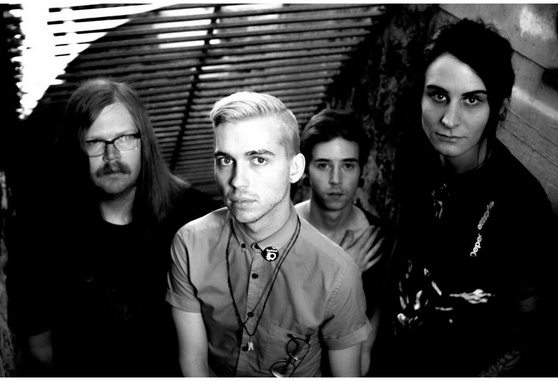 Listen to a new song, "Vaccine," and check out the creepy new video for "Black Lung."
Photo courtesy of Tidemouth
You'll see different sides of Tidemouth on the two new songs below, but the same angst courses throughout both, pumped from a broken and blackened heart and barked forth in throaty desperation. The Los Angeles band revels in despair and disgust for mundane existence and delivers its message through noisy, stripped down punk shot through with elements of goth. "Vaccinate" is a bruiser, a sub-one-minute thirty whirlwind with pounding drums and air raid guitars;l we're streaming it below.
"Black Lung," on the other hand, is a hopeless anthem, and in the accompanying Lord of the Flies-style video directed by Arielle Kilker, our singer protagonist, sporting a Touché Amoré chest piece, finds himself in an "if you can't beat 'em, join 'em" situation. Which may or may not be a good thing when the crusty dudes chasing you are your bandmates.
Tidemouth's been around since 2008, and their new album is a step towards a deathrock meets punk sound. The new material is more refined than their earlier output, which was rooted pretty firmly in the screamo/grind camp. Tidemouth has described its music as "heavy Cure"­—that's a genre a lot of people would be into and I hear what they mean, though in terms of its applicability, I'm not sure everyone would be on board with the description. But, like the Cure, Tidemouth is incredibly earnest, and it's reflected not just lyrically but in the raw, unadulterated nature of its caustic songs.
Tidemouth's new album, Velvet and Stone, is out on June 9th on Melotov Records.
Wyatt Marshall is coughing up a lung on Twitter - @blackbeardislnd