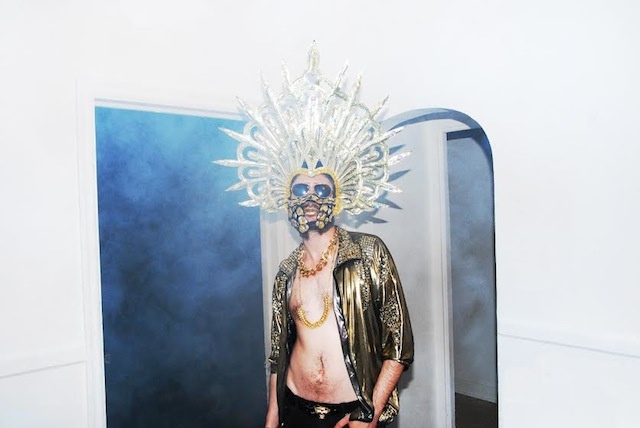 The song is sorta related to having freaky sex with ghosts OK?

Tickle Torture shot by Alex Uhrich.

The first time I saw Tickle Torture was in Minneapolis at the legendary First Ave & 7th Street Entry. He was performing a Bowie cover at a benefit show for homeless cats. At first I was merely blinded by his dazzling gold stage attire. I'd never seen so much gold lamé on a man before. I was instantly envious of his gold clutch and his elaborate bejeweled headdress. I wondered why he was using a severed deer head with diamanté eyes as a drinking receptacle, but hey, that's just how Tickle Torture rolls.
And then he whipped his penis out.
Sometimes that'll happen at a Tickle Torture show. Later, after the show, the rapper Lizzo introduced us and I asked him to describe his music. "Like Prince and Justin Timberlake fucking in a dumpster. You open the lid and you're like, 'Whatttt?' And then you close the lid."
It's still the most apt description of his synthy-sexy funk-licious.
Tickle Torture—that's Elliott Kozel to his granny—used to make music as part of Sleeping in The Aviary, but dipped-in-gold and reinvented as TT, he's in another galaxy of awesome. Below is the premiere of his video for "Would I Love You," lifted from his forthcoming second EP, Spectrophilia. The visuals are a collaboration with TT's buddy Josh Hegard who's worked on videos for A$AP Ferg, The Killers, and Tim McGraw (!). He's also responsible for the TT's raunchy video for "Forgotten."
In any case, Tickle Torture had this to say about the song: "The subject matter relates to the title of the EP. Spectrophilia is sexual attraction to ghosts or the phenomenon of sexual encounters between ghosts and humans. One night I accidentally stumbled on this blog full of people's erotic stories of freaky sex with phantoms and spirits. It's worth reading some if you're up late alone in bed and it's raining outside. The song is about not being able to tell if I'm in love with a person or my memories of that person. Thinking that I'm in love with my ex-girlfriend is like being sexually aroused by a ghost. KnowwhatImsayin?"
Actually yes, yes I do Tickle. Nice metaphor. Watch it below…
Tickle Torture's EP, Spectrophilia, is on 10/9 on Blood of the Young Records.
When Kim first met Tickle Torture she kept calling him Tickle Time which he kinda liked. She's on Twitter - @theKTB
---
Want more sorta sexy music. YEAH YOU DO COS YOU'RE IN THE MOOD NOW AREN'TCHA?

We Love Gordon Voidwell and Here's His Video for "1 Trap Mind"

Lizzo Tried to Teach Me to Twerk in a Minneapolis Lake