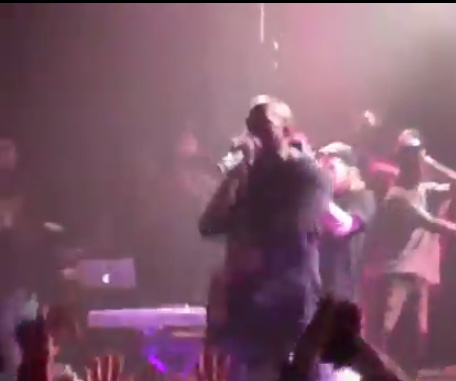 Holy shit.
It's Friday afternoon, and sometimes on Friday afternoons you have friends who are bored at work and are watching videos while they are bored at work and then end up sending you those videos on gchat because they are bored at work. A lot of times, those videos are dumb and probably are something you've already seen because you spend all day on the Internet anyway. Other times, those videos are fucking incredible and give you the bump you need to push through and hit that 6PM goal.
This is one of those videos.
Last night, Kanye West surprised the hell out of everyone at a Travi$ Scott show when he showed up out of nowhere and did a rendition of "New Slaves." The video starts out with Scott shouting to turn off the lights ("all of the lights," he coyly notes) and then he starts mumbling some somewhat unaudible things about a "mentor." And before you know it, it happens. Those first few bars of "New Slaves" kick in, and the crowd loses it, because it's "New Slaves," and because this is fucking Kanye West.
This video is important because of a few reasons. Not only are we getting a rare public Kanye sighting that isn't focused on him, like, lighting some member of the paparazzi's hair on fire, but you get an opportunity to see his presence and impact in a focused, visceral way. The intensity this man carries leads you to believe that he might wake up every morning and snort a line of cocaine, but it's continually proving why he's one of the most innovative and brilliant working musicians today. With three bars, this guy makes a room sound like 17 fucking bazookas just went off. He just might actually be the nucleus.
Eric Sundermann saw Kanye West at Governors Ball and will tell his kids about it. He's on Twitter — @ericsundy