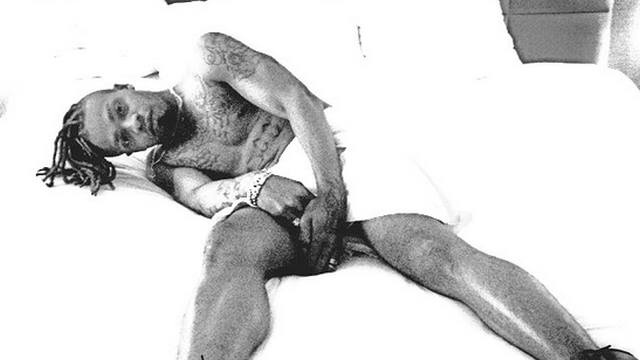 The New York singer's lyrics make us blush, so we had him respond to the OkCupid questionnaire.

Photo via ianisiahmusic on Instagram
When Noisey caught up with R&B singer Ian Isiah from the multifaceted, forward-thinking label UNO NYC last year, he told us his aspirations: "Tank is what I want to be in the gay world, the genderless world." In November 2013, he came pretty close to achieving it with his Autotune-heavy, too-sexy mixtape The Love Champion. Its opener, the druggy "Showtime," is a transcendent take on bedtime laced with digital falsetto, while the tape's single "Sweat" is a futuristic revision of R&B from the early 2000s. It's perfectly club-primed, a rally call to get your girls to come to the party, but still buoyantly ready to take just you home. "Freak U Down" oozes like molasses, and there's an excellent Le1f collaboration, "Hesitation." The entire package is bathed in avant-garde electronics—a thing Isiah told us is not really his bag, but he's become more open to vai the pristine taste of UNO founder Charles Damga—but has church-rooted vocals. On the other hand, the lyrics are so blush-worthy, church is the last place you should play the tape.
We met up with Ian Isiah before a recent show at Brooklyn's Glasslands as he was gearing up to celebrate his label's third anniversary this weekend. During his soundcheck, he performed a sparse rendition of D'Angelo's "Untitled (How Does It Feel?)" and sensuous version of Drake's "Hold On We're Going Home." Before a swift end to his show's prep, he crooned to us that he'd been done in three minutes and then we could talk. He's a charmer, that Ian, and a perfect candidate for This Modern Love, where we ask artists to respond to the OkCupid questionnaire.
Name/Age/Sexual Preference:
Ian Isiah/25/It's seasonal
Self-summary:
If Michael Jackson did it, I'm gonna do it, too—just [for] longer than 50 years.
What am I doing with my life?
Singing and answering these questions.
What am I really good at?
Singing! Style reporting. Being a culture earring for people to pierce themselves with.
Favorite books:
The Bible.
Favorite politicians:
Oprah Winfrey. She should definitely going into politics. She is literally my favorite politician ever. She's just Oprah. I just wanna be more like Oprah.
Favorite movies:
Anything Pixar.
Favorite TV shows:
Martin, Moesha, Golden Girls, and Orange Is The New Black.
Favorite bands/musicians:
OutKast.
Favorite food:
Fruit.
The six things I could never do without:
1. Weed
2. God
3. Love
4. Money
5. Timberlands
6. Wifi
I spend a lot of time thinking about…
What I'm wearing tomorrow or what somebody else should wear.
The most private thing I'm willing to admit:
My hair is not real. I have extensions in my hair. That's an understatement.
On a typical Friday night I am…
With [my backing band] in a studio or dancing somewhere fun.
Claire Lobenfeld is a writer living in Brooklyn. She's on Twitter - @clairevlo
--
Is Ian Isiah out of your league? There are more fish in the sea:
Oceaán Needs U to Fall in Love