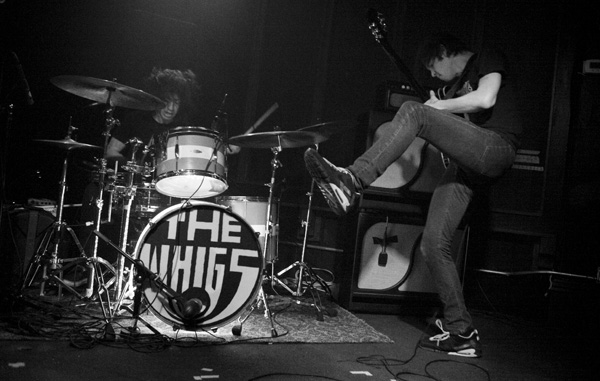 We met up with the guys to talk tours and record shops, and geek out over 'Hee Haw' and Dwight Yoakam.
Remember when you paid $80 to see that huge band when you were 14, and the opening band was surprisingly awesome? You bought their album and started going to their shows in basements and dive bars, and suddenly they became your favorite band. The headliner totally sold out and you got all angsty about it, but you'll always love those other guys because they worked so hard and never forgot where they came from, no matter what. And they just plain kick ass.
The Whigs are that band. Three genuine, good dudes who can't help but make amazing, all-American rock'n'roll. The Athens, GA band has been putting out solid records since 2005 and we can't count how many tours they've been on since they picked up three years prior. Their new album, Enjoy The Company, is 40 minutes of energetic, fun tunes that really show off how these dudes have progressed over the years. We met up with the guys to talk tours and record shops, and geek out over Hee Haw and Dwight Yoakam.
You're on a pretty big tour right now. How's it been so far?
Parker: Tour's going good. We've played five shows so far. Got another few months ahead of us so we're really just getting started. But the shows have really been good. Very encouraging. It's been fun to be playing. We tend to pack on a lot of dates.
You're playing the Bowery in New York. Have you played there before?
Julian: We played there three or four times. It's one of our favorite places to play and we're really excited about tomorrow. New York's always a fun place to kick off the tour with the release and all that today. So we're really looking forward to it.
Did you guys already know SKATERS and Country Mice?
SKATERS are old friends. Half of the band used to be in a band called the Dead Trees. It's also a great band that is no longer. We toured with them a couple of times. SKATERS is Mike and Noah's new project which we love and we're excited to have them on the show.
Timothy: We played with Country Mice once before in Savannah, Georgia. I really like their record.
I hear a lot of country influence in your sound. Who are some country artists you admire?
I think we're all three fans of all sorts of music. All kinds of country stars. My mother and father both listened to a lot of country when I was growing up. Anything from Dwight Yoakam, if you would consider him a more contemporary artist, to Buck Owens, Merle Haggard, all that kind of stuff.
Parker: George Jones. Early, goofier George Jones. The later Johnny Cash albums. Mel Tillis.
Speaking of Buck Owens, have you ever watched that show Hee Haw?
Timothy: Oh yeah. My mom grew up watching that and that was her influence that got passed down to me literally was from the show Hee Haw. It was a big show! We just missed out on it. They still played re-runs when I was very little.
They still play re-runs of it on Sunday nights on some channel my parents get back home.
Oh, that's cool! I wish we got it. I think Dwight's record came out today. He's one of my favorites.
He's amazing. I love that he acts, too.
Yeah there was Sling Blade. He always plays weirdos but he's awesome at it.
What was that more recent movie he was in?
Julian: Oh yeah, I know what you're talking about. It's going to drive me nuts! Well, I don't know if this is what you're thinking of, but he was in Wedding Crashers. In that first scene, where he's getting a divorce from his wife.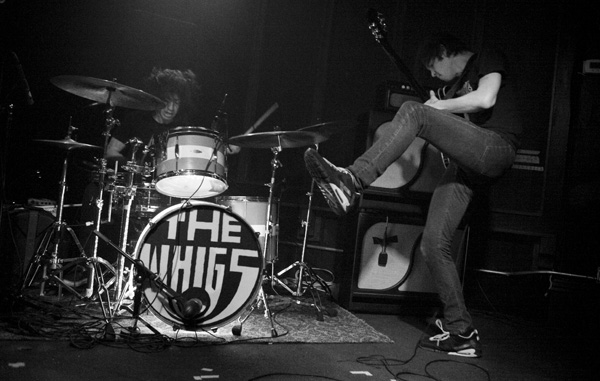 Speaking of influences, you've cited The Glands a few times as a major influence. Are you guys close friends? Can you talk a little bit about how they've affected The Whigs?
Julian: Their first record came out before we moved to Athens. Parker and I are from Atlanta and we went to college at the University of Georgia. Their first record came out in '98, I think—Double Thriller. We started becoming aware of the band and the self-titled record came out soon thereafter. It wasn't just that we were buddies with them or something. We really respect them as great songwriters and making great records. Ross, the singer, owned and managed Schoolkids Records, a great record shop in downtown Athens. You could go in there and, to be totally frank, we at first went in there because we thought it was cool and exciting that the singer of this band we look up to was sitting behind the counter. But you know, we became buddies with him.
Parker: Before we moved there, we were just huge fans and we'd see their pictures and album art and stuff. I think it just blew our minds when we realized we could just go see him and hear what he was playing in the store and what he wanted to listen to. As we've gotten older, he's been a friend to the band and given good guidance to us.
Did you discover a lot of good albums through Schoolkids?
Oh yeah! I'd say a quarter of my record collection comes from when we would get home and I'd go to the store. I'd sit there and drink coffee, he'd play stuff, and I'd end up buying those records. It's almost like a souvenir of good times. It's nostalgic listening to those records.
Can you name some of them?
Joe Jackson's I'm the Man I remember listening to in there for the first time. This is a classic, but Damn the Torpedos, the Tom Petty album.
Julian: I have a Frank Sinatra Christmas album that's from Schoolkids. Something we love about it and is also a sentiment to how much care would go into the art and craft of selling records is that, on every used vinyl, he'd put a sticker on there and write about ten words on the condition and listening experience of this record. So for the Frank Sinatra Christmas record, he'd write something like "Light stuff, plays well, enjoyable listen with your friends." You know it's from there and from Ross, because it's got a little stamp on there.
Parker: There were always weird phrases like "Excellent enjoyment" or something.
Have you ever played shows with the Glands?
We've never played with them, they kind of stopped playing unfortunately. They played a show at the newly re-opened Georgia Theater last year.
I saw a YouTube video someone made about how great they are.
Parker: Yeah I've seen that! Hopefully they'll put out new stuff soon.
Julian: The fact that they were playing the Georgia Theater at all felt like rumor. Every time they play, it's amazing. They played the Mercury Lounge in New York, which is a big deal. I told people I know here, "Just go to this show. Do not miss this show." There was talk that maybe they'd do more songs or record a little more. I know they've got some things in the bank. We're desperate for more Glands. I'll bump into Joe, the drummer, in Athens and he'll say they've been rehearsing and I'm like, "Yes! Keep rehearsing!"
What was it like recording with John Agnello for this record?
Parker: John is a lot of energy. I'd say he accomplishes more before 9am than most people accomplish in a day. He's a really good father, really good to his family, works really long hours in the studio. He's not just punching the time card, he's really in there on his hands and knees sweating, running around like a crazy man. Then, when he's done, he'll go out and drink martinis with you. I don't know when he sleeps. It makes for a good recording environment. He gets everybody excited, keeps everybody on their toes. He's the only guy who we went into recording with and didn't know before we went in. Very positive experience, I would actually liken it to the first album more than any in terms of pace and the general energy surrounding the album.
Can you explain the title of the album? The phrase "Enjoy the company" is in the song "After Dark," so is that track particularly integral to the message of the record?
Parker: We always have a trouble with album titles. It's always really hard for us to name an album. We usually end up naming the album after a song on the record. This time, we made a point to not name the album after a song. It was a lyric that, for whatever reason, stuck out to us. We wanted the album to be not too serious. In the Dark was a little more serious of an album title. Enjoy the Company seems a little more welcoming, and we thought it suited the album really well. When we moved to Nashville, it was one of the first songs we had once we moved. I think what normally happens with our songs is we realize what the song is about as time goes on. It's not really apparent in the beginning when you first write the song. So I think it has something to do with moving on from the last album.
How did the music scene in Athens shape you guys growing up?
Parker: Tim moved after college, but we had already started the band there. The Elephant Six was a huge thing for me in high school—that was the music I was obsessed with. I really was excited to get to Athens to be around that stuff. Unfortunately, by the time we got there, most of it wasn't really happening anymore. I got to see Elf Power a lot, who is a huge influence. Got to see the Apples In Stereo a few times, Olivia Tremor Control I saw a couple times, too.
Julian: Of Montreal, early on.
Parker: Cherry Peel Of Montreal era. Definitely the fabric of the band is shaped by Glands and all that sort of stuff. Even REM—I know it's cliché, but we grew up even before high school, couldn't help but have REM going on. Athens music has been huge on it.
You guys have toured so much; can you pick a favorite or best tour out of all of them?
Julian: Another Athens band that we really look up to and who have taken us under their wing are The Drive-By Truckers. When we put out Mission Control, our second record, up to that point, we had been touring a lot just doing our own shows, sort of as headliners. We'd been touring and building on that record and The Drive By Truckers took us out. Being one of the first support tours we'd ever done and just the nature of their shows was so much fun. Quintessential rock'n'roll show every night. It's like going to school and learning how to tour and rock on a nightly basis like those guys. Put on a great show and be so good to their fans. The other tours have been incredible, and we've been fortunate to do many more and different sizes of venues. But there's something special about that one being one of the first.
Parker: That was a great tour. Some of the later ones that were so oddly huge were pretty crazy shows to have been a part of. Like, if you're playing Slane Castle in Ireland for about 70,000 people.
Julian: They have shows there once every summer. Started in 1981. When we played it last year, that was the 30th anniversary. There were 30 shows there ever. It's a big one-day festival, so you've got about five bands, but it'll be, like, Bruce Springsteen headlining and a few bands opening. If you do the math, there's probably 150 bands who have ever played this beautiful venue. Really, it's not even a venue, more just a castle with a massive lawn next to it. We're pretty lucky.
Are there any new bands out there you recommend?
Parker: I really like Pujol from Nashville. Love them. I really like this guy Luke Roberts. He's living up here [in New York], but he's a Nashville guy. Really slow stuff.
Julian: We were just last night seeing Kuroma. They're a great band and Hank used to play with us when we started back in Athens. Kuroma's his project now and they're doing the back half of the tour with us opening. We're excited to have them.
Parker: I really like the Diamond Rugs album, too.
Timothy: JEFF the Brotherhood, although I know people know who they are already. Killer, really interesting music. Incredible live band for sure.
Check out The Whigs' impressive list of tour dates here and buy the new album over here!