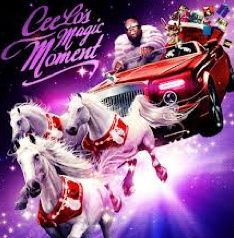 CEE-LO GREEN IS THE BLACK ELTON JOHN. HE HAS GREAT TITS.
YO REMEMBER THAT OLD VIDEO OF THIS NIGGA WEARING A METAL DURAG? IF YOU DO PLEASE LINK THAT SHIT IN THE COMMENTS CUZ I NEED THAT FOR WHEN I SMOKE WEED. THIS IS A CHRISTMAS ALBUM (DUH) AND IT'S CHRISTMAS SONGS BLAH BLAH BUT YO CEE LO GREEN USED TO JUST BE A LITTLE FAT NIGGA RAPPIN WITH GOODIE MOB AND THEN HE TURNED INTO THE BLACK ELTON JOHN. WHEN DID THAT HAPPEN? YOU TELLIN ME THIS DUDE DON'T DRESS LIKE ROCKET MAN-ERA ELTON JOHN? YA BOY'S GARMENTS RESEMBLES A TRANSGENDER DISCO SUPERVILLAIN B. ALSO CHRISTINA AGUILERA IS ON A JOINT ON THIS ALBUM AND I WAS JUST SITTIN THERE THINKIN HOW SHE GOT FAT AND THEN I IMAGINED THESE TWO FAT MIDGETS FUCKIN IN A KIDDIE POOL FULL OF NUTELLA AND I DECIDED I DIDNT NEED THE REST OF THIS CROISSANT. THANKS FOR THAT. YO LOOK AT THE COVER OF THIS SHIT TOO B...HOW MUCH COCAINE YOU THINK CEELO DOES? I'MA SAY ABOUT A GRAM EVERY 3 HOURS DEPENDING ON THE QUALITY. THIS NIGGA PROLLY GETS OUTSTANDING COCAINE THOUGH. RICH NIGGAS ALWAYS GET HIGH QUALITY DRUGS AND THIS NIGGA IS RICH AS FUCK. I KNOW THEY PAYING HIM $OD.00 TO BE ON THAT SHOW WITH THE SPINNING CHAIRS AND THE LITTLE JEWISH DUDE FROM MAROON5. THIS ALBUM IS COOL I GUESS IF YOU LIKE CHRISTMAS MUSIC BUT WHO LIKES CHRISTMAS MUSIC BESIDES WHITE MOMS AND HOMELESS NIGGAS? HOMELESS DUDES LIKE XMAS MUSIC CUZ THEY CAN SING IT FOR CHANGE AND ENDEAR THEMSELVES TO MUTHAFUCKAS WITH DISPOSABLE INCOME. I DON'T HAVE NO DISPOSABLE ANYTHING. I BE REUSING THE PLASTIC CONTAINERS AND FLATWARE FROM THE CHINESE SPOT B. I COULD PROLLY BUILD A TOWER OUTTA THOSE SHITS AND HIDE IN IT AND CRY ABOUT HOW BROKE I AM. I'M NOT GIVING HOMELESS NIGGAS NO MONEY B. CUZ THEN I'D BE HOMELESS, AND I HATE CHRISTMAS MUSIC. THERE'S A SONG ON HERE WITH FUCKIN KERMIT THE FROG? GET THIS NIGGA OUTTA HERE.
I GIVE THIS 3 PILES OF DUTCH GUTS OUTTA 5 CUZ OF THE METAL DURAG VIDEO AND CEE-LO HAS GREAT TITS.
STANDOUT TRACK: "MERRY CHRISTMAS BABY" CUZ ROD STEWART IS ON THAT SHIT AND THAT STUDIO SESSION PROLLY PUT ALOT OF MONEY INTO ONE OF MY UNCLE'S POCKET.
We're pretty sure The Kid Mero hates us for making him listen to so much Christmas music, but find more of his #KNOWLEDGE on Twitter - @THEKIDMERO