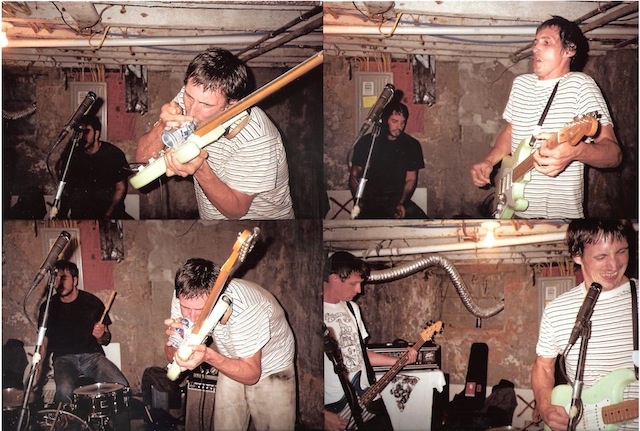 A Craigslist romance success story.

Photo credit: Jake Lafferty
I don't know why Toronto punk band the Soupcans named themselves after the worst microwave meal possible, and I don't really want to. When I listen to the Soupcans, I just forget about their ridiculous name and enjoy the music. Dave (guitar/vocals), Nick (bass), and Giordano (drums) have created something vicious, catchy, and straight-up. Their brand of punk is fuzzed and frenzied. In November, they released their debut LP, Good Feelings (Telephone Explosion Records), while their first EP Erotic Nightmare (Pleasence Records) was just reissued by popular demand. In the spring, the Soupcans will embark on a Northeastern tour, during which they plan to "commit all kinds of crimes," but before the spree goes down, I decided to catch up with Nick and Dave from the comfort of their Toronto home.
I read that your band started with a "Craigslist romance." Can you elaborate? Have you all grown close now?
Nick: Yeah, Dave and Gideon and I met through the same Craigslist ad. Dave had just moved to Toronto from afar, Gideon had just gotten divorced and was looking for a way to cope, and I was just getting back into things after a 6-month hiatus from relatively shitty Toronto garage, punk and psyche bands. What attracted us all to this particular ad was that it was for a "raw, no-rules garage band," so it's too bad that we all got fired for not adhering to the Rules of Garage Rock! We had already bonded over our love of dardcore Devo and Chrome, and we started our own thing in an outdoor storage locker shortly after that. And yeah, we're way closer now. We're a band that "hugs it out" and occasionally I try and make out with one of them. Mostly Dave.
I just watched this video of you guys playing live. What's with that Iggy-looking dancing guy? He's amazing.
Dave: I'll tell you what's with that guy... He looks and dances like Iggy Pop and he is amazing!
Nick: Who doesn't love to see a man ripping his nipples off while he dances? We don't know this guy, but that's how the music moved him, so that's totally cool. Oddly enough, I spoke with him afterwards and I don't think he knows a single Stooges song.
If your whole apartment set on fire, which three things would you take with you?—And one thing must be an album.
Dave: I would sit in the middle of the floor wringing my hands and screaming and then I would die.
Nick: My Teisco short-scale bass, Alice Cooper's Easy Action, and my insulin.
I like how your insulin came last. Toronto is full of electronic music and fancy people. How do you fit in?
Dave: Swimmingly! I like electronics, falsity, fanciful folks, and anything miniature.
Nick: Toronto is also full of soft-drug junkies and weirdos trapped in a sort of permanent adolescence. We fit in with those folks perfectly fine.
Dave, you have a very distinct style on stage. Did you create this in the bathroom mirror or is this natural?
Dave: There's nothing natural about me. I was born in a hall of mirrors.
I've read that lyrics are not important to your band and you all are minimalists. Can you comment?
Dave: If you take the time (don't do it) to decipher the lyrics, you will be blown away and potentially insulted by how fundamentally inane and stupid they are. Different people have different ideas about the function of art, but we don't have any, except actually we do. We don't want to communicate, we don't want to talk—we're building a big blank wall for anyone who has a use for a big blank wall. We want to floss your mind, brush your brain sponge, squeeze it dry, fill the void with more void, get you gone.
What is the biggest lie you ever told?
Dave: Hello, my name is David Evans.
Nick: I love you.