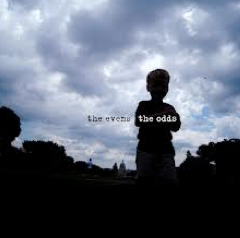 I COULD PROLLY GET DOWN WITH THIS IF I HAD A HEROIN ADDICTION.
[Ed. Note: The Kid Mero is a Bronx-based writer and comedian specializing in #KNOWLEDGEDARTS and #COKEDREAMS. Most importantly, he's our new Reviews Editor over at Noisey. He sent us an all-caps email threatening to "GENTLY KARATE CHOP [US] IN THE BREAST" if we changed any part of his reviews, so we'll be running them unedited on a daily basis from here on out.]
YO IAN MACKAYE IS SOMEBODY WILD FAMOUS IN THE WHITE NIGGA CANON RIGHT? I'M NOT GONNA GOOGLE THE NIGGA BUT HE WAS PROLLY IN SOME BAND THAT THEY SELL TSHIRTS OF AT A KIOSK NEXT TO THE "YOLO" MERCHANDISE. YO THIS MUSIC IS FOR LONGBOARDING ON KLONOPIN IN THE RAIN. EVERYTIME I HEAR MUSIC I THINK OF IT AS THE BACKGROUND MUSIC TO A MOVIE SCENE NAHMEAN AND THIS IS DEFINITELY THE "SLOW MOTION RUNNING IN THE RAIN AFTER YOU BRUTALLY KILLED YOUR UNCLE THAT MOLESTED YOU" MUSIC B. I DON'T LISTEN TO THE LYRICS IN SHIT LIKE THIS B BECAUSE THEY DON'T MAKE NO FUCKIN SENSE UNLESS YOU "ANALYZE" THEM B. I'M NOT TRYNA ANALYZE NO FUCKIN LYRICS NIGGA I JUST DRANK 2 22OZ BEERS AS A MEAL SUBSTITUTE I'M TRYNA JUST CHILL I DON'T WANNA DECYPHER YOUR FUCKIN NIHILISTIC POETRY MY GUY. "WHAT IF EVERY SINGLE PERSON WAS A DEPUTY WHAT IF EVERY SINGLE PERSON WAS A DEPUTY" WHAT IF EVERY SINGLE PERSON SHUT THE FUCK UP B. WHAT DOES THAT EVEN MEAN? AND DON'T TELL ME I'M NOT SMART B I HAVE A PHD FROM PRINCETON SO SUCK MY SIGNIFICANTLY DARKER THAN THE REST OF MY BODY DICK. I COULD PROLLY GET DOWN WITH THIS IF I HAD A HEROIN ADDICTION THAT WAS IN BETWEEN "I JUST STARTED DOING HEROIN" AND "I HAVE NO TEETH AND PROSTITUTE MYSELF WHILE DRESSED LIKE WHAT I THINK A WOMAN LOOKS LIKE FOR HEROIN," BUT MY DRUG USE IS VERY MILD AND RECREATIONAL SO I CAN'T REALLY FUCK WITH THIS EVEN THOUGH I'M LONGBOARDING IN THE RAIN RIGHT NOW TYPING THIS ON MY IPAD.

JK I'M IN MY CRIB IN MY UNDERWEAR WATCHING ESPN AND DRINKING A MORIR SONANDO WHILE I LISTEN TO THIS AND EAT HASH OIL JOLLY RANCHERS. YO SHOUTOUT TO MR. CUPCAKES IN THE SHOPS AT RIVERSIDE B SHOUT OUT TO JERSEY MALLS IN GENERAL I'M FROM THE HOOD AND I FIND MALLS COMPELLING AND FUN.

I GIVE THIS SHIT 2 PILES OF DUTCH GUTS OUT OF 5 CUZ I FELL ASLEEP TO THIS SHIT (I'M SERIOUS I WAS DOZING OFF AND WROTE SOME BULLSHIT ABOUT ENJOYING MALLS?) SO NOW I'M AWAKE AND I'M GIVING THIS SHIT 2 PILES OF DUTCH GUTS OUTTA 5.

STANDOUT TRACK: "I DO MYSELF" BECAUSE IT'S PROLLY ABOUT JERKING ILLZ WHEN YOU'RE BORED, RIGHT? OR DO I HAVE TO "ANALYZE" THE SHIT?