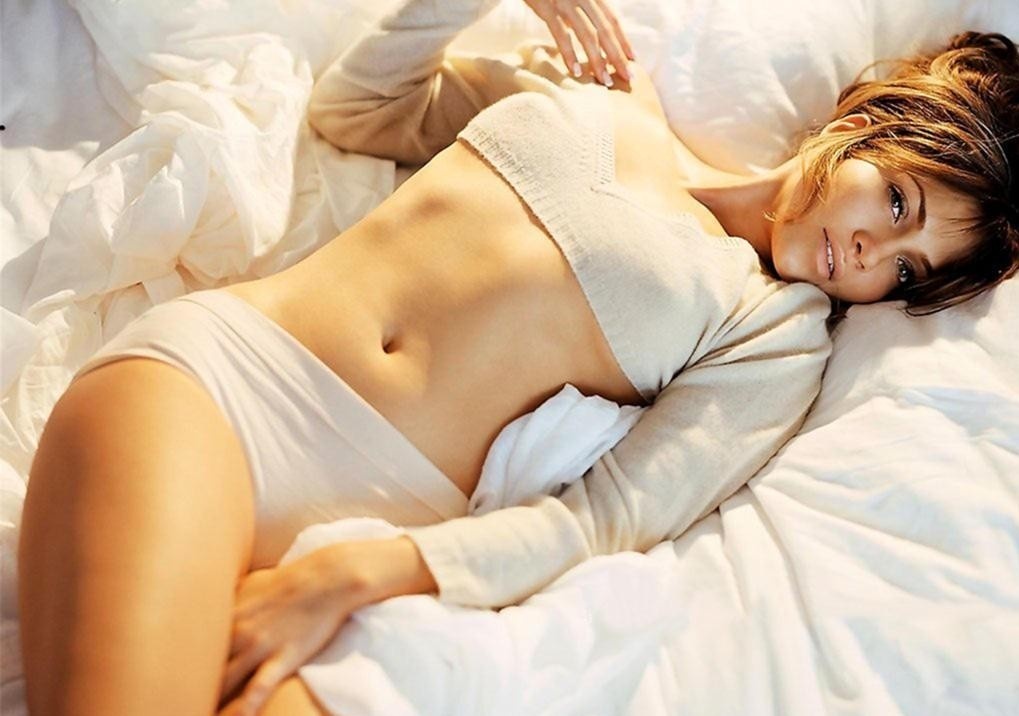 The ass, the men, the dance breakdowns: here's why J. Lo's reign of the charts made her the baddest bitch.
When Jennifer Lopez started dance lessons, it led to a career in dance, acting, and eventually, music—a career that has seen her sell over 70 million records worldwide. When I did dance lessons, I got a toenail that went black and took a year to fall off.
Lopez's inimitable reign made being the baddest bitch in the carefull-marketed, rigorously-monitored R&B star game look like a walk in the park. Any racially ambiguous girl whose puberty coincided with J. Lo's ruling years is lying like a rug if they say they didn't start acting like a sassy boricua from the Bronx from the moment they heard "If You Had My Love."
So, glossing swiftly over her current penchant for yeast-infection-friendly catsuits, co-signing Pitbull, and advertising pretty much anything for spare change, here is everything that makes Jennifer Lopez great to me.
THAT TIME SHE WAS A FLY GIRL
As far as first jobs go, doing the running man as a Fly Girl on on In Living Color isn't such a bad gig. My equivalent was raking dust bunnies out of a QS stockroom with a broken coat hanger at a retail job.
THAT TIME SHE RELEASED ON THE 6
Set a daily reminder right now that Jennifer Lopez released one of the greatest mainstream R&B debuts of all time, standing out during the period when the US was squeezing out excellent pop-cum-R&B records every day anyway. "Feeling So Good" held things down for the ~hood~ portion of the album, as she casually called in verses from her Isla Bonita mates, Fat Joe and Big Pun. "Waiting For Tonight" ticked the up-in-da-club baile-banger box, and then there was a ton of Spanglish shit like, "Let's Get Loud" and "Open Off My Love." Finally, the cherry on top was the simple but perfectly formed "If You Had My Love" that acted as a smash of a first single.
THAT TIME SHE HAD DIDDY PUSSY-WHIPPED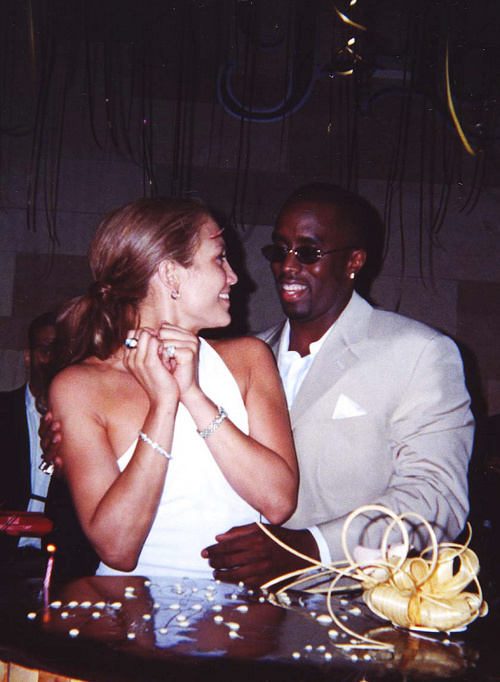 Jennifer Lopez has made cuffing men look like a blood sport, but her relationship with Diddy was the real deal. After J.Lo made a super hot appearance in Puff's "Been Around The World," he went on to mastermind her first album (alongside the Mariah-machine Tommy Mottola).
As a couple, they went on to weather J. Lo's n-bomb furore, with Puff arguing that she was totally saying "nigga" not "nigger" and was far enough up the Pantone shade scale to drop it anyway. Then, in 1999, they stayed solid throughout Puff's trial for fucking around with guns in a busy nightclub. True love <3!< p="">
Except not really because they broke up pretty much immediately afterwards. Post break-up, J. Lo released one of her fastest selling singles, "Love Don't Cost A Thing," that took shots at how Puff was an emotionally-stunted moron who only knew how to throw Escalades and Rolexes at relationships instead of, y'know, giving her all the things she needs "that mooooney can't buuuuuy." C'MON PUFFY, THE LAST THING SHE NEEDS IS ANOTHER JILLION DOLLAR BRACELET, YOU ASS-CLOWN!
Meanwhile, in Diddy Land, he was putting out tracks like "I Need A Girl," the video of which featured Puffy Diddy Daddy fawning over a Lopez look-a-like. He sponged her carbon-copy down in a bubble bath as he whined, "I got it all, but I really need a wife at home." Doooouche chills!
However messily J-Puff ended, there's still a tiny part of me (most of my waking moments) that would like to see the power couple back together madly in love, wearing his 'n' hers outfits and pretending the whole guns in a nightclub fiasco never happened.
THAT TIME SHE ENFORCED A NICKNAME ON THE WORLD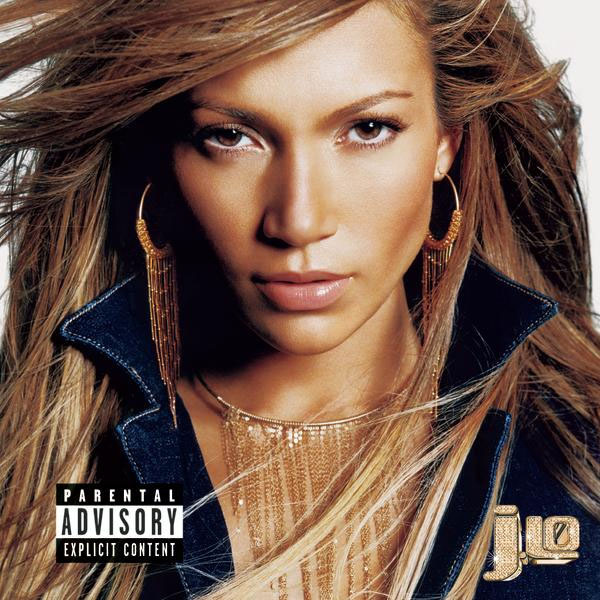 I've been trying to make "Duchess Fluffy of Ratchetville" work as a nickname for the longest time, but I bet J. Lo could have that up and running in a week, max.
EVERY TIME SHE'S CRANKED UP THE HOOD-LATINA-OMETER
A regular theme throughout J. Lo's career has been cranking up the hood-rat Latina-ometer, whether it be playing stickball with a "La Cucaracha" car horn in the background or pretending she's a sassy single mother. Every time she did this, Lopez got checked for hamming up her not-so-ratchet background, as music commentators (people that work at US Weekly that VH1 have on retainer) revealed that she didn't grow up dirt poor and living off adobo scraps. But do you know why this is totally OK? 'Cause she probably still missed more meals working her majestic butt off, than any smug music journo who called her up on her background. So she's not from the Bronx Bronx. And that makes you confident you could take Jennifer Lopez if you met her wielding a machete down a dark alley? Exactly.
THAT TIME SHE RUINED BEN AFFLECK'S CAREER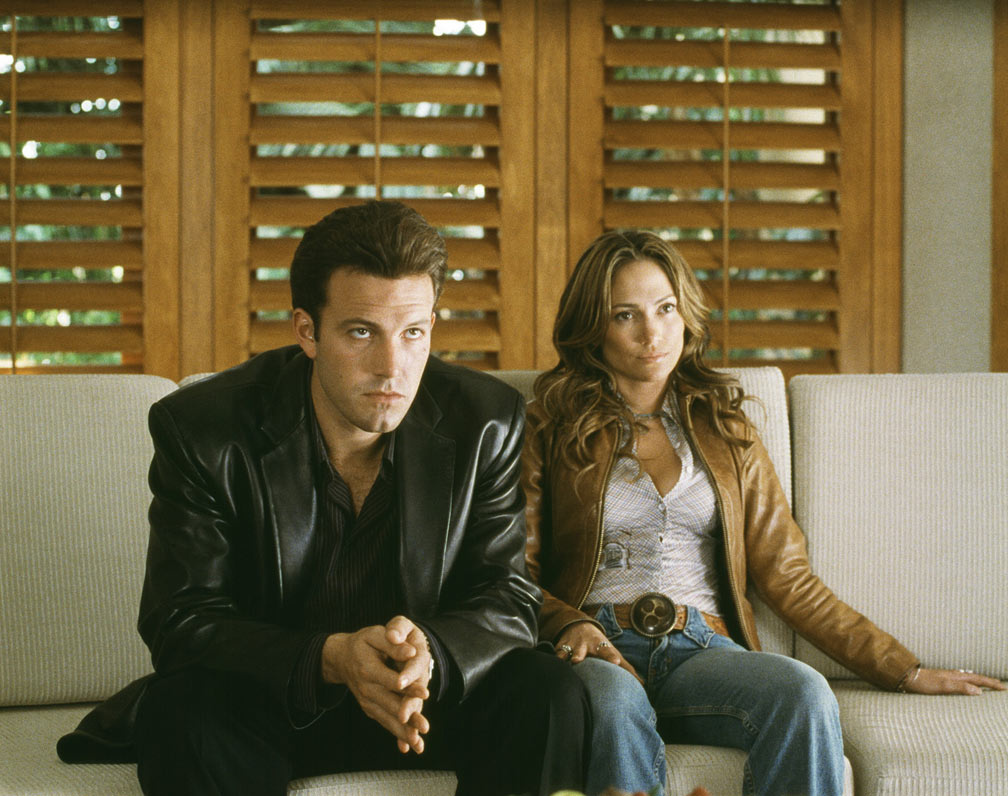 What in the name of sweet kittens was Gigli about? And why did Ben start dressing like a Ken doll during his J. Lo years? We'll never know exactly what Jen was doing to him, but nothing screams bitch-whipped like having your celeb boyfriend agree to rub your butt in a highly-publicised music video. The fact that Affleck, nearly ten years later, felt the need to dedicate some of his Oscar speech for Argo this year to vaguely referencing that awk dip in his career speaks VOLUMES.
BUT KEPT JA RULE'S ALIVE...SORT OF
Unless you make a habit of listening to R&B compilation CDs circa 2001, it's shockingly easy to forget about Ja Rule's existence. That's until you see Jennifer thrashing away at her legs with a razor in the latest Venus advert and remember, "Christ, how perfect was the Ja Rule remix of 'I'm Real,' guys?" Taken from J to tha L–O! The Remixes!—FYI the third biggest selling remix album of all time and her second number one album...IKR?—just the memory of her FLAWLESS baby hair and Rule's adorable moleman face, always has me squealing with glee. And, I mean, Ashanti's not exactly making an effort to remind us Murder Inc was once a thing, is she?
THIS GIF
THE FACT THAT SHE IS BENJAMIN BUTTON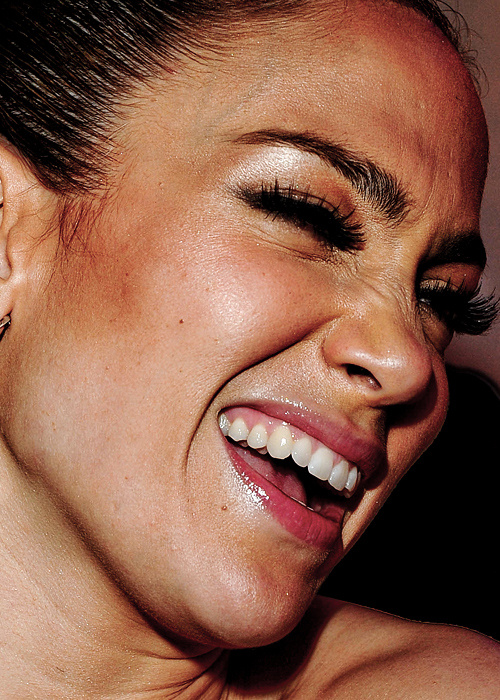 WHERE ARE THE WRINKLES, BRUH? Jenny has pretty much two decades on me, yet I have frown lines you could sow barley in and buttocks that have already resigned themselves to a life of listlessly eating pork scratchings in front of the Food Network. Meanwhile, Lopez is competing in triathlons and maintaining abs you could bounce pennies off after squeezing out twins.
THAT ASS
It. Must. Be. The. Asssssss! This was going to be a much longer paragraph, acknowledging the pitfalls of objectifying pop stars and the inevitable damage it causes the young female psyche, but c'mooooon! J. Lo was the first brown girl to hold court at the top of FHM's Sexiest Women countdown for, like, forever. While not the most respected of accolades, she called time on an era of big-norked blondes being the benchmark for sex symbols and single-handedly stopped big-caked ladies from wrapping their sweaters round their waist.
THAT DRESS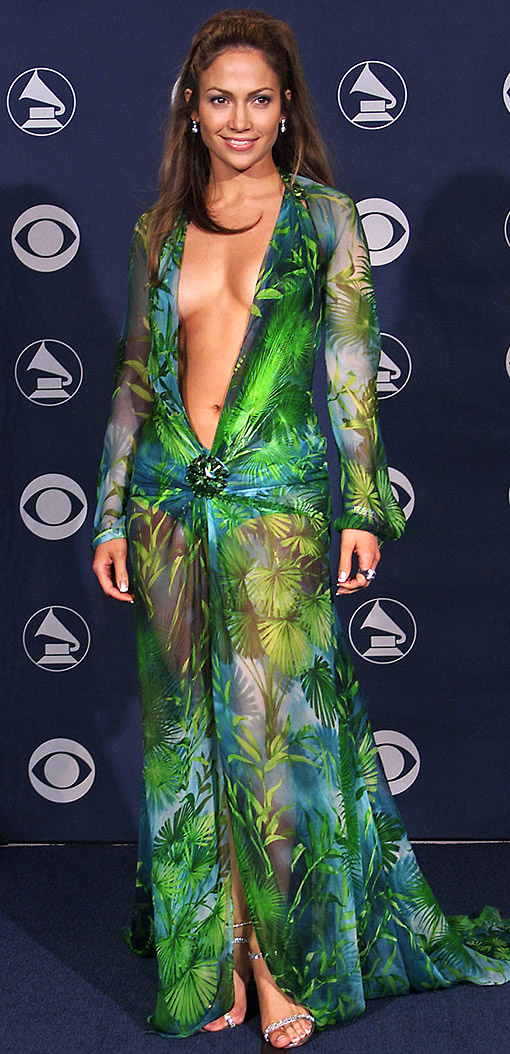 "J...J...Jennifer, why don't you try this demure, strapless number Chanel sent over?"
"WHY ARE YOU LOOKING DIRECTLY AT ME? LOOK PAST ME, PUTA, AND PASS ME THE VERSACE DRESS."
"O...OK, it's just that...it's not a dress Ms Lopez, it's a beach cover up"
"DIDDY, CAN YOU HAVE THIS MAN PUT TO SLEEP FOR ME PLEASE?"
THAT TIME SHE PLAYED SELENA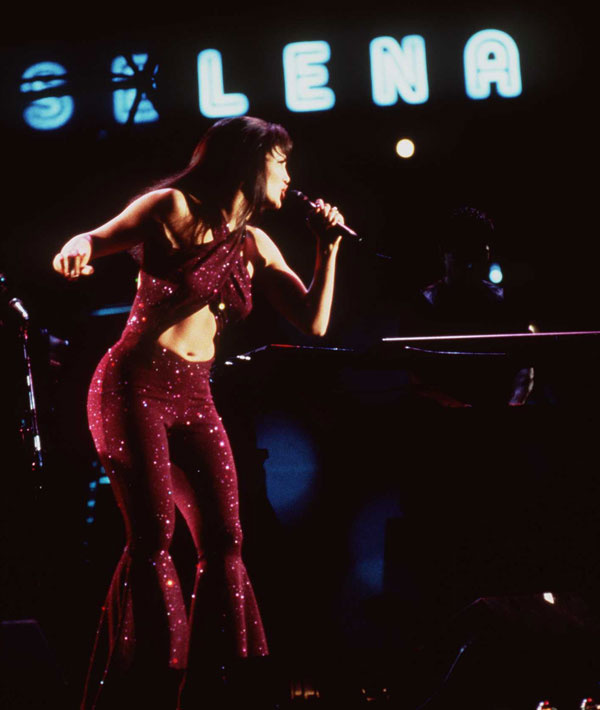 The role that propelled Lopez from struggling bit-part actor to less-struggling actor was playing murdered Mexican sweetheart Selena Quintanilla-Pérez. The casting of a Puerto Rican as Selena kicked up a lot of shit in the Latin community, but Lopez proved herself a fair match for the original Latina ass-queen. Although she only mimed to Selena's vocals, later in her career, J. Lo cited her time filming Selena as a driving force in deciding it would be pretty sweet to become an international music superstar. The rest is history. Spandex-clad history.
THE FACT THAT SHE CAN'T SING...
Hold on to your death threats, guys. Only the most deluded of super-fans would pretend that Jennifer could match Aretha Franklin in the vocal stakes. It's cool, though; it just means we can all sing along to her shit to our heart's content without getting out-of-breath or making dogs convulse.
...BUT CAN TOTALLY DANCE
Which brings me to the Lopez-video dance breakdowns. Does anyone even do these anymore? I wish I could dance aggressively at my bosses whenever I showed up at 2pm smelling of doner meat.
"Jo you're four hours late?!"
[HIP ROLL, JAZZ HANDS, DROP SPLITS]
"Never mind."
...Finally...
THAT ASSSSSS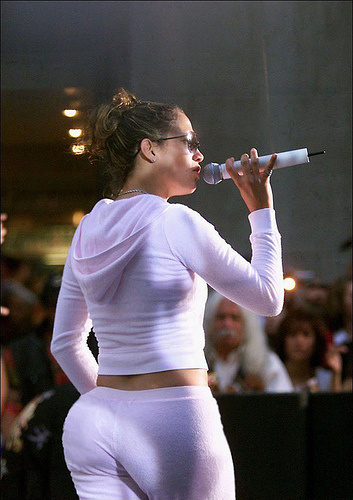 Love you forever, Jenny babes.
Follow Jo on Twitter - @FUERTESKNIGHT
3!<>