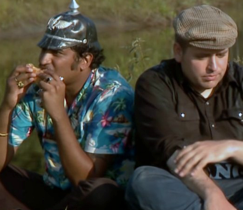 Check the dates, as well as a very emotional video of them throwing up.
The King Khan & BBQ Show is back in it like they never left, which is really good for pretty much all the reasons. Mainly, it's just that two of the coolest dudes who make totally badass garage rock are hitting the road to do the damn thing again, in addition to Sultan solo dates. Check the tour dates below, and after that peep the trailer they assembled for the tour. Warning: Contains emotional vomit.
NOVEMBER
16th - Seattle, WA - Rendezvous
17th - Vancouver, BC - Astoria
19th - Calgary, AB - The Commonwealth
20th - Edmonton, AB - Wunderbar
22nd - Winnipeg, MN - Windsor Hotel
23rd - Fargo, ND - The Aquarium
24th - St Paul, MN - Turf Club **
26th - Chicago, IL - Empty Bottle **
28th - Omaha, NE - The Slowdown **
29th – Iowa City, IA – The Mill **
30th - St Louis, MO - Off Broadway **
DECEMBER
1st - Bloomington, IN - Russian Recording**
3rd – Nashville, TN – Exit/In**
4th - Columbus, OH – Ace Of Cups**
5th - Ann Arbor, MI – Blind Pig**
7th - Brooklyn, NY - Union Pool
8th - Boston, MA – Starlab
15th – Montreal, QC – Casa del Popolo
**Denotes King Khan & BBQ Show, others are Mark Sultan solo.