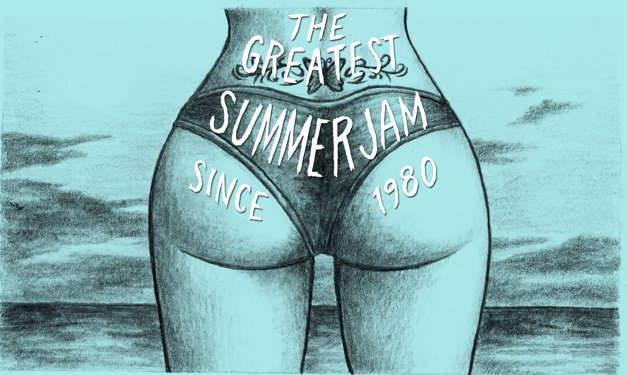 The choices have become tougher, so we decided to give you some inexorable truths about summer jams.
All illustrations by Meaghan Garvey
Get caught up on parts one and two of our Summer Jam bracket.
Okay. Hi. So we're a bit late on this, and for that we apologize. However, we have lots of important summer jams to discuss, so let's get right to it. In our quest to determine the Greatest Summer Jam Since 1980, we have learned a few inexorable truths, truths that we wish to share with you below.
The Most Popular Song Does Not the Superior Summer Jam Make
The song that has the most views on YouTube is "Gangnam Style." Therefore, it is the most popular song of all time. You would only play "Gangnam Style" at a grill-based social gathering if you wanted everyone to leave. This logic is inarguable, and proves that popularity does not matter.
Each Summer Jam Jams Of Its Own Merits
Not all summer jams are created equal, but there's also no way of telling what makes each summer jam so great. Some bring back a particular memory; others may be able to get everyone at the party dancing no matter what; others still might make a stranger 10% more attractive to you. It just depends. Just because one song might make two people who aren't attracted to each other make out and one doesn't mean that one's a better summer jam. Like the bard Meek Mill once said, it's levels to this summer jam shit.
The Summer Jam Is Anti-Shirt
When asserted upon an unassuming group of male humans, a great Summer Jam has something of a swimming pool-like effect. Just like how only that one weird fat kid wore his shirt in the pool when you were a kid, only the most dweebish males will remain connected to the fibers of their shirts when a great Summer Jam hits. Some might claim that this has more to do with beer than the music that might be playing during this male-pattern descent into shirtlessness, but these people are alcoholics who hate sound.
The Summer Jam Has The Mysterious Power To Convince You That Hot Dogs Taste Good
Under normal circumstances, hot dogs are shitty and depressing. Along with Ore Ida frozen potato products and Chef Boyardee (if you are an adult), hot dogs make up the top tier of the struggle food pyramid. However, when presented the context of a Summer Jam, the hot dog becomes a cultural event. All of a sudden, asking for a hot dog does not seem like a dumb idea.
And with that, onto the results of the Great Summer Jam Bracket of Aught 13.
Click image to enlarge.
SWAG/YOLO REGION
Daft Punk's "Get Lucky" vs. DJ Khaled's "I'm On One"
Some day in the not-so-distant future, someone will put these two songs in a SongBlender and pour out two monster summer jams that could blow up our solar system and the one next to it. Here's what they'll do: First, they give "I'm On One" Nile Rodgers' unlimitedly funky guitar line and then they give "Get Lucky" some DJ Khaled tags throughout the whole song, like, every 15 seconds. Then they swap Drake's slit-eyed hook for Pharrell's wedding-dance hook and now they've got a disco song about lean (purple or pink depending on how you mix it) and a rap song about the phrase your parents used as code when they went upstairs and put on a Johnny Mathis record. Finally, they replace Lil Wayne's verse with the Daft Punk vocoder and all of a sudden vocoder takes off as the big trend and replaces auto-tune in rap because they realize there's nothing they can do to stop the oncoming AI singularity and they want to appeal to our soon-to-be robot masters with their kind of music. Add some more DJ Khaled tags everywhere and pretty soon they'll have "Get On One" and "I'm Lucky," two unstoppable summer jams.
But this is now, and until we start taking the AI singularity seriously, the robots will always win. —Jeremy Larson
Winner: "Get Lucky"
Carlie Rae Jepsen's "Call Me Maybe" vs. Nicki Minaj's "Super Bass"
Even worse than the pop-punk revisionists are the internet circles intent on rehabilitating late '90s teen-pop. You know who they are (you know who you are!), with their defenses of various Lou Pearlman projects and perpetual celebrations of comeback singles from X-Factor judges. These are the people who would have you think that Carly Rae Jespen's "Call Me Maybe" is more of a summer jam than Nicki Minaj's "Super Bass," and they need to be stopped.
To be fair, "Call Me Maybe" is a pretty good song, as far as songs that play in a bourgeois deli go. It's better than "Drops of Jupiter," for example, and I'd even say I prefer it to Sheryl Crow's "Soak Up the Sun." I'm also not mad about the synthetic strings that drive the song, and which are probably the closest that Top 40 radio has gotten to playing Arthur Russell. But let's be honest with each other, for a moment: This is kid shit. Middle school music. If you are twelve then by all means, play "Call Me Maybe" again. Otherwise stop pretending. What you liked when you were in middle school isn't cool, wasn't cool then, and has no artistic or cultural value.
"Super Bass," on the other hand, is like, so good. Within the first minute Nicki Minaj transcends both rap and bubblegum pop. If we could only somehow remove her inner theater kid, she'd be unstoppable. She can rap better than your favorite "good" rapper and she can sing the rare saccharine-free radio hit. But more important than all that, she makes music for adults (or at least sexually active teenagers).
Look: I'm a grown ass man. I like songs about fucking, with curse words. "Super Bass" has these things, and it also has an emotional undercurrent. There are hints of sadness; we realize that, when Nicki Minaj says she's looking for a guy with that "Boom, badoom, boom / Boom, badoom, boom bass," that "super bass," she's really looking for love.
Ultimately, "Call Me Maybe" and "Super Bass" are both about finding someone to spend your life with. The difference, then, is that Carly Rae is handing out her phone number to a boy at the mall right as her mom comes to pick her and her friends up. Nicki, on the other hand, is meeting dudes in polos. She's swimming with shirtless hunks and pouring fluorescent pink liquid on their chests. She's doing adult things that I can relate to, and making serious summer jams while she's at it. —Hanson O'Haver
Winner: "Super Bass"
BLING/CRUNK REGION
Outkast's "Hey Ya" vs. Mike Jones, Slim Thug, and Chamillionaire's "Still Tippin'"
You know what? "Still Tippin'" might actually be a better song than "Hey Ya!," but that barely matters right now. "Hey Ya!" steamrolls this matchup by the simple virtue of being "Hey Ya!" If you don't live in Houston, "Still Tippin'" might excite a few wayward rap heads at a BBQ, but we've all seen our moms get down to Outkast. "Rolling on that endo / Gamecube Nintendo" is a wonderful catchphrase, but every single line of "Hey Ya!" has the same national ubiquity of the Pledge of Allegiance, it's the sole reason Lucy Liu's name still gets shouted in 2013. When you can roll up wedding receptions, beach parties, pick-up basketball, and practically any other communal event into a big bouncing ball with little more than an acoustic guitar, you know you're in some legendary territory. We all love a great cruise-jam, but "Hey Ya!" is an everything-jam. —Luke Winkie
Winner: "Hey Ya"
Jay Z and UGK's "Big Pimpin'" vs. R. Kelly's "Ignition (Remix)"
"Big Pimpin'" is a perfect song. "Ignition (Remix)" is a perfect song. It's not easy to pit them against one another, but if you have to, there's no doubt that R. Kelly trumps his former buddy Jay Z in this particular category. Sure, Hov rhymed "MTV Jam of the Week" with "Pamela Anderson Lee." Yes, both members of UGK turned in the most broadly significant verses of their respective careers. However, "Big Pimpin'" offers a jubilance that, by nature, is a bit singular in its appeal. It's a record made for guys who long to douse desperate women in expensive champagne on a yacht ride with their friends. All accusations of sexism aside, that's a valid fantasy, and it's part of why so many guys love the song. It was created to make men feel like champions for texting seven different girls while they're with another one. That's the reality of many a summer, and "Big Pimpin'" nails the faux-accomplishment of that brand of narcissism, even if you can't go about it with the same opulence Jay Z did nearly 15 years ago. What sets "Ignition (Remix)" apart, and ultimately, makes it a better summer song, is its inclusiveness. It's a record that signals celebration for everyone: your mom, the guy texting seven different girls, the guy faithful to and in love with one, the woman looking to be doused in expensive champagne, the woman looking to actually meet an upstanding human being for once all summer. There's not a niche of human who can't relate the joys of "Cristal popping in a stretch Navigator" with "food everywhere as if the party was catered." Like "Big Pimpin'," the goal at the end of the night is fornication, but R. Kelly's record doesn't paint it as if there are winners and losers once that objective is complete. "Ignition (Remix)" is about a good time for all parties involved. Everyone wants to take it to their room and freak somebody. R. Kelly recognizes this, and that's why "Ignition (Remix)" is the best song you can ask for when it comes to soundtracking those bizarre, lurid, but ideal nights of the summer. —Ernest Baker
Winner: "Ignition (Remix)"
PEACE/WHATEVER REGION
Dr. Dre and Tupac's "California Love" vs. Warren G and Nate Dogg's "Regulate"
Okay, so there's no real argument: "Regulate" rules. The smooth, laid back beat is the perfect soundtrack for an evening in the dog days of summer, cruising around your neighborhood, windows down, feeling like you're better than every other god damn person in the world. But you know what's better than doing that? Doing it. 2Pac's "California Love" offers a thesis statement for what we all want to do every day of every summer for the rest of our lives: drink, party, and fuck. It encapsulates everything human nature, at its core, stands for—bumping, grinding, and sweating. And human nature is science. You cannot argue with science. —Eric Sundermann
Winner: "California Love"
Ginuwine's "Pony" vs. Len's "Steal My Sunshine"
I love "Pony" as much as the next person, but it's become a painfully predictable coda at the end of every DJ's first residency on a Tuesday night at some dim, severe-looking dive bar (I know because I do this all the time). Everyone's obnoxious fixation with this song as a vaguely ironic, sex-havin' Slow Jam diminishes the lasting impact of the rest of Ginuwine's very impressive oeuvre. Comparatively speaking, Len has six albums worth of material that no one gives a shit about, except for "Steal My Sunshine," which is a paragon of Gap commercial brilliance. Really, there's no way this song couldn't be amazing, given that it samples the eight best seconds of Andrea True Connection's "More More More" and then features some bro and his sister singing in Canadian over the beat. It's also a proven fact that "Steal My Sunshine" was mathematically designed to be played on repeat so that you can listen to it for all 2,160 hours of summer. —Gabriel Herrera
Winner: "Steal My Sunshine"
MATERIAL GIRL/PLAYBOY REGION
Guns N' Roses' "Paradise City" vs. Violent Femmes' "Blister in the Sun"
While "Blister in the Sun" is indubitably a classic, able to evoke nostalgia for a twee-er, alt-er time in your life that never actually occurred, it's not particularly badass. And by that, I mean it's not badass at all. It is the opposite of badass. Goodface. Whatever. Fuck that song. It's out.
Picture, if you will, the following scene: You're driving a 1972 Pontiac Firebird convertible through the desert. There's four million dollars in the trunk, not a single nonconsecutive bill of it belonging to you. You check the rearview. Cops. Shit. You've got two choices: pull over the car, or bounce on the devil and put the pedal to the floor. You choose the latter. Only problem is you're coming up on a cliff. A cliff that's on fire. Your flaming cliff-based demise is imminent. Before fear can even begin to trickle up your brain stem, "Paradise City" comes on. Everything is now in slow motion. Slash's just-east-of-perfect pre-solo-but-still-better-than-most-other-solos at 1:01 kicks in. The flames glint against your sunglasses as you begin laughing. For the first time in your life, you feel alive, even as you plummet off the edge to a flaming hot doom.
In short, "Paradise City" is so good that it will make you punch death in the dick. —Drew Millard
Winner: "Paradise City"
Dexy's Midnight Runners' "Come on Eileen" vs. Hall and Oates' "You Make My Dreams"
"You Make My Dreams" was used in a movie about summer, and the doo-wop interplay between Hall and Oates echoes the fun of bouncing around with one of your best buds. As everyone knows, the inviolate rule of friendship is that everyone is a Hall or an Oates. But everyone mistakenly valorized Joseph Gordon-Levitt's #sadboy slump, and two bros aren't as good as the field of friendship opened up by "Come On Eileen"'s communal Renaissance Fair vibe, which practically places a mayflag ribbon in your hand and invites you to dance in a circle, skipping and trilling like your body's been atomized into pure sunlight. "These people round here," sung Dexy, "wear beaten down eyes sunk in smoke dried faces. There's so resigned to what their fate is, but not us. We are far too young and clever." If that's not the proto-YOLO pulse of summertime glory, what is? —Jeremy Gordon
Winner: "Come On Eileen"
Stay tuned for next week, when we get down to the Elite Eight Summer Jams since 1980.