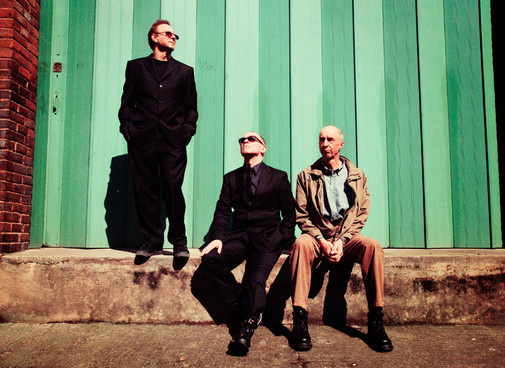 And judging by their new press shots, change...definitely became them.
Maybe Wire did it right? Since forming in London in 1976, they've only had one member change in the band (Bruce Gilbert left during a hiatus in the 80s so he could focus on his ambient electronic projects). Most bands who are around for over four decades have gone through multiple line-up changes. Sure, Wire has gone through breaks since they impressed the punk world with Pink Flag (1977) and Chairs Missing (1978), but the breaks seemed strategic and, I imagine, were necessary to keep the band members sane.
Now, they've announced the release of their 13th studio album, Change Becomes Us, due March 25th. Following the release, Wire will play a show at London's Heaven doing the whole new record in full, followed by their 70s debut, Pink Flag.
The members of Wire are old now. Their new press shot looks like three of the world's coolest grandpas all hanging out together. And in some ways, that's what they are. It seems a little off when fossils do punk, because at it's most superficial, punk is a juvenile philosophy. However, when you really break it down, it's more of a lifestyle and something that you never really grow out of.
Frontman Colin Newman told NME that the new album was a mesh of songs the band did live back in the 70s and 80s. "Some of this material had only existed as quickly prepared sketches for one-off performance. However, subjected to the rigor of a Wire working process of both touring and studio, it evolved organically into what we think it a fascinating hybrid."
Listen to Change Becomes Us opener "Doubles and Trebels" below: