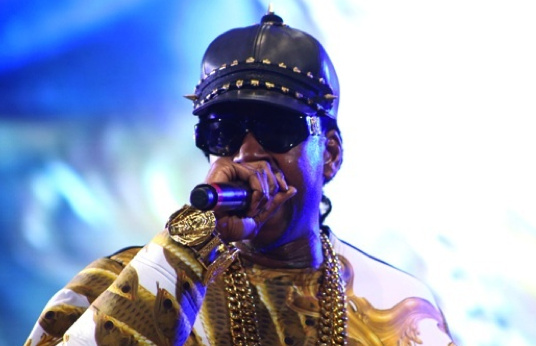 Including 2 Chainz's pickelhaube, Raekwon's leather hood, and the back of Sean Kingston's shirt.
Hot97's annual Summer Jam concert went down today at the Meadowlands in Jersey. For those not knowing, Summer Jam is like Electric Daisy Carnival for rap, except with staying power the entire "genre" of EDM can only dream of; this was the 20th anniversary of the concert. It was long and it was fun and I watched the whole thing from my couch via an inconsistant USTREAM feed. A$AP Rocky and Kendrick Lamar's chained peformances (linked via their collab on "Fuckin Problem") were the best part of the show, but far from the only highlight. 2 Chainz premiered a single and brought out Nicki Minaj. The whole Wu-Tang clan performed, reprising their performance at the first Summer Jam in '93. Miguel was great early on. I think the end of the show got fucked up by weather (it was raining hard by the time French Montana brought Lil Wayne out for "Pop That"). But Brooklyn permathug Papoose also snuck his way on for a song and I'm hearing rumors that that fucked up the schedule.
Anyways, you aren't reading my ramblings for informed insight into the industry, you want me to say some dumb shit about what rappers did. As hip-hop fashion spirals deeper into the grasp of experimental high fashion, their sartorial decisions are getting weird. Here are five great pieces of leather worn on stage at Summer Jam 2013.
2 CHAINZ'S PICKELHAUBE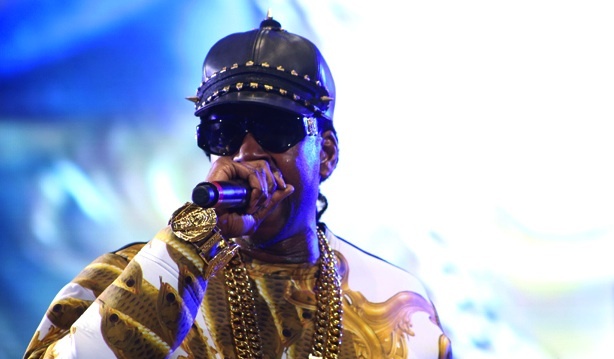 The rapper formerly known as Tity Boi always steps out looking like he should be in King Of Fighters and Summer Jam was no exception. The piece de resistance of his ensemble was a (probably) leather baseball cap with a spike on top. The hat with a spike is known as a Pickelhaube, a signature of 19th-century Germany and the Prussian empire all the way up to World War I, when it became a signifier for Germany in American propaganda.
World War I happened because the ruling families of Europe had spent decades strategically aligning with each other in a way that created two opposing blocs. When Archduke Franz Ferdinand was asassinated in 1914, a relatively small conflict between Serbia and Austria-Hungary became a World War as the entire continent had to choose sides. 2 Chainz made his whole career as a hired gun, garnering national attention when his dominance of Atlanta wasn't enough. Was this a subtle dig at the frequently colluding camps and business interests that shut out indie and local rappers?
Nah, it was probably just a silly hat.
RAEKWON'S LEATHER HOOD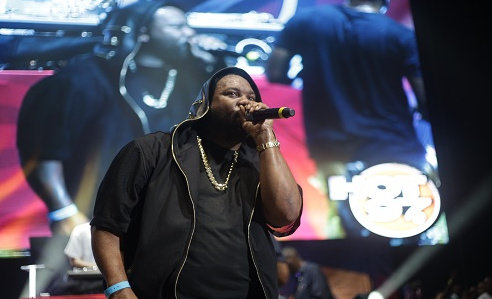 There was something bittersweet about Wu-Tang's very good set, an acknowledgement that the next generation didn't really care about this supposedly momentous occasion in hip-hop. Wu fits better at Rock The Bells these days and Method Man's Wu-Tang shirt and camo cargos made that point. But Chef Raekwon put his flag in the present day when he came out rocking a shirt with a leather hood with extraneous zippers on each side.
The thing about the Wu was they made the gap between the haves and the have-nots of New York City in the 90's seem as large as the cultural split between East and West. They made Stapleton Projects seem as mysterious as an 18th cenutry Chinese village. Their slang was dense, their skits were hard to follow and their mythology was deep. Rae and Ghost really applied this idea to their aesthetic; they were always freshly dipped in something both expensive and ridiculous.
Even if the Wu's best days are behind them, you know some bored teenager in a wild expensive Hood By Air shirt nudged his friend during their set like, "Yo I need one of them leather joints with the zippers."
CHRIS BROWN'S LEATHER SMOCK
I hate Chris Brown and the best part of his set was when the stream was buffering in such a way that made it look like the effects on the screen behind Breezy were malfunctioning between songs. But among the many costumes changes in his set was what looked like a full-on leather smock (or, alternately, pleather overalls cut like a sandwich board). It reminded me of the part in Hostel where dude escapes and poses as one of the clients by putting on the butcher outfit. It also made me picture Chris as Patrick Bateman in American Psycho with the chainsaw. Phil Collins, get at him.
THE BACK OF SEAN KINGSTON'S SHIRT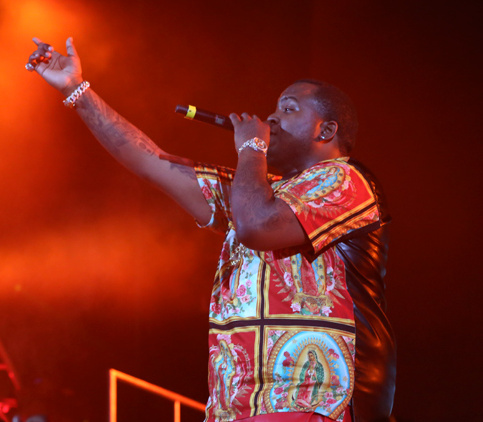 Chris Brown brought out Sean Kingston to do a track together and Sean was wearing a shirt with (I think) a leather back. Sean Kingston is a fat dude and it was like 80 and humid today. Think about dude being on stage performing, sweating into a 40% leather shirt. It's like sitting in a house with no air conditioning shirtless on a couch that your auntie covered in plastic for safe keeping. That level of discomfort might be worth it for an extremely steezy garment but the shirt made Sean look like the King of Clubs. Yung Hoyle shawty.
PAPOOSE'S ENTIRE STEELO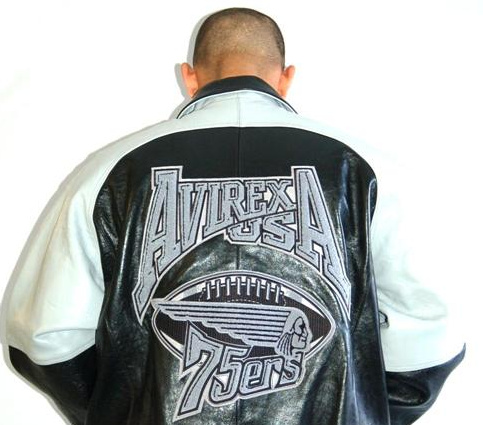 Papoose hustled his way onto the mic for one song and to tell the world that Remy Ma will be out of jail next year. His whole steez is that of a leather Avirex jacket. He's got a custom Sidekick that runs Twitter.
Skinny Friedman's modem is also made out of leather. He's on Twitter - @skinny412