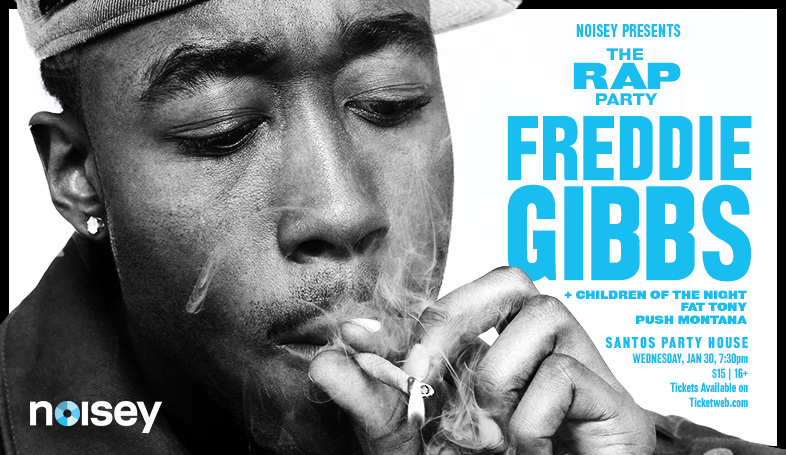 Tonight, at Santos Party House, we'll be kicking off our Rap Party series with Freddie Gibbs, Children Of The Night, Fat Tony, and Push Montana.
Here at Noisey, we love rap music. We love it so much that, along with our friends at Live Nation, we decided to start throwing monthly rap shows at Santos Party House. We're calling it The Rap Party, because we love keeping shit simple. We're not just slapping our name on a poster and calling it a day, though: We'll be curating the shows and producing awesome stuff like premieres, interviews and videos around them. More or less, we're putting our IRL money where our online mouth is.
Tonight is the first party, and we're beyond psyched to welcome one of our favorite rappers (and our sports correspondant) Freddie Gibbs to the stage. He'll be joined by Noisey regulars Children Of The Night, Fat Tony and Push Montana.
All the info you could possibly need is right here, but here are the details: It all goes down at Santos Party House, in NYC's Chinatown at 96 Lafayette Street. It's 16 plus so all you youngsters can get in, doors are at 7:30 PM, and the tickets are a measly $15. If you need any more of a reason to go, check out our recent interview with Freddie Gibbs, plus the first episode of Noisey Raps: