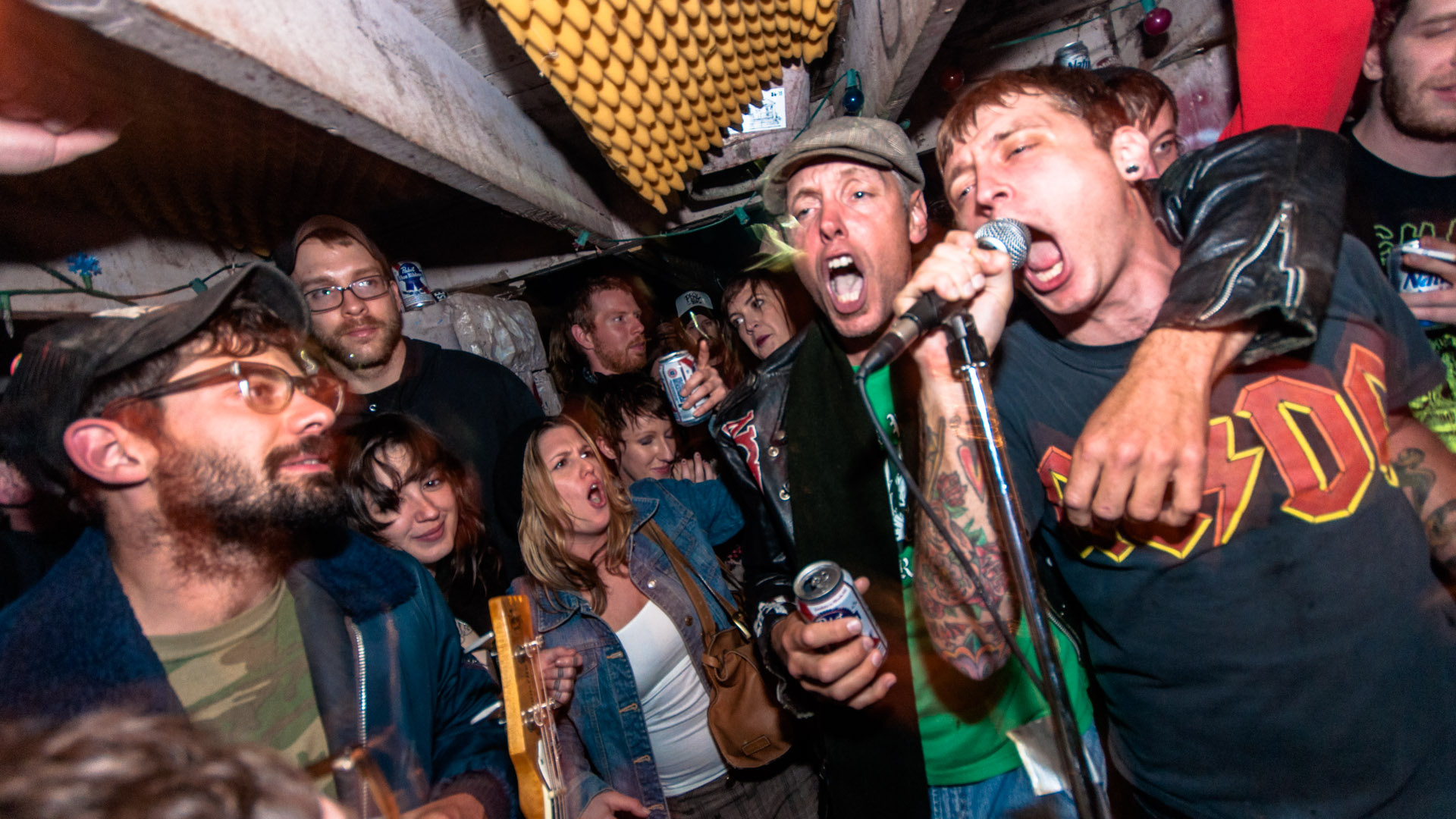 It's the catchiest way to sound like an entitled baby.

Photo by Pat Houdek
You know the Copyrights, right? They're that band who's been opening for the Lawrence Arms this year and who write insanely catchy pop punk songs you want to listen to 8,000 times in a row? Of course you do. (Look, we're just trying to save you some embarrassment here on the off chance that you aren't familiar with the Copyrights.) Anyway, they have a new seven-inch out next month via Fat Wreck which we will be buying and which you should too. From what we hear, they're working on a new full-length for August so this EP will have to hold us over for now.
You can listen to a song from it, "No Knocks," below which is about, well, let drummer Luke O'Neill tell you:
"No Knocks" is written from the perspective of a well-off person, who has problems like the rest of us, although those problems are dismissed sort of as "Cry me a river, rich boy."
In other words, #firstworldproblems. Here's the song, you whining babies. Also, catch the Copyrights on tour...
Jun 6 @ Wild Bull - Kalamazoo, MI * (with The Lawrence Arms)
Jun 7 @ Metro - Chicago, IL * (with The Lawrence Arms)
Jul 22 @ Surfside 7 - Fort Collins, CO *
Jul 23 @ Club Sound - Salt Lake City, UT
Jul 24 @ Marquis Theater - Denver, CO
Jul 25 @ Czar Bar - Kansas City, MO
Jul 26 @ Fubar - St Louis, MO
Jul 27 @ Cobra Lounge - Chicago, IL
Jul 28 @ Triple Rock Social Club - Minneapolis, MN
Jul 30 @ Grog Shop - Cleveland, OH
Aug 01 @ Voltage Lounge - Philadelphia, PA
Aug 02 @ Brighton Music Hall - Boston, MA
Aug 03 @ Knitting Factory - Brooklyn, NY
Aug 04 @ Asbury Lanes - Asbury Park, NJ
Aug 05 @ Ottobar - Baltimore, MD
Aug 07 @ Masquerade - Atlanta, GA
Aug 08 @ Vinyl Music Hall - Pensacola, FL
Aug 09 @ Walter's Downtown - Houston, TX
Aug 10 @ Three Links - Dallas, TX
Aug 12 @ Launchpad - Albuquerque, NM
Aug 13 @ Pub Rock - Scottsdale, AZ
Aug 14 @ The Glass House - Pomona, CA
Aug 15 @ Thee Parkside - San Francisco, CA *
Aug 16 @ Slabtown - Portland, OR * (with Success!)
Aug 17 @ The Kraken - Seattle, WA * (with Success!)
*= with 7Seconds