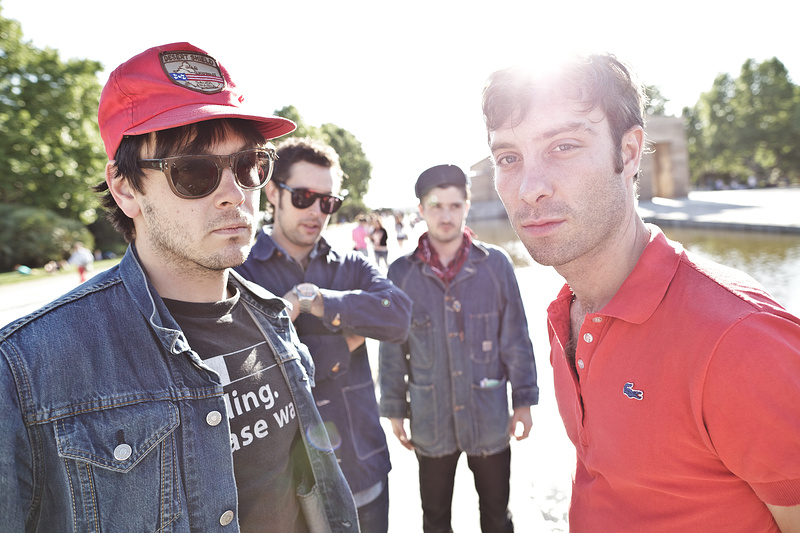 Our boys are going out, suiting up, and hitting that magical spot where Eurasia meets Africa.
If you're in a band, it's important to go out, buy some clean clothes, and take your show on the road--how else are "the people" supposed to know who's on the other end of all those illegal downloads? Look to the Black Lips for inspiration. In the past year alone these four dapper young lads have trekked across Europe (Helsinki anyone?), the US, and Thailand, slamming their "any show, any time" ethic into dangerous Quixote territory. Now they're adding a new zone to that resume--the fucking Middle East.
You heard right: this fall, our boys are gonna tear that storied juncture of Eurasia and Africa a brand new buttonhole. The shows kick off in Jordan, and will bring the band through Iraq, Egypt, Lebanon, and a bunch of other spots you've heard of on the news. The full tour schedule is below.
You can get a taste of their on-the-road persona in this clip of them eating ant eggs in Thailand:
Also, you can pick up a copy of their latest record, Arabia Mountain, right here. Go do that.

Black Lips' Middle Eastern Tour
9/14/12 – Amman, Jordan – TBA *
9/19/12 – Larnaca, Cyprus – Savino Live *
9/21/12 – Cairo, Egypt – Culturewheel *
9/23/12 – Tunis, Tunisia – Le Squat *
9/26/12 – Dubai, UAE – Music Room *
9/28/12 – Hawler, Iraq – TBA
9/29/12 – Sulamaniah, Iraq – TBA
10/6/12 – Beirut, Lebanon – Metro Al Madina *
* with Lazzy Lung