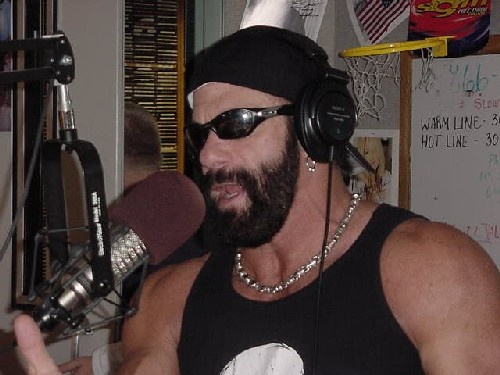 Rap and wrestling, two worlds that are intrinsically linked by their hypermasculine showboating and bravado, have collided several times to produce incredibly odd music.
Macho Man Randy Savage in the lab, spitting a hot 16.
Pro wrestling and rap make strange (but suitable) bedfellows. Superficially, the connection between these two outré forms of entertainment seems unusual – what does the hypermasculine and frequently homophobic world of rap have to do with a bunch of muscular, oiled up dudes rolling around on a mat in speedos while fake fighting? A lot, actually. Both run on a food chain system that celebrates outsized personalities who function more as caricatures than regular people; both feature stars with backgrounds full of carny as fuck truthiness and psychotic exaggeration; both have a symbiotic and inseparable relationship with drugs. Besides, you'd be hard-pressed to find a teenage boy anywhere on the planet who didn't have a brief love affair with the over-the-top, traveling circus that is pro wrestling. If you never crotch-chopped while yelling "Suck it!" at a confused and soon-to-be-enraged middle school teacher, you missed out on one of the purest joys of adolescence.
In the last two years, rappers have really let their wrestling nerd flags fly. 2011 saw Lil' Wayne begged us not to make him "go Andre the Giant" in his best deranged squeal, while last year's rap-wrestling highlights include Action "Bam Bam" Bronson solidifying his already legit wrestling nerd credibility by describing himself as "red beard[ed], so I resemble Jim the Anvil" on Rare Chandeliers, and Pusha-T capitalizing on the veritable cottage industry that is Ric Flair as a rap/dope boy inspiration by heavily sampling one of Flair's possibly coke-crazed 80s promos for "What Dreams Are Made Of." Now that the pro wrestling trope is an entrenched and celebrated part of rap culture, we thought it high time we examined this bizarre relationship to pull out the five best/worst pro wrestling rap songs, because just like with rap: in wrestling, sometimes the best things are the worst things.*
#5. Song Title: "The Great Show"
Artist: Insane Clown Posse
Year Released: 1999
Shaggy 2 Dope and Violent J love pro wrestling so much that they routinely pay wrestlers double, triple, and quadruple their going rate to perform before the perpetually-drugged out masses at the Gathering of the Juggalos, the yearly must-attend Dark Carnival for Juggalos, ironic anthropological journalists and Internet people who write for sites like this one here.

In 1999, at the height of the WWF Attitude era, the Insane Clown Posse were contacted by the WWF to create a theme song for a stable of circus freaks called the Oddities. They created a sanitized version of a song which later appeared on their 2002 compilation album, the Pendulum.
The track was filled with typical juvenile/corny ICP jokes, ("Awwww shit! Dum diddy dum / I'm Violent J and I fucked your mom") and occasional moments of vulgar levity, but the real high/lowlight of the song is in the second verse when Shaggy 2 Dope threatens to, "Pick up your daughter, whenever I need / Drop her off in the morning, smelling like pee." Note: If you didn't already know to keep your children away from the ICP (no pun), I hope that one's clear enough. Shaggy 2 Dope's urine fetish predates R. Kelly's by at least three years. I mention this because there's a good chance Shaggy feels some ways about Kellz stealing his drip-drip swag, considering he follows up those threats with the lines, "Fuck Gene Simmons and his drunk ass clique / And every other rock band that stole our shit."
KISS started wearing make-up in the early 70s. The Insane Clown Posse formed in 1989. Eight Faygos to the face, fuck thought.

#4. Song Title: "Basic Thuganomics"
Artist: John Cena
Year Released: 2005
Before he was WWE's 21st century equivalent of Hulkamania-era Hulk Hogan, John Cena was a badass heel who wore Mitchell & Ness throwback jerseys and rocked a chain-link necklace which he routinely wrapped around his fists and bloodied people with.
"Basic Thuganomics" was his first foray into rapping. It has some epically cringeworthy lines ("Like a broken needle, kid, you missin' the point!") and Cena is cursed with a flow that makes him sound like the most obnoxious rapper at Jr. Scribblejam, but the song still manages to be better than 90% of wrestling entrance music and 90% of wrestling-related rap.
In case you were wondering, "Thuganomics" is when you sell a shitload of camo gear, hats, armbands, headbands, wristbands, dog tags, football jerseys, basketball jerseys, and spinning replica belts while the profits trickle-down through your company to finance shitty Hollywood movies and their direct-to-DVD sequels.

#3. Song Title: "Kings of Wrestling"
Artist: Cody B. Ware
Year Released: 2010
There's pretty much no way we could have had this list without including this custom-created wrestling track by a rapper whose name is a reference to an mid-80s WWF wrestler who came to the ring with a fucking parrot on his shoulder. Cody B. Ware's "Kings of Wrestling" was created for Chris Hero and Claudio Castagnoli, two wrestlers currently signed to the WWE, who previously wrestled for pro-wrestling purist indy promotion, Ring of Honor. Hero and Castagnoli were avowed rap fans – their finisher was called the KRS-ONE – and this song blends their wrestling and rap love by shouting out specific moves ("Kings of Wrestling, second to none / Finish the competition quicker with the KRS-ONE") and smart-mark terminology ("See us on the mat, in a five-star match / Put the flame to the rest, with the gas and the match"). Classic wrestling nerd FUBU shit.

#2. Song Title: "Be a Man"
Artist: Macho Man Randy Savage
Year Released: 2003
When I was a kid, I was convinced Macho Man Randy Savage was black. I would have entered adulthood believing Mr. Madness was a brotha if I didn't see a picture of his brother. Racial ambiguity aside, in 2003, Macho Man released the rap album no one expected or asked for, "Be a Man." Like any real rapper worth his salt, Macho Man tried drumming up excitement for his album by starting a beef. The title track was a diss song to fellow tan-obsessive wrestling legend, Hulk "You sure you don't mind if I smash your wife, brother?" Hogan.
If you think that a diss track made by a 50-year-old wrestler rapping for the first time would be unbearably bad, you'd be right. The song legitimately opens up with the expression, "Hot diggity damn," proving that if Macho Man was indeed a brotha, he'd be one of the cornball variety.
Still, Savage earns points for bringing up Hogan's real-life attempts to squash their beef ("You called my dad up on the phone, you're a chump / 'Cause if you really got static, take it up with me and I'll punk your butt out for the world to see [pause]").
Thank God Hogan took the Farrakhan route and didn't end pulling a Young Jeezy by placing a bounty on Savage's bandanna and wraparound shades, or Brutus Beefcake and Brian Knobbs might have ended up like the dudes that Jeezy sent after Gucci Mane.

#1. Song Title: "Pay Per View"
Artist: Ruff Ryders (Drag-On Jadakiss, Styles P, Eve)
Year Released: 1999
This awesome posse cut was released around the time WCW was on a mission to see how lavishly and irresponsibly they could trick off all of the profits they made in their glory years (another example of rap-related profligacy: paying Master P $1 million in one month for four lackluster WCW Monday Nitro appearances)
Perpetually underrated MC Drag-On plays the heel (wrestling nerd slang for: villain) right off the top, claiming he's the type of dude to hold the figure-four long after the bell has rung, then bringing the ingenuity, "Y'all can bang like y'all in the bing / Before y'all hear the 'ding!' I'll bring them things that'll make ya sweat, make your blood sting," which is something no wrestler has ever done, but every one totally should.
Jadakiss is in rare form here, hitting hard with the opening bars comparing the Rough Ryders to pro-wrestling megagroup, the N.W.O. He follows it up with some lines that prove to be unfortunate in hindsight, "You know, stylin', profilin' like Ric Flair dressed me / Sorta like Kidman: all the women think I'm sexy," which is tragic because Kidman used to look like this and was married to former Playboy model, Torrie Wilson. Now he looks like this and isn't. The post-pro wrestling lifestyle is a cruel mistress.
The real star of this song (and Twitter) is Styles P, seamlessly embedding real-fan details in all of his namedrops by shouting out color commentators ("I'm like Diamond Dallas Page, guaranteed to leave you screaming / 'Cause you talk too much, like you Bobby 'the Brain' Heenan") and old school wrestling personas ("I'ma always make my ending Perfect like Curt Henning"). That's a wrestling nerd if I ever heard one. The less said about the eerily awkward, "I'ma always be around like fast Eddie Guerrero" line, the better.
Let's face facts: Most rap songs about wrestling suck, but they're fun(ny) as fuck and there's no reason you shouldn't blast them out of your car stereo like it's the Chronic 2001. No reason except shame. But if you're a die-hard rap/wrestling nerd, we both know you stopped letting shame dictate your decisions a long time ago.
*-This list is definitive and cannot be argued.
You can follow Jordan on Twitter for highly enthusiastic tweets about rap, wrestling, and other things: @JordanIsJoSo