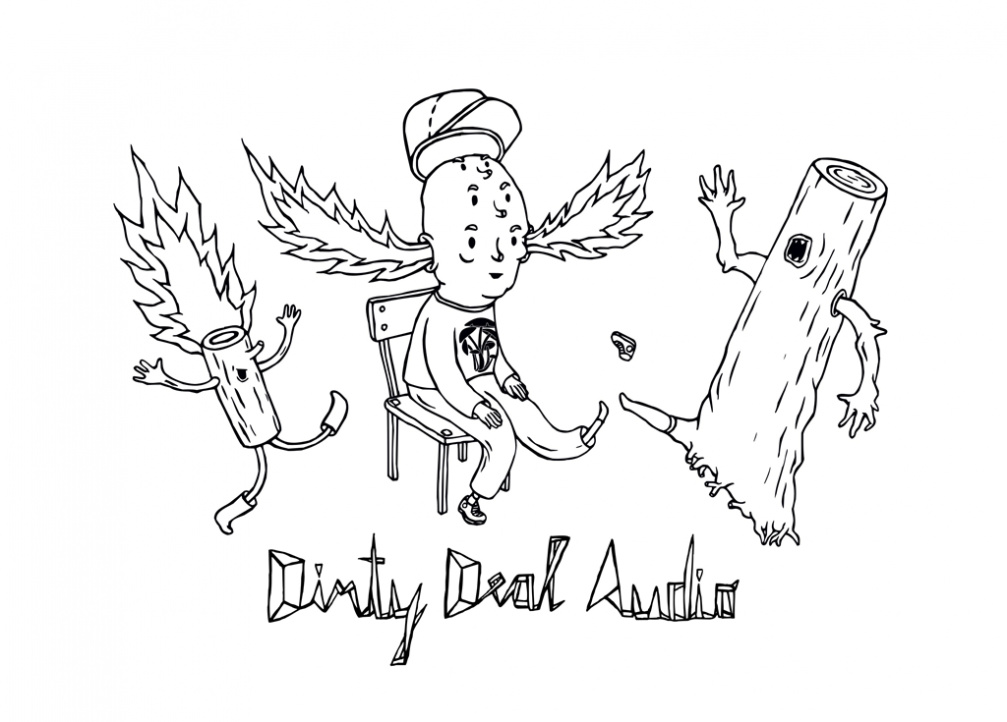 Welcome to the weird and wild world of Latvian electro.
Dirty Deal Audio is more than just an electronic music label devout to the young musicians in Riga, Latvia. It also acts as a community in a post-Soviet reality within the Baltic region.
The Baltic music scene is established in some sense but so young in others, it's comparable to a newborn on acid. Actually, by this point, it's a toddler in its terrible twos.
Recently, several Baltic nations have created the Baltic Trail, a region-specific festival. Facing the Baltic Sea beside Russia, Latvia is small but very worthwhile country alongside Lithuania (which has Renegades of Bump) and Estonia (which has Emerald City). Dirty Deal completes the Baltic trio of new labels coming out of the woodwork.
The label was born in 2011 out of the Dirty Deal culture space, which was based in Riga for six years. They house electro acts such as Oriole, the acid techno of TV Maskava, and KODEK (the next release in September), who is obsessed with his cat. Not to mention cardboard robot gear and florescent getup. Earlier this month, NiklāvZ won the beatmakers' challenge at the Satta Outside Festival in Lithuania.
There is almost no press about this stuff in English, so in an effort to change that, I interviewed label founder Kristaps Puķītis. He spoke from his office in Rigaabout starting from scratch, his roster of artists, and the cosmos as an endless inspiration.
NOISEY: Hey Kristaps. What is going on in Latvian music right now?
Kristaps Puķītis:The most part of Latvians are still dwelling on shitty pop music, good old and famous songs or the so-called 'schlager'. But there is a new-born electronic music scene that is rising and conquering its place under the sun. This scene is like a newborn baby on steroids laced with LSD—it still doesn't know how to properly walk, but grows fast, and makes a lot of weird noises. The cornerstone of this phenomenon was laid almost two years ago when several electronic musicians and beat-makers united and started to push their obsession with music further in a more organized way, together, like one big family.
How electro is it?
Most of our musicians work with samplers, synthesizers and computers, which is often mixed with an occasional audio sample or a chopped-up drum-break. The styles of the producers, however, are incredibly diverse and ever-changing, although they often work on the same type of equipment. Some of the music is light and positive, while other compositions can sound aggressive and dark, probably because Latvians in general are a passive bunch, and this is a way to express or get rid of their anger–either by playing music or performing, or listening and dancing to it.
How did your record label, Dirty Deal Audio, begin?
I was greatly inspired and influenced by Lithuanian beat-makers community Renegades Of Bump, when I first noticed their compilations Ritmo Kovos. Secondly, I was fed up with the fact that Latvia has been ruled solely by pop and rock, while there was no scene of electronic musicians that I would love to follow. That was the main reason why I contacted Oriole. Starting from the very first meeting we understood that we share the same dream and expectations for the future—to have our own community/label of Latvian musicians. Starting from that point we have gathered a great share of Latvian electronic and beat-music musicians together. Also I don't think that we are a proper label yet—we don't sign contracts with musicians; we are working on basis of friendship and supporting each other to succeed our common goals—to create a local scene for musicians and their followers and also get noticed outside of Latvia. I would also say that after almost two years, we are still at the beginning of our journey because we are still learning the rules of "the big game."
On your label, there is KODEK. How would you explain the phenomenon that surrounds the intense cardboard box robot gear?
KODEK is over the modern attitude. He was born 10 years ago. KODEK and TV Maskava have graduated the Madona (a town in eastern Latvia) Shitcore School. Madona, in general, has a special role in Latvian electronic scene: some say the creative activity present there today was triggered by a fallen meteor, others believe alien life forms had a fair share of influence on it.
Kodek has gone through a lot of musical transformations, starting with breakcore, following with chipbass and 8-bit, all the way to skweee, old-school electro mixed with new wave bass music. He keeps on stacking hardware and is in a never-ending creative process of traveling the world of future music.
KODEK - JUPITER 8000 from Inese Verina on Vimeo.
How did your ORIOLE become known?
All of his success is the result of him following his calling, working hard and focusing on making music. His roots stretch deep into the Latvian hip-hop scene; and, while most of Latvian rappers have had the chance to spit at least few bars on his beats, he's also had several collabs with foreign artists and has transformed from a simple beat-maker to an instrumental musician whose music now knows no borders whatsoever. He also firmly believes in the collective goals of Dirty Deal Audio. Locally, Oriole is rumored to have a direct connection to the Cosmos and its infinite supply of inspiration.
TV MASKAVA & MC WC Kokx are strange creatures. What do they represent?
TV Maskava & MC WC Kokx are on a mission to save the brainwashed masses. TV Maskava is a director and musician from—you guessed it—deep woods of Madona, as is MC WC Kokx, the emcee who accompanies him in the live shows (amongst other day-to-day situations). Musically, TV Maskava has been associated with break/shitcore, while his latest release Pārsteigums Bērniem (Kinder Surprise) is basically an acid techno record. Performance-wise, TV Maskava & MC WC Kokx often leaves the crowd in a state that is a conflux of trance and confusion and has a dramatic quality to it; to the duo, each show is unique and the relationship between the performers and the crowd is taken very seriously. As for MC WC Kokx's message to the brainwashed, his teachings read: "Be like a piece of glass: Shine through the ever-changing sunshine."
One of your artists NiklāvZ just won the beatmakers' challenge at Satta Outside Festival. What will you conquer next?
The world, hopefully. We see ourselves touring near and far in the future, as well as gaining more recognition for our label and our artists worldwide. In the nearer future some international collaborations between Dirty Deal Audio and our Baltic associates are bound to happen. We also wish to partake in international music industry gatherings (showcase festivals) and gain more coverage in the international media, as well as doing our part in educating the Latvian public by organizing even bigger events back home, including a sequel to the Baltic electronic music gathering and showcase festival, the Baltic Trail.
Side note: Is your label comparable to Renegades of Bump in Lithuania and Emerald City in Estonia?
All three of us have a different background, history and current stage of development, also we're quite different musically, but you can draw parallels between them anyway. We have several common goals—we all work to promote each country's local electronic music scene and musicians. This was the reason why we united and started our co-project—the Baltic electronic music gathering Baltic Trail, named after the Baltic Way (1989), a historical event when approximately two million people joined hands and formed a 600 km long human chain across the three Baltic states to express their unity, disapproval towards the Soviet Union and desire to regain their independence), which turned out to be a life changing experience for the 21 participants (most of them—musicians) from Latvia, Lithuania and Estonia, and a history changing occasion for the Baltic electronic music scene in general.