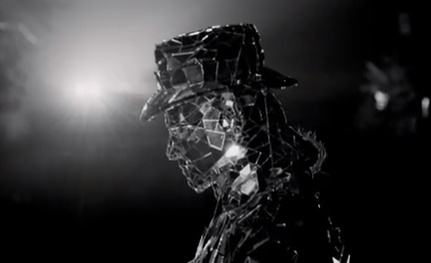 Let's hear it for creeping, ambiguous dread.
The Arcade Fire's video for their death-disco single "Reflektor" is directed by Anton Corbijn, the stark but classy photographer, high contrast music video legend, and underrated movie director (don't sleep on The American, one of the few action movies of the 2000s that takes its time). He is perhaps best known for his iconic, decades-spanning work with Depeche Mode and U2. And though this much-hyped video latches onto some of that rockers-as-Gods allure, "Reflektor" has much more in common with Corbijn videos that defy interpretation and thrive on creeping, ambiguous dread: Joy Division's "Atmosphere," an obscurist, occult-tinged tribute to J.D. vocalist Ian Curtis; and Metallica's "Hero Of the Day" which spends a morning with an addict as he watches TV, makes out with his girlfriend, and then falls asleep, only to witness little metallic demons climbing out of his ears.
"Reflektor" finds Arcade Fire members Win Butler and Regine Chassagne in a truck, speeding down winding roads at night, transporting a version of the band with giant papier-mache-looking heads to the middle of a field where a ritual involving a mirror-covered cowboy and a levitating disco ball takes place. The big head versions of the group (previously seen in the video for "The Sprawl II (Mountains Beyond Mountains)" off The Suburbs), like low tech avatars of the band, underline the conceit of this song: Something or other about social media, and constant coverage and how soul-sucking it all is, and like dawg, what and who is even real anymore? On the bridge, vocalist Win Butler sings "it's just a reflection of a reflection of a reflection of a reflection."
Cleverly, Corbijn constructs a video heavy with reflections of reflections. Primarily, he does this by way of homages to meta-skewing movies: The truck Butler drives, as it nervously waddles through the woods, recalls Henri-Georges Clouzot's 1953 film, Wages of Fear remade by William Friedkin as Sorcerer (1977), with all of its world cinema panache replaced with in-quotes gritty '70s cinema moves. The crisp black and white imagery of "Reflektor," when coupled with the video's World War II noir qualities, invokes Lars Von Trier's Europa (1991), which begins and ends with hypnotic narration that suggests we're watching some hypnagogic version of arty cinema rather than just plain ol' art cinema.
Towards the end of the video, we see the cowboy hold up a satellite made of sticks and twigs. It's a reference to Dennis Hopper's The Last Movie (1971), a strange little stoner cinema artifact that tells the story of a cowboy stuntman who stays in Peru after a movie shoot wraps up prematurely and witnesses the Peruvian villagers recreating the act of moviemaking with a camera made of sticks. The cowboy made of mirrors is also an example of Corbijn making reflections of reflections of his own work: David Gahan's cowboy outfit in Depeche Mode's "Personal Jesus," and the Killers' Brandon Flowers' ten gallon hat in "All These Things That I've Done," should both come to mind while watching "Reflektor."
Corbijn also punctuates the video with a few off-the-cuff shots of the big head version of the band, acting natural: Members carry a disco ball up a hill and one "looks" directly into the camera in a decidedly non-performative way; and towards the end of the video, the big head version of the band are spotted dancing (recalling Aphex Twin's video for "Donkey Rhubarb"). Due to the relative lack of staging in these shots, it's very easy to ignore the distorted versions of their faces over top of their actual faces, and perceive these moments as "real." Though "Reflektor" is far less playful, it enacts the same dissociative effect as Spike Jonze's all kids cast for Notorious B.I.G.'s "Sky's the Limit." A reality is constructed, alternate from ours, but similar enough that in just a few moments, we start to ignore the abnormalities and perceive it as normal.
At the very end of the video, Butler and Chassagne (the "real" unmasked versions) get out of the truck and walk into a warehouse. As a door closes on them, we briefly catch a glimpse of Butler's face, which is now frozen and mannequin-esque, like Yul Brynner in Westworld. So, we've got Butler, the regular ass dude in a band, becoming Butler the rock star getting photographed by Corbijn singing along to his new single, becoming Butler the folk art bobblehead performer, becoming Butler, the creepy-as-hell mannequin. He becomes a reflection of a reflection of a reflection of a reflection.
Brandon Soderberg is a writer, film lover, and dog owner in Baltimore. He's on Twitter - @notrivia