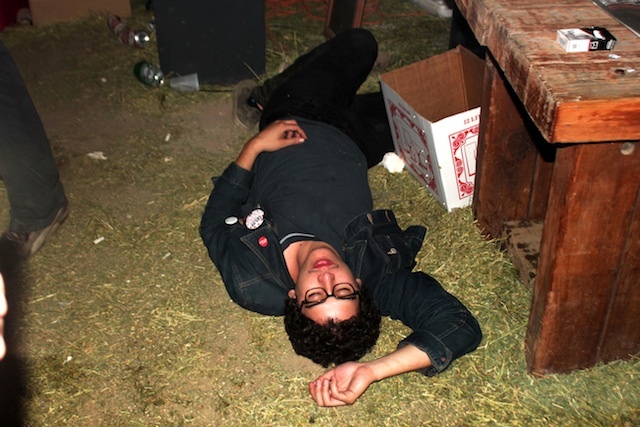 SXSW is beautiful and SXSW is terrible.
SXSW is beautiful and SXSW is terrible. Like Apocalypse Now, it is capable of revealing people's hearts of darknesses. You just take away enough of their dignity and eventually, their reality is flipped around and they're in a whole different state. For some people, that's the dream, but for many, it's like a scary rollercoaster they can't get off of. Here are photos of the best and worst things I saw Thursday through Sunday at SXSW.
Day Three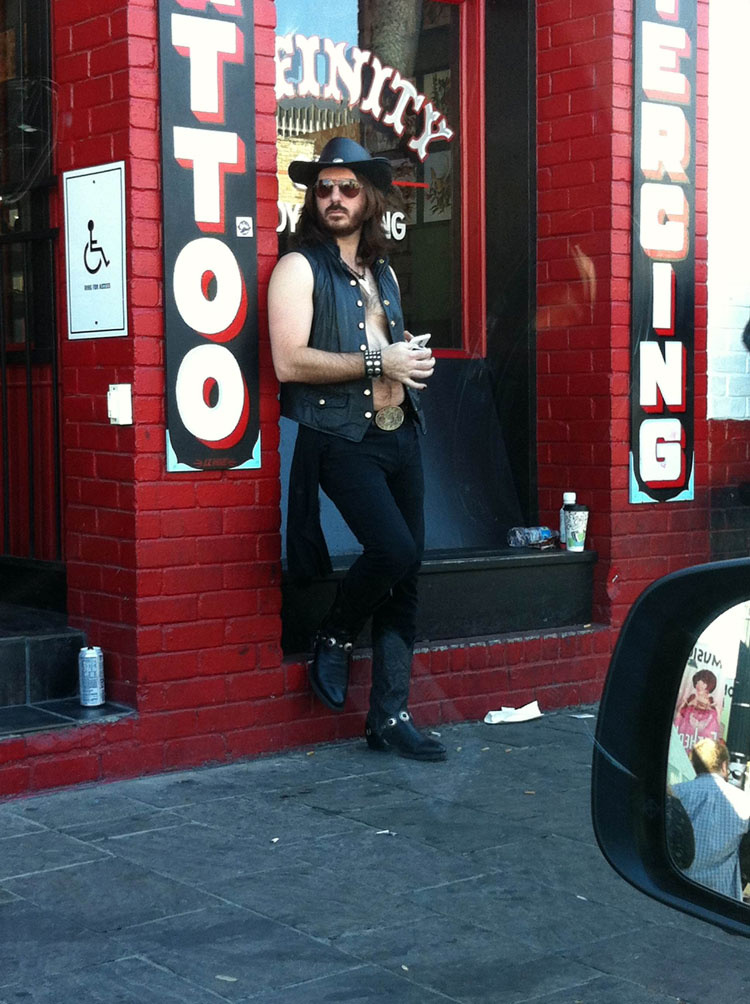 While walking out of the VICE Condo, I saw this guy, allegedly Austin's hottest rent boy. "Business, mister?" he said in low tones to any potential clients who shuffled by.
I was welcomed into a mini-van by one of my current favorite bands, DIIV. They took me into their show where I ate all of their sandwiches backstage. This is Devin, who reminds me a lot of a specific poster for the The Cure right now.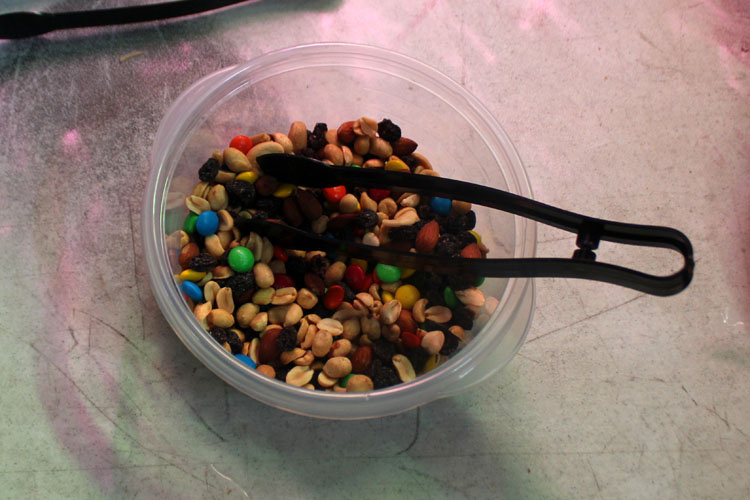 Who serves trail mix with tongs? This is the worst backstage spread I ever took out of the hands of the artists it was put out for!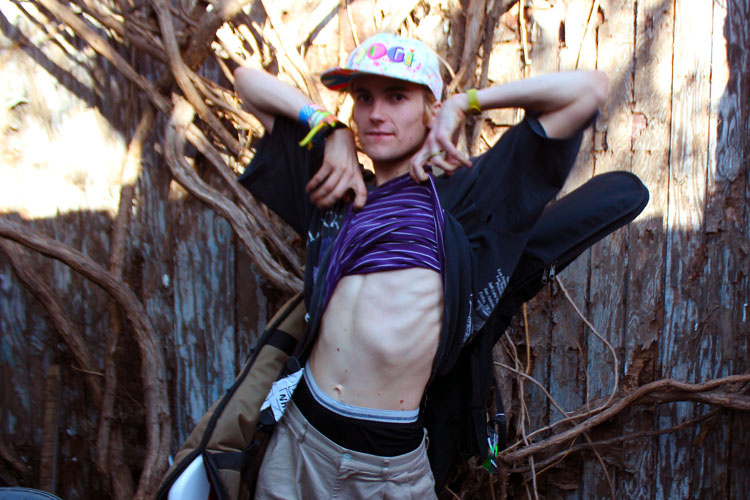 Cole from DIIV showed me his tittays.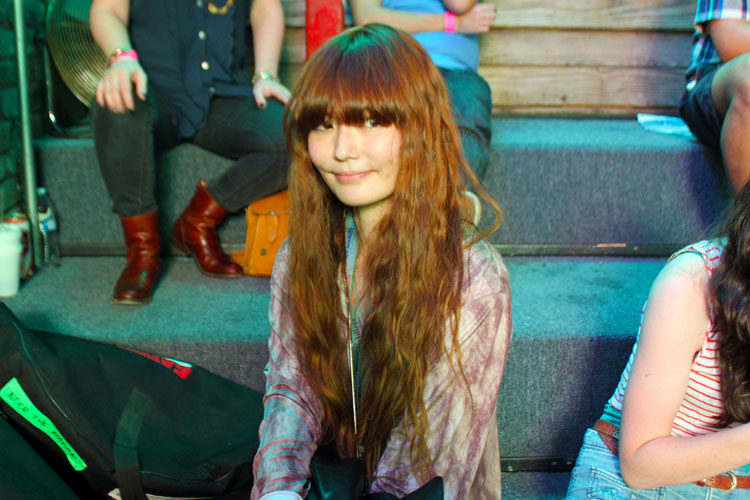 This isn't my photos of girls thing, but look at this woman! What a unique face!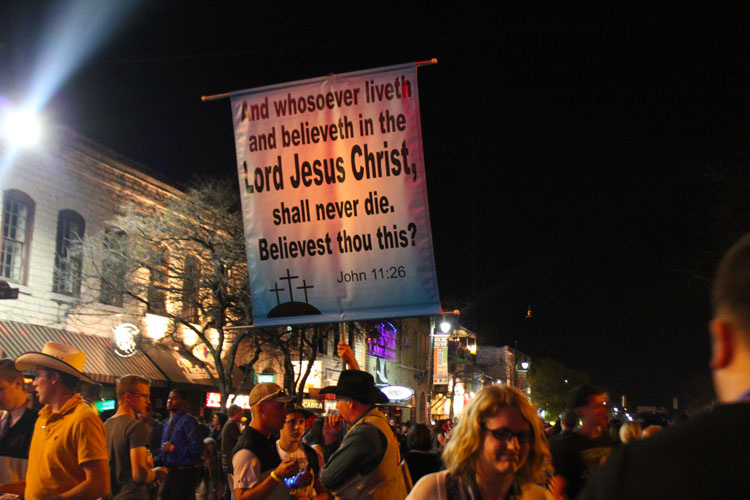 Christians came to add to the big clusterfuck of bologna that is SXSW by yelling through a megaphone.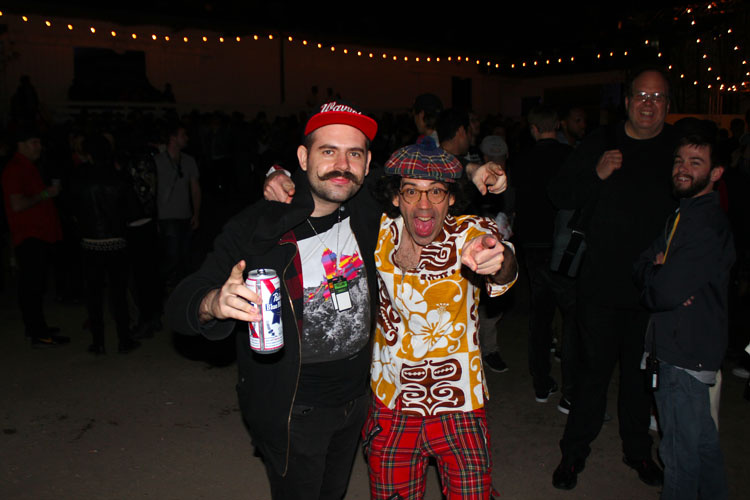 The highlight of the night was meeting Nardwuar. He gives music journalists a good name and makes everyone else reach for greater heights in interviewing. People were nerding out around him from the moment he showed up at Viceland until when he left.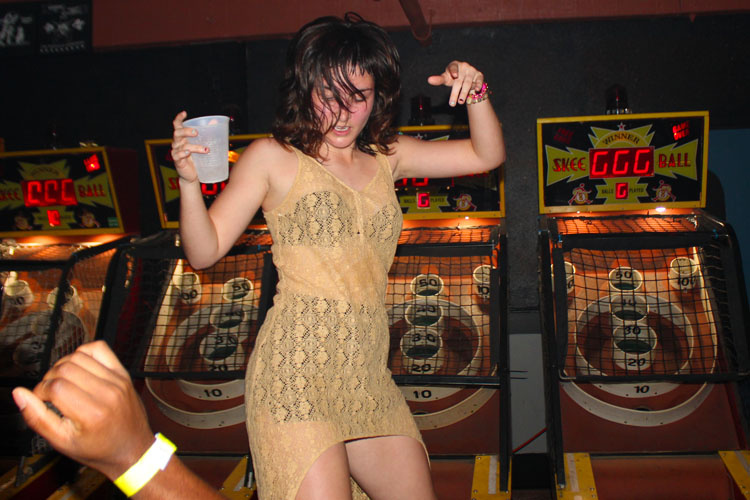 At Franki Chan's Super Party, people were just freaking the fuck out to Flosstradamus. This girl was dancing on the skeeball lanes until someone from the club made her get off.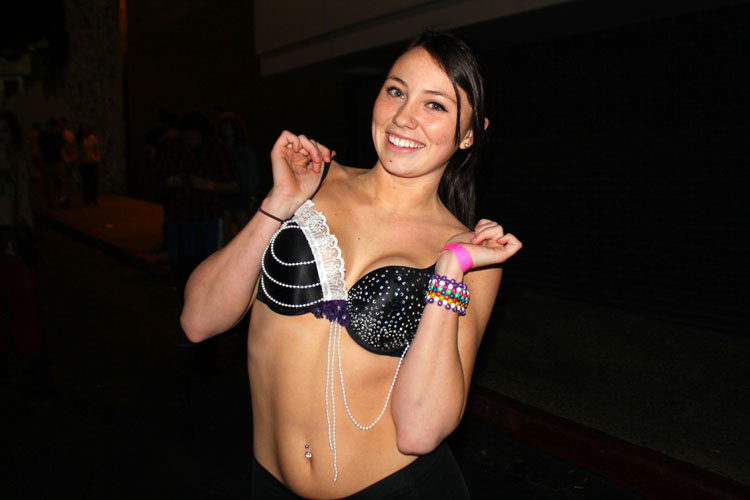 This girl was walking around half naked because apparently, she was raised by people who didn't teach her not to go outside naked.
This blonde lady tried to get Danny Brown to smile but she clearly doesn't know this is the only pose he does. [Ed. Note: this "blonde lady" is White Lung frontwoman/Noisey fam Mish Way.]
RIP Segway.
Day Four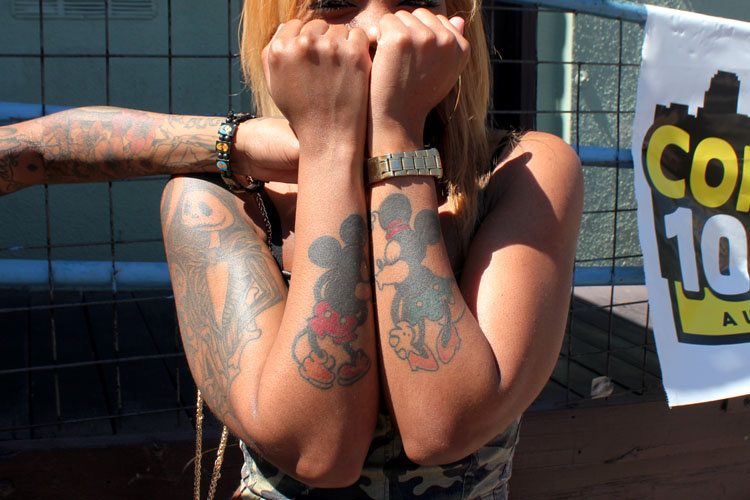 There's something about this woman's Disney tattoos that feels as raw as GG's tattoos to me. I can't entirely wrap my head around why this feels so raw to me, but there's something about them where they seem unintentionally really dirty to me.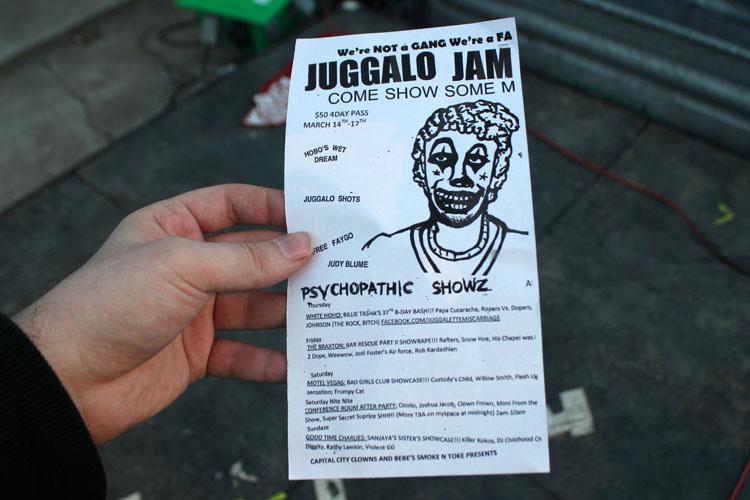 While I was DJing at Viceland, I was passed this flyer and I got really excited until I noticed that this was not a real series of juggalo events.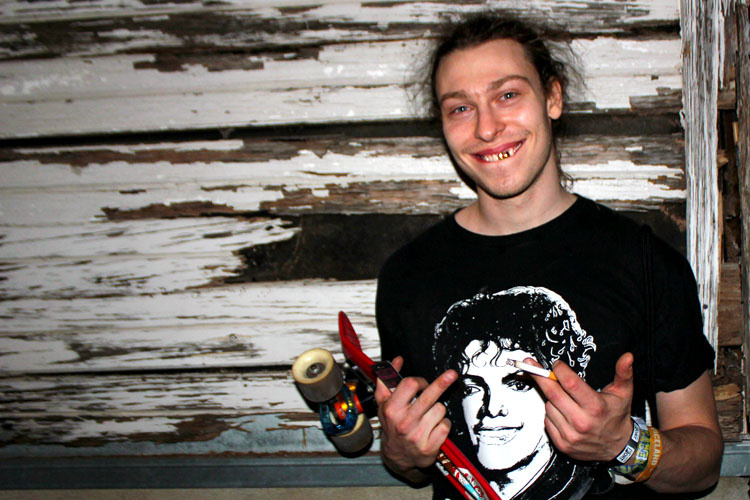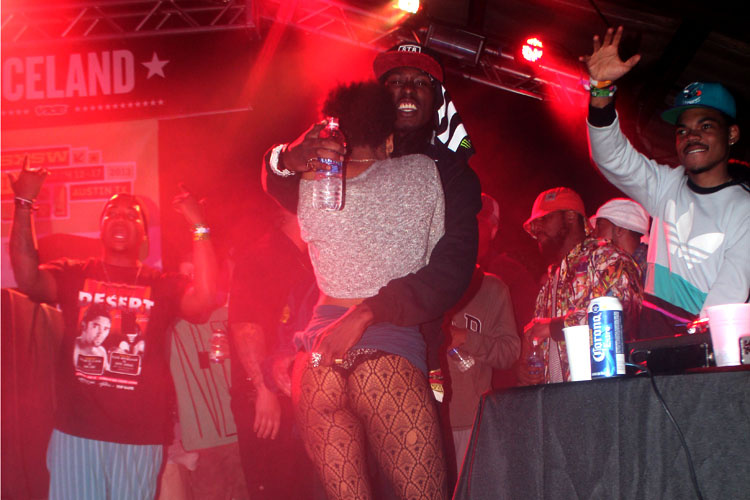 During Action Bronson's performance, this guy in the middle was lifting up his girl's skirt and slapping her butt while smiling and pointing at me. As a show photographer, this is the most generous someone has been.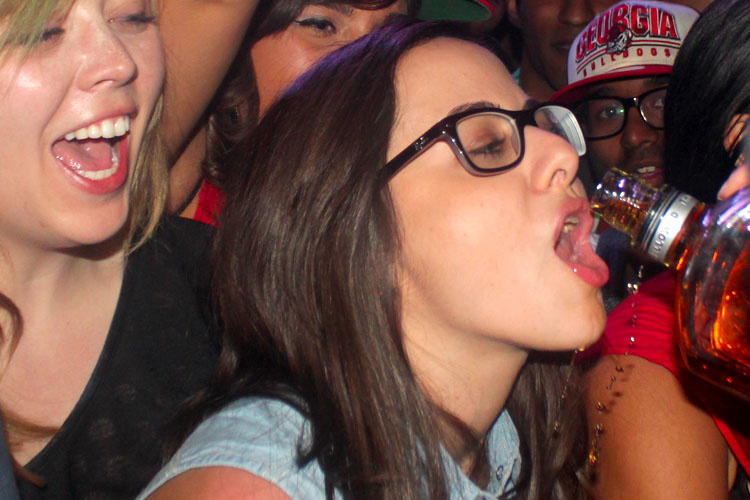 Juelz Santana was on a delayed flight, so his warm up guy played bar mitzvah style games to keep the crowd pumped. He brought up girls to dance on stage, gave away mix CDs, and poured a bottle of whiskey into the open mouths of the thirsty Dip Set enthusiasts. There's something strange and transformative about photographing people having liquor poured into their mouths, where it reveals their true nature. I didn't think this girl was all that much until I took this photo. The blonde girl to her right looks like a 90-year-old babushka when it came time for her to drink the true nature booze.
Day Five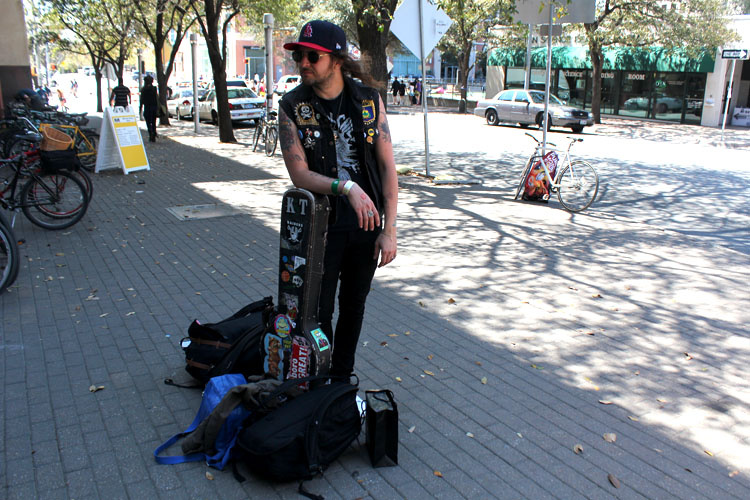 One of the best things about SXSW is that you'll be walking down the street and run into King Tuff or other people you like and admire but don't see enough. Look at how stoic he is here.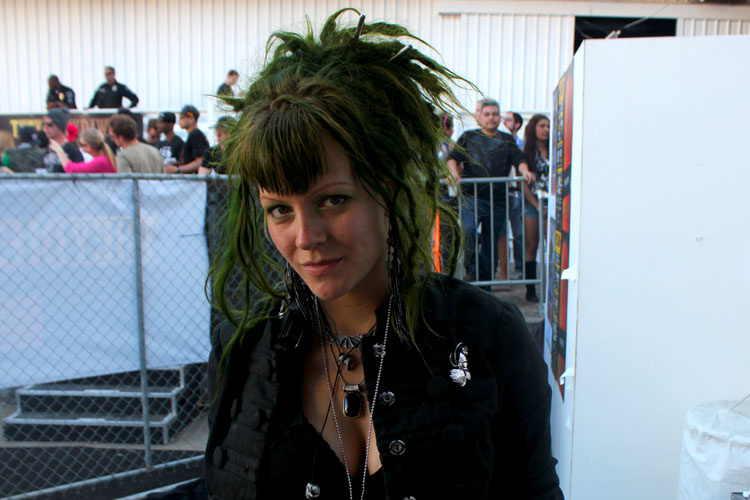 This is Sarah, who Sasha from Noisey and I both developed a crush on after watching her bounce the rowdy Wavves show and single-handedly hold back an entire audience from falling onto the stage.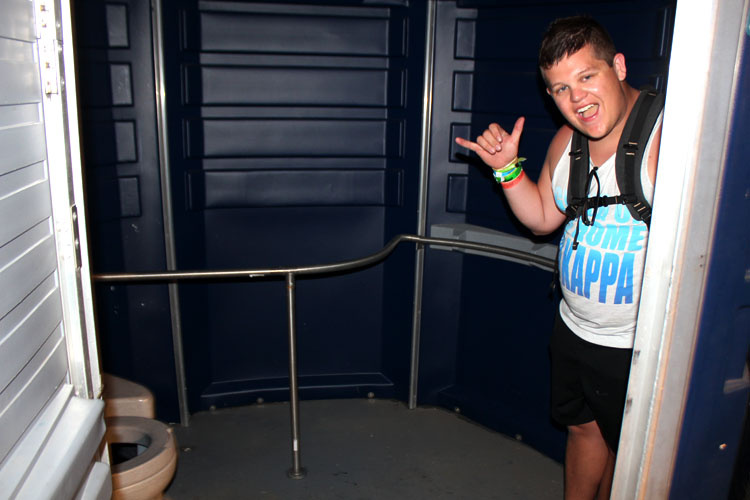 What's this guy doing? VICE had their own show space this year and there would be early events with free booze and light entertainment, but then they'd clear everyone out before letting people in for the really big night time events. This guy was hiding in the handicapped port-o-potty in the hopes of not having to wait in a long, long line. I didn't turn him in because if you're willing to wait in a plastic box full of human waste for an hour in the hopes of seeing Kendrick Lamar, then you earned your entrance.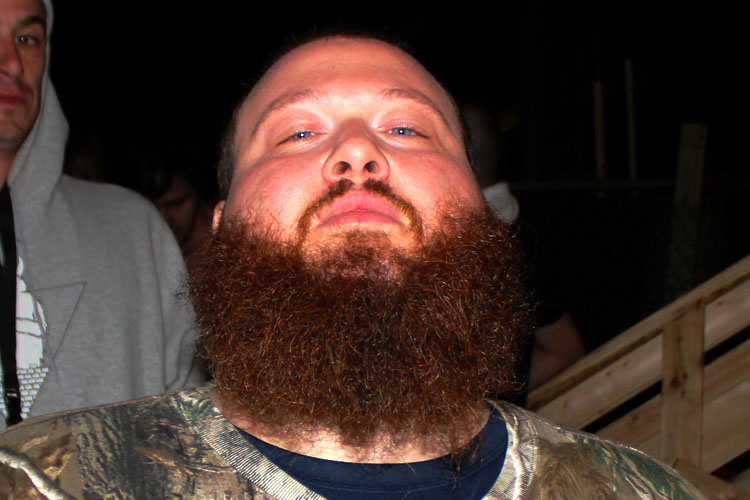 I got to meet Action Bronson and tell him how much I loved his performance and he was super nice. It's great getting to tell people face-to-face how much you like the things they make and having them seem to appreciate it. I had a few really nice meetings with people who came up to me and told me they followed my Instagram and liked my art and stuff. Hi to Ben, Juan Carlos, and the rest.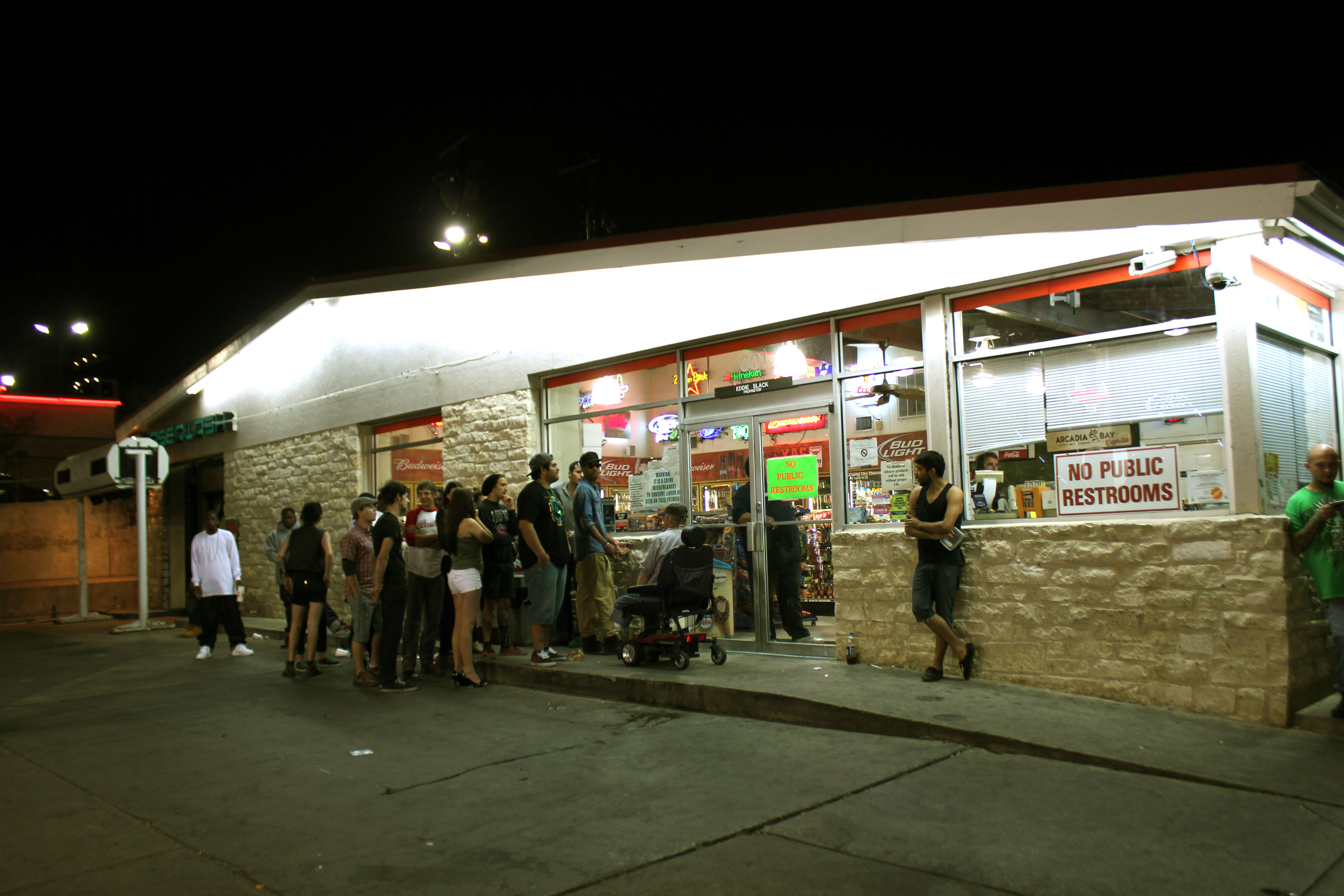 SXSW has more waiting in line than Disneyland. This place is a desperation festival where music happens, but it's really all about desperation.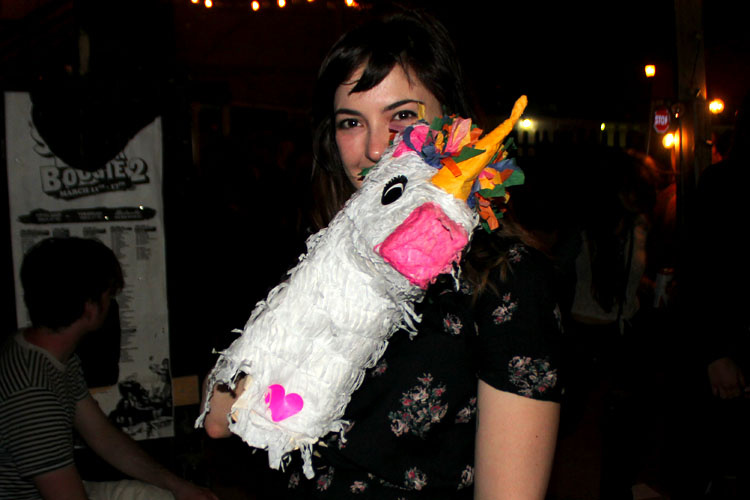 I headed to Burgerama II and met this girl who was using a unicorn pinata as a puppet. She was adorable and kooky.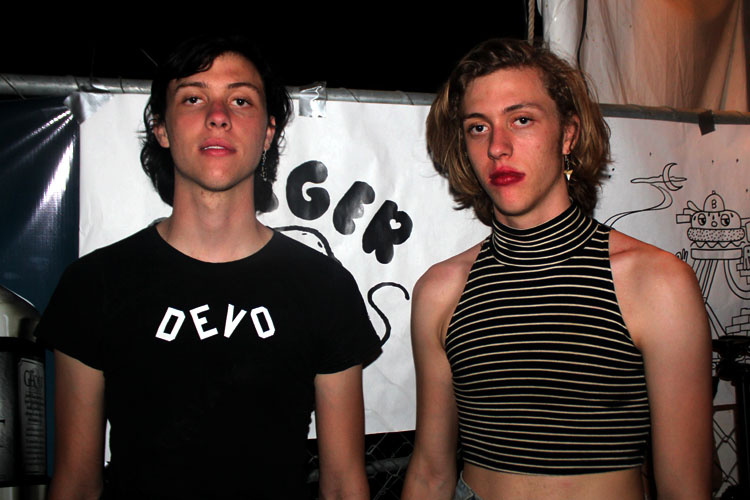 These two 18-year-old twins are in the bands Garden and Cosmonauts, and they are the new face of the upcoming Yves St. Laurent campaign. I am not kidding. One's in drag and the other's wearing a very classy Devo shirt, so I'd guess they'll survive this without letting it ruin them.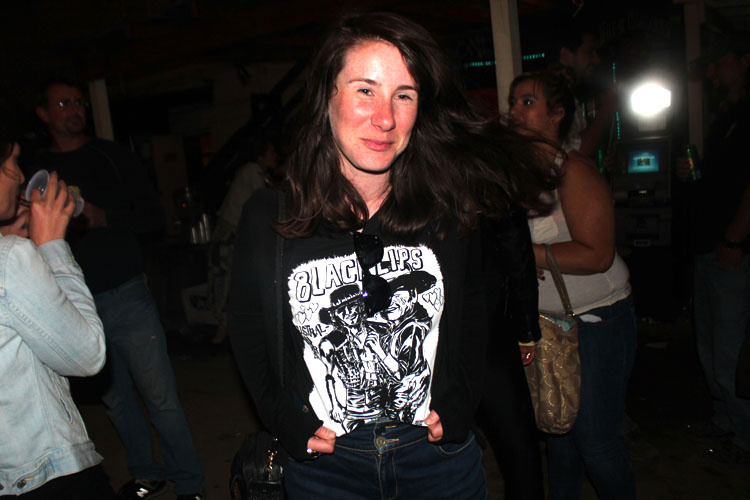 This Australian girl is wearing a Black Lips shirt I drew for their Australian tour! I always get excited when I see people wearing shirts I drew. You'd think it would get old, but it is always exciting.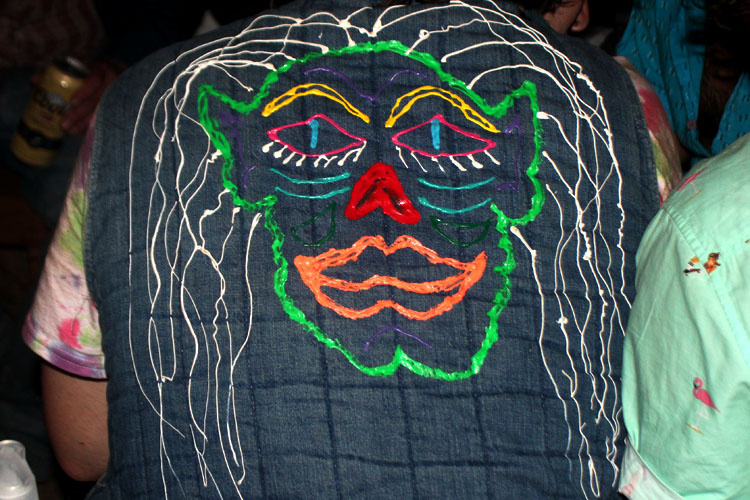 This is where punk clothing is at nowadays. Leather jackets look great, but retreading the past over and over again isn't the true essence of punk. This is a lot cooler than a skull to me.
This is Black Chris from LA wearing a T-shirt I haven't seen in years.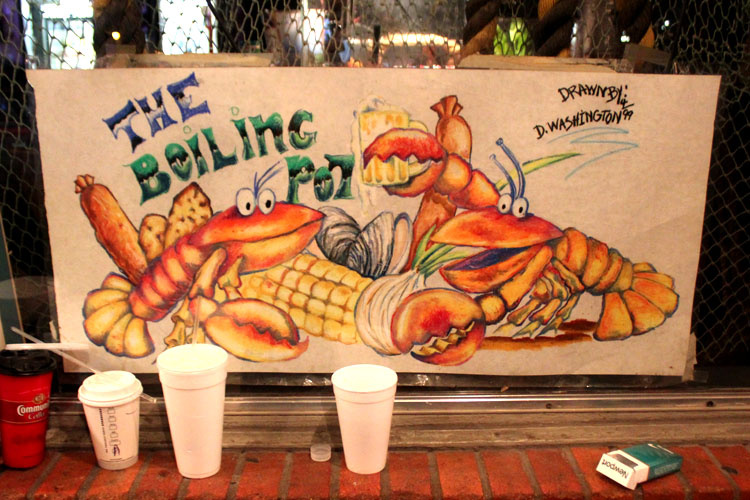 These lobsters can't wait to get munched.
Goodbye, SXSW! Maybe I'll see you next year!