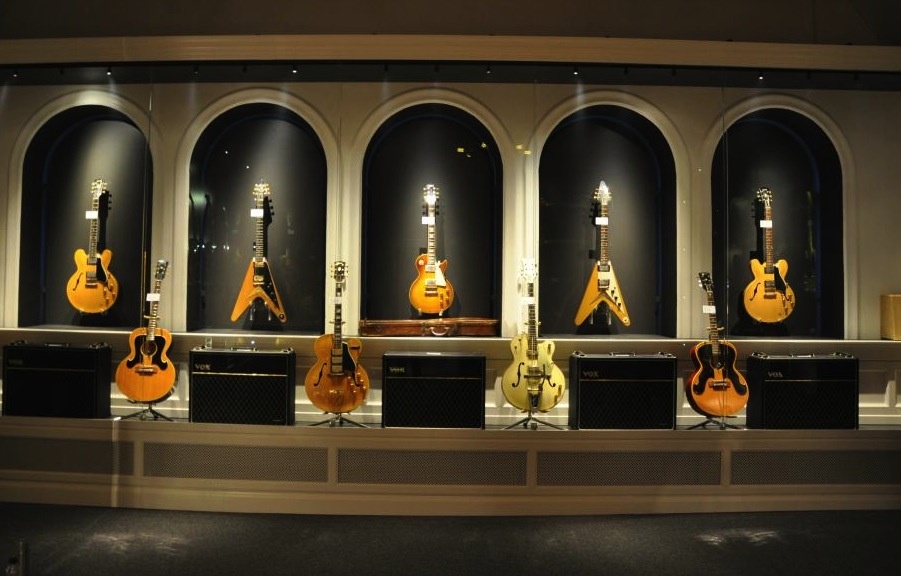 So much guitar porn.
If you can make the northern hike to Guitars - The Museum in Umeå, Sweden, you'll find a less commercial, personal collection of guitars collected by a sincere pair of twin brothers named Samuel and Michael Åhdén. Their drool-worthy guitar collection—which includes a 1954 Fender Stratocaster and a 1964 Silvertone Redburst—is so sincere (or perhaps protective) that they refuse to play numbers on each set of strings. While some guitars may be worth six digits, the worth to them lies in the sound quality.
The brothers collected everything before the vintage guitar boom in the early 1990s (a 1958 Gibson Les Paul priced at $35,000 quickly skyrocketed to $750,000). Until they stopped collecting in 1992, they bought as many guitars as they could afford with the help of a mysterious importer named "the Greek."
Set in a refurbished school from 1917, the museum is home to 300 rare guitars from the 1950s and 1960s, including a Gibson Flying-V from 1959 (one of 98 ever made) and a rare model of a 1958 Gibson ES 335. There's also vintage drum kits, 150 amps and speakers, a bar, music store, restaurant and of course, a music venue.
The museum, which had its grand opening in February, has obviously been busy, but I spoke to Fredrik Fagerlund, a recovering rock star and museum co-founder. We chatted about his favorite guitars and being nagged by sellers.

Noisey: Fredrik, what's your role at the museum and how did you become a co-owner?
Fredrik Fagerlund: I'm one of the founders and initiator of this project. I've known the twins since I was a teenager and have a former career as a professional guitar player. Since 2006, I've managed and been the producer at local rock venue, Scharinska. We simply decided to incorporate a music store and the guitar exhibition to be able to lease a larger building to house it all. Right now, I'm working mostly as a creative director, curator for the museum and I'm also in charge of our PR.
How crazy has it been like since you opened in February?
A piece of cake. [Laughs] To be honest, it's been a constant rush, we've had more guests than expected and especially the restaurant and pub is really crowded. So, hiring good staff has been a vast job for us, and now we have the best, which we are really proud of, of course. A restaurant with splendid food is still not good if you don't work with nice and service-minded personnel, and we've focused more on personality rather than post experience when it comes to that.
There are roughly 300 guitars in the museum, all from the 1950s and 1960s?
Most of them are from that period, since that's the start of the electric guitar. A Telecaster or Stratocaster looks the same today as back in 1954. That's a remarkable design and technology, even the scale was invented by Leo Fender in 1950 and hasn't changed since then. The man got it right straight away and that's truly an achievement for a guy that didn't know how to play a single chord.
Wow. What is the most valuable guitar you have in the collection?
We usually do not comment on value, but a couple of hundred thousand dollars per piece, we got like 10 of those (in that price range).
Are you constantly being nagged by buyers?
No... by sellers.
Interesting. What's the story behind the Gretsch White Falcon?
As you know, the Gretsch White Falcon was the Cadillac of guitars back in 1959. Manufactured by a family company run by Fred Gretsch in New York City, the one we've got in the collection is previously owned by Syl Sylvain of The New York Dolls, so even if it looks like a jazz or big band guitar, it's doable to play some serious punk rock with it.
How many years did they take to collect?
Sam and Mike started in the early 1970s and continued with the collecting until the late 1980s and then the guitars simply got too expensive. The prices took off in the 1990s and the brothers realized that they could not afford to buy more of the guitars from the 1950s, they are basically just two guys with low wages, so they focused on customizing cheaper models instead, for example the B-Bender collection with Gene Parsons (the Byrds) custom built guitars.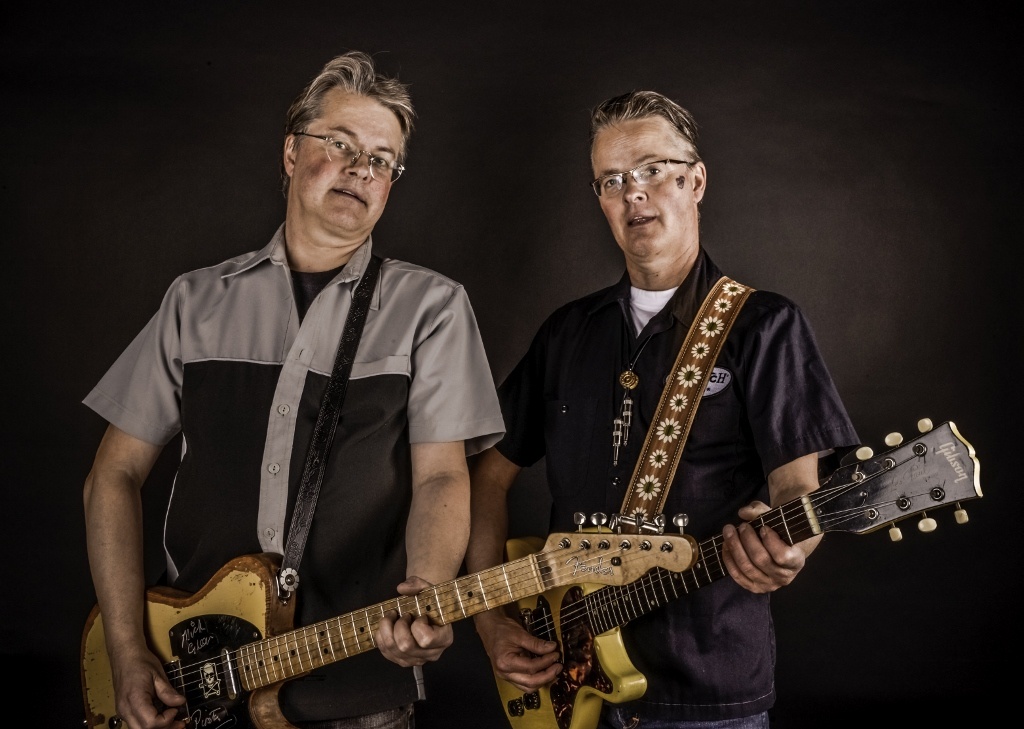 Founders Samuel and Michael Åhdén
What is your favourite guitar in the museum? Which one is your favorite to play and why?
I love a plain 1955 Gibson Les Paul Junior for its simplicity or a Fender Esquire, one microphone, two knobs, straight into a Marshall or Hiwatt head and cabinette. That's old school and pretty loud.
The brothers once said they're not interested in selling the guitars, but rather playing them. Are they still active musicians today?
They play every weekend with their band Lindy Lou & The Hiwatts. An awesome pub rock band, they do a lot of Linda Ronstadt stuff and good old rock 'n' roll.
You have a bar in the downstairs area? What happens here?
Food, wine, beer and guest DJs... and a live act now and then. The bar is more of a chill out place, while the venue has live act performances. We do punk, dance, metal, indie clubs in a mash up, every Friday and Saturday the place is jammed and on the occasional Wednesdays and Thursdays, as well.
Why is there a recording and photo studio? Who is it for?
Roger Degerman, a photographer, runs his own business in the photo studio, he documents bands playing at Scharinska but also on a national and European level, he has worked with bands like Iggy & The Stooges and Rammstein.
Will there be rotating exhibitions?
We've got quarterly guest exhibitions at the museum. To make the exhibition dynamic and interesting to re-visit, right now we have an exhibition on straight edge culture in Umeå. On Friday May 2, we open an exhibition with Finnish artists Anssi Kassitoni and Maria Stereo.
What is next for the museum? Anything special upcoming in 2014?
We will announce an international launch of Guitars - The Museum in September with a huge party in Umeå. You are all welcome to join us!
Guitars – The Museum is now open in Umeå, Sweden.
Follow @nadjasayej on Twitter.