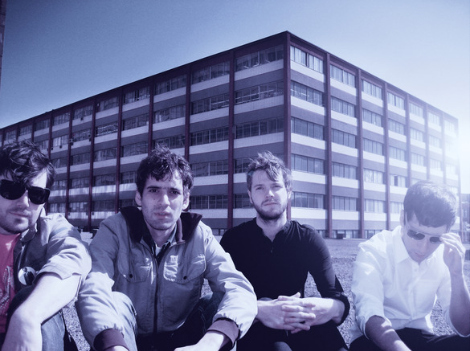 We saw these guys at M For Montreal and they tore our minds apart.
This year at M For Montreal, one of the best sets we saw was by a band called SUUNS. Do yourself a favor and check them out: their taut, aggressive and darkly seductive debut record Zeroes QC showed them to be a band on the verge of rare, hard brilliance. Their inventiveness, strength and mastery of intoxication have been maintained on "Edie's Dream," the first track to be heard from incoming new LP, Images Du Futur. On this cut SUUNS is clearly still making music that grabs your insides first and then engages your brain after, just on this one effort, they are doing it in a gentler, more restrained way—like the stroke of a lion's paw before it unfurls its claws and tears your heart out.
Images Du Futur drops March 5th on Secretly Canadian.
See SUUNS live:
European + UK Live Dates:
11/30/12 - Utrecht, NL - Le Guess Who? Festival
12/01/12 - Kortrijk, BE - Sonic City Festival
12/02/12 - Kortrijk, BE - Sonic City Festival
12/03/12 - Paris, FR - Point Ephemere
12/04/12 - Brighton, UK - Prince Albert
12/05/12 - London, UK - Village Underground - get tickets