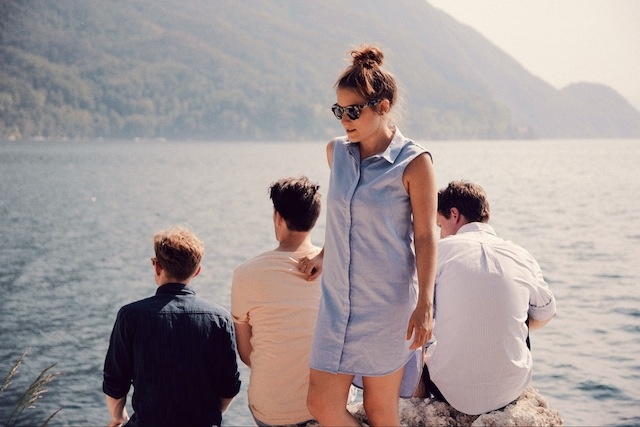 She shares her packing list for tour.
We're always hearing about bands' tour riders (who can forget that Van Halen refuses to be in the same room as brown M&M's, Britney Spears insists on bunless McDonald's hamburgers, and DMX requires three boxes of condoms and one gallon of Hennessey?). As for what they pack for tour? Not so much.

When musicians hit the road, they're often gone for six months at a time, traveling in a beat-up van with little more than a duffel bag. The stuff they decide to bring along has to be comfortable enough to travel in, but cool enough to wear on stage—not an easy feat.

So we're reaching out to our favorite artists to find out what they don't leave home without when they're embarking on tour. Chanel mascara? Black Chucks? That perfectly beat-up biker jacket that makes literally everything look infinitely cooler? We're about to find out, and we'll be reporting back with our findings each week.
Daisy Finetto was born with kind of name that's destined for headlines. The singer grew up in Italy, then followed her big brother Thomas to England to study at Newcastle University. There, the musically-inclined siblings met Ben Brown and Benji Huntrods, and, together, formed Mausi. (The band, obviously, is anything but mousy).
They landed a record deal, put out a handful of killer singles, and hit the road, playing festivals like Leeds and Reading. The foursome sound like a pop band who grew up listening to a lot of Daft Punk (which they did), and their latest single, "My Friend Has A Swimming Pool," could have 100% been the song of the summer had Iggy Azalea not monopolized the charts.
They haven't toured for long, but Mausi's stage presence is totally on-point—and so is their performance style. While the boys are all about worn-in jeans and flannels, the frontlady steps things up in a big way. She favors track jackets over floral dresses, a tomboy-ladylike juxtaposition that serves her well when she's performing flanked by a bunch of dudes.
We quizzed Daisy what she can't live without when she hits the road with her band, and she divulged her unexpected clothing weakness and favorite old-school accessory.
BENEFIT MASCARA
"OK, so let's start out with the more obvious things. Mascara is a must-have. I go for Benefit's 'They're Real!' mascara, 'cause it just makes my eyelashes look dope and it's good for stage wear because it stays on for ages. Gotta make dem eyes pop."
ANKLE BOOTS
"Chunky black boots. The chunkier, the better. They make any outfit look good, so even if you've been traveling for 8 hours and you're wearing your loose travel t-shirt that kind of looks like you're wearing a nightshirt, add some chunky boots and you're sorted."
GOLD CHAINS
"Another accessory I would never go without are my gold chains. Once again, the chunkier the better. They serve the same purpose as chunky boots, making it look like you've made an effort even though it may be the same dress you wore on stage the night before and you have no clean clothes left."
CAMERA
"I always take a disposable camera with me, so I guess it's a kind of accessory. But I feel like the memories and imagery taken with a disposable camera are just as much a part of the look when you look back as what you actually wear. You could be wearing the swaggest outfit, but with a camera phone, the magic is sometimes lost..."
BOMBER JACKETS
"I swear by my silk embroidered bomber jacket—in fact, all my bomber jackets. (I have a selection.) Worn round my waist or just on my shoulders, they are a definitely must-have for me."
EYELINER
"I only own three things in my makeup bag, which is surprising when I see other girls' makeup bags. I guess I never really got into wearing a whole ton of the stuff… I'm a tomboy at heart! But eyeliner is an essential for me, especially the ones that come in a pen format. I discovered them last year and fell in love."
SNEAKERS
"My last must have is sneakers. Any brand is delicious but my favorites would have to be my Nikes. So comfortable and so good to dance in on stage. Everyone's gotta have a pair."
Casey Lewis does this every week. She's on Twitter - @caseymlewis.
--
Want more Style Riders?
Style Rider: Sylvan Esso Has to Have Band Tees and Bonkers Platforms on Tour
Style Rider: BROODS Live in Strappy Platforms and Yoga Pants, Despite Not Doing Any Yoga
Style Rider: Cathedrals Are Never Without Their Leather Jackets