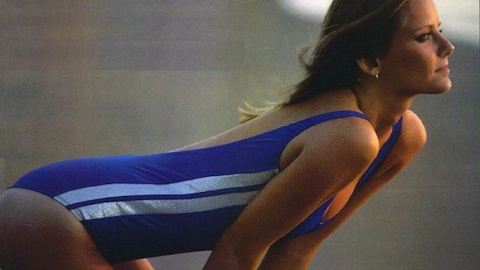 Wait a minute...
ASSANGE'D! While we here at Noisey have been patiently awaiting the upcoming self-titled LP from Chicagoan (Chicagonian? Chicagonite?) garage rock foursome Mannequin Men, some people (ahem, Refinery29's DJ Matt Roan) have to go and spoil the surprise for everyone. Hey, Matty! The dog dies at the end of Marley & Me! Suck on that, bitch!
Just like its namesake, "Cheryl Tiegs" sounds like something a suburban teen in the summer of 1970-something would conjure up when he's feeling rauncy. This scorching track is short (clocking in at just over 2 minutes long), but we wouldn't call it "sweet"; prurient and unrefined, "Cheryl Tiegs" is so "garage rock" that we can practically smell the vintage Sports Illustrateds and Playboys hidden behind the box of old family photos (DON'T YOU DARE TOUCH THOSE THEY ARE COLLECTORS' ITEMS).
Stream/download the latest jam from "a bunch of midwestern idiots in a rock band" over on Refinery29 and keep an eye out for Mannequin Men, dropping early November via Addendum Records!