We talked with the Montreal shoegaze-pop duo about death, I Ching, and premiere their new video for "Absolutely Everything All the Time."
I first met Marc St Louis and Tillie Perks of Montreal-based shoegaze-pop duo VALLEYS at a show of theirs back in 2010, and I've had love for them ever since. A gawky dilettante billed as "Grimes" opened for them that night, at least a year before she and her weird-pop peers on Montreal label Arbutus would unpredictably go on to transform the scene. Multi-talented mainstays as they are, Marc and Tillie have managed to coexist with the local hype machine without being absorbed by it. They went on instead to sign with New York-based label Kanine Records for their stateside full-length debut, the lengthily titled Are You Going to Stand There and Talk Weird All Night?,recorded and co-produced with Alec "Orson Presence" Dippie of the Monochrome Set.
Valleys consistently applies synth-laced dreampop structuring to My Bloody Valentine's sort of viscid distortion, offering a progressive take on the sentimental bent and droning cadence found in the Jesus and Mary Chain's "Just Like Honey." Their first full-length LP, 2009's Sometimes Water Kills People, is a strong body of work put out on Montreal label Semprini Records; their subsequent EPs, Stoner (2010) and River Phoenix (2011), were progressive reworkings of that sound. Although this new effort feels vastly different from some of their previous output, Marc and Tillie have maintained their insatiable appetite for reverb and affinity for distorted dreamscapes.
I enjoyed a couple of all-nighters with Marc and Tillie during their tour stops in New York and got to hear all about this new incarnation of their heart-wrenching but never-too-sentimental sound. For all the strength of their immersive instrumental aesthetic, Are You Going To Stand There has profound lyrical depth, inspired by a series of losses of different kinds and the heavy weight of a surreally tragic year.
"The year that we wrote this record was a year where every couple of months, one of my really longtime friends—who was young, and was not supposed to die—would die in some kind of accident. I could not handle it. I fell apart," Tillie says. But toward the end of their work on the record, "Things stopped feeling so dark. Even though it was still very painful, somehow I stopped thinking of death as this incredibly bleak, incredibly all-terrible experience. After that, I couldn't talk about anything else. They're really stream-of-consciousness lyrics. I don't particularly look back on them and think, 'Wow, that was pretty special,' it was just really a momentary thing. But I didn't feel as dark as I had been before, and then I could actually talk about it. Then it was okay, and instead of just trying to use substances to erase my mind, I could actually work through it in songwriting."
Tillie was brought up with the teachings of the Shambhala tradition of Tibetan Buddhism, so naturally she turned to her spiritual teachings to articulate coping with such immense loss. One particularly poignant moment, articulated in their single "Hounds"—Tillie sings, "It's only la-la-life you're losing, you know there are more important things"—resulted from a throwing of the I Ching.
"My family has thrown the I Ching since I was a kid, and so I throw it for everything—everything. You ask a question and you throw these coins. I threw it because I was like, 'I really like this boy,'" she laughs. "'What should I do, I Ching?' It's probably way flippant and you probably shouldn't use I Ching for stuff like that, but I do! And it was basically like, 'Stop trying to not experience—you have to experience what you're going through. You are drowning, but there's no blame. It's okay that you're drowning because there are more important things than life.' I was trying to be in the world in this really normal way when really, I wasn't experiencing normal things. I had to tend to what was really going on. You have to experience loss fully in order for it not to become this really dark depression."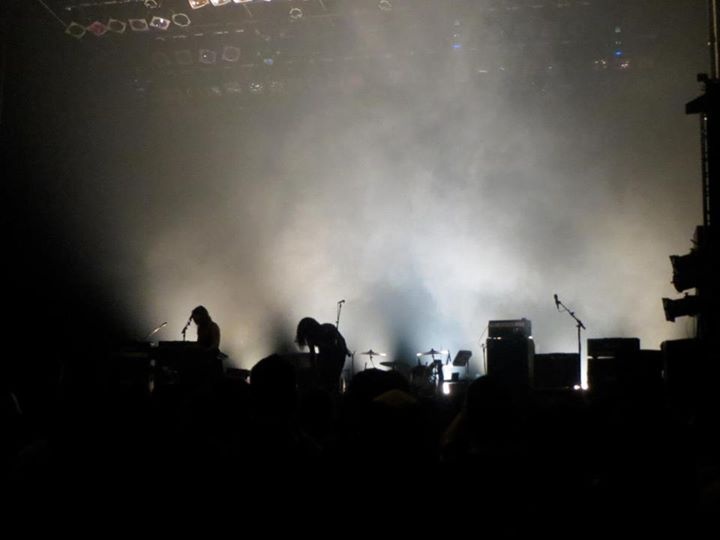 In "Before Fall," she sings, "These are the darkest days, remember Rinpoche's face," referring to an honorific, meaning "venerable one," given to reincarnated teachers of Shambhala Buddhism. In the dreamy-yet-loaded track "Exing Everything," Tillie piled on metallic-sounding voice effects as she faintly sings a cryptic verse: "In the bardo of becoming you don't have to be afraid. We will send you deepest blood heart good intentions. You don't have to die again."
"There's a bardo of living, which is what we're in now; it's basically a transitional state. And the bardo of becoming is the state you transition into after you die," Tillie explains. "The only way I could record those lyrics—because it's just something I was trying to say to my friend, who passed away—I was like, 'I just need to say this now!' So I made Marc and Alec [Dippie] go in the other room, because I didn't want them to know what I was singing."
Marc's lyrical style is markedly different from Tillie's—more a venue of storytelling for a would-be writer called instead to music's more tactile method of delivery. "I always wanted to write," he says. "But for me, it's the easiest way, to write songs that are just—not nonsense, but you can have sort of non-sequiturs and nonsensical stuff in there. Like a tableau of imagery. You can have a lot of random elements and, whether you like it or not, because they're in the same song, the form will just make it make sense. It's a sort of closed system."
Even though Montreal has become an exporter of great, innovative music since the mid-2000s, the city's dynamic—notably, the recurring wild cards of harsh winters, embarrassing governmental corruption, and an increasingly redundant language conflict—has a way of stunting, if not siphoning, potential growth. So it isn't surprising that both Marc and Tillie hope to leave Montreal behind, as it's become inextricably linked to the comedown of bartending at their hometown haunts in between touring Europe with SUUNS or playing shows with the likes of Xiu Xiu and Mogwai.
This often untreated reality comes through in the guitar-heavy track "Us": "It's this sort of thematic thing about getting older and where you wound up and where you came from," Marc explains. "But to me, it was also this general, benign sort of crisis, like 'What are we doing here? How'd we wind up here?' It isn't really about anything, but it's sort of a reflection on being in a band. Just how you wind up still doing it and you don't know why, exactly. You know, the day job-working, trying to do something else on the side. That's kind of universal, but it's a little weird to put those things out there, 'cause it's kind of...honest."
Really, the banalities we all slough through every day are precisely the things that inform some of Valleys' best songwriting. Even the album's title, which reads like snippet of incredulous dialog, came to Marc one night while working in a bar. "I take a lot of notes for song ideas, and working as a bartender, you hear people say a lot of weird things," Marc explains. "When we get to the studio, I try to piece them together. It's like a really bastardized version of the collage kind of thing people do with lyrics. Good things always come from that, but if you do it from your own stuff instead of just cutting things out of a newspaper, it's less random. Most of the time, if I think it has poignancy, it's just because it immediately brings back the same idea or sentiment."
Their poetic-imagery-first, interpretation-later songwriting method is amusingly reflective of Marc and Tillie's relationship (which is, for the record, nothing more than a longstanding friendship). Despite collaborating together for the better part of a decade, they often won't even know the meaning behind each other's lyrics. "I think Marc and I both try and keep things as open-ended as possible, even though I'm really saying specific things about how I wrote my songs," Tillie says. "I think what people do is they always lay their own interpretation into something, and that's how we make meaning. That's how things become meaningful for us, and then that meaning can change, and I think that's great. I think that's important."
I ask Marc about the album's fourth track, "See the Moon", which is an unusually straight-forward pop moment for Valleys and which he tells me is named after a Donald Barthelme story published in 1966. "That's kind of a fantasy song about romance," he says. "Just wishful thinking kind of stuff. It wasn't an actual relationship, it was more like..." Tillie cuts in, dramatically holding my recorder up to Marc's face: "You just live in a fantasy world. Everything is about this fantasy."
"It is! 90% of the time," Marc concedes. But Tillie's not done yet.
"You're writing about your fictional self and a fictional other person. Is that true?" Marc: "You've got it bang-on."
"I seriously want to know, because I don't know what his lyrics are about, and he won't tell me!" Tillie protests, laughing. "He's very cagey."